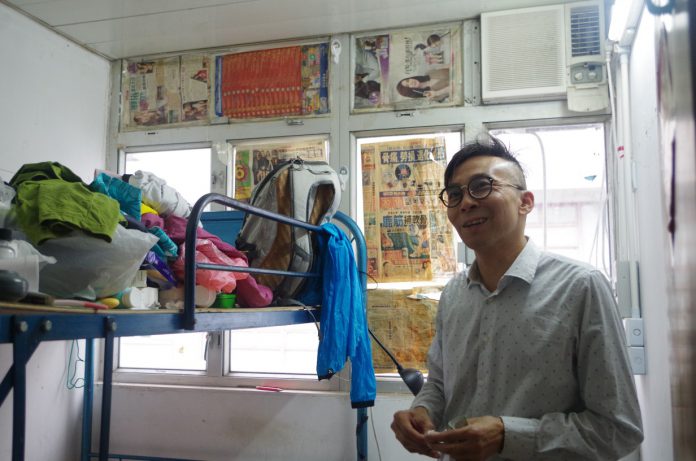 By Gloria Li
Ng Dick-hay is running his second campaign after losing in the Legislative Council Hong Kong Island By-election earlier this year, obtaining only 0.8% of the total votes. The unaffiliated anti-independence activist says he joins the Kowloon West By-election to raise public awareness on the poor living conditions of the grassroots.
Calling himself "Subdivided Flat Brother" (劏房阿哥), Ng currently rents a tiny flat on the 9th floor of an old building in Sham Shui Po with a monthly rent of HK$4000. He sets his eyes on becoming the first lawmaker living in a subdivided flat, but admits that he has a slim chance of winning the by-election.
Wearing a white T-shirt with red Chinese characters reading "reintroduce tenancy control, eradicate micro-flats", the 54-year-old IT officer says the government should restore the tenancy control scheme to protect tenants' interests and pave way to a better economic development in the long run — a move which Chief Executive Carrie Lam Cheng Yuet-ngor has ruled out in her latest Policy Address.
As a former spokesman of anti-independence group Defend Hong Kong Campaign, Ng writes on his campaign platform that Article 23 should be legislated as soon as possible. "With strong trust, Hong Kong people can gain Beijing's support to bargain with the 1% of very wealthy people for economic well-beings," he says.
Besides, he also advocates for the implementation of Moral and National Education in primary and secondary schools, which he believes can strengthen students' sense of Chinese identity.
However, Ng doesn't identify with the "typical" pro-establishment advocates. "If you read my political campaign thoroughly, [you would find that] many ideas I proposed are even more aggressive than some localists or pan-democrats," he says. Apart from opposing the government's "Lantau Tomorrow Vision" reclamation plan, he says he holds "localist" opinions on some urban planning issues.
Ng believes running for election as an unaffiliated candidate allows him more freedom to express views on sensitive issues. "I don't need to listen to anyone. I only need to follow my heart," he says. "I can speak [out] on some sensitive issues. No other candidate will do so."
"I don't need to listen to anyone. I only need to follow my heart."
Although he admits the lack of support from a political party makes it tough for him to compete with other candidates, Ng says his purpose of joining the by-election is not necessarily to win, but to spark off public debate on poverty and housing issues. Sitting in his tiny flat in Sham Shui Po, he says: "I can ask them [the media] to come here to report on the real situation [of living in subdivided flats] and the dilemma people are facing."
*The other candidates in the 2018 Legislative Council Kowloon West By-election are Rebecca Chan Hoi-yan, Frederick Fung Kin-kee, Lee Cheuk-yan and Judy Tzeng Li-wen.
Edited by Angela Ng