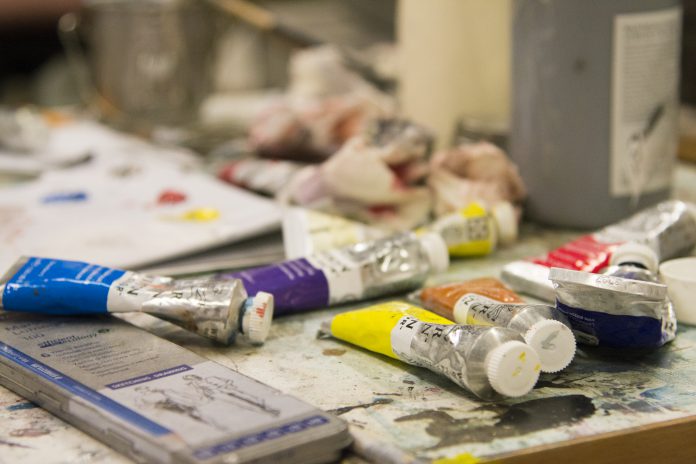 Artists struggle to find affordable space to work in Hong Kong
By Daphne Li & Tommy Yuen
In a brightly lit studio scattered with bench tables and easels, Zheng Tianyi, a fine arts graduate of the Chinese University of Hong Kong, is sawing wood for her artwork. Her search for more space at a cheaper rent led her to share a 900 sq ft unit in a Fo Tan industrial building with three other friends for HK$9,000 per month. But the land lease and outdated regulations of industrial buildings are a headache for Zheng and many other artists.
Zheng points out that the opening hours of industrial buildings as specified in the land lease are too rigid and restrictive and they bother many artists. "Our building is locked at night. If we go back to the studio to work late at night, we have to get in by the car park exit. I just think of myself as a night-time worker who works at night from Monday to Friday."
Despite such hassles, Zheng still prefers to work in an industrial building. "It is not convenient to work at home, especially when we are working with chemicals and powders which might cause dust and a smell. Neighbours in residential buildings may complain," she explains.
Zheng says the rules also affect other artists, including her friends, teachers and professors, who work in art studios inside industrial buildings. She points out that some artists have to buy industrial building units in order to enjoy the freedom of using their own private property.
Mandy Lau Sze-man, a local designer who pays HK$9,500 a month for an 800 sq ft studio in a Fo Tan industrial building, agrees that rigid opening hours of industrial buildings have greatly affected her work. "Time flexibility is important for art creation," Lau says. "The rules restrict us to work during daytime only. If this rule is strictly enforced, we have to stop working at midnight. It would be really inconvenient for us. We need more freedom," she complains.
Lau stresses that most local artists have to work part-time during the day in order to make ends meet, and it is all the more important that they should have the option to work after office hours.
Living inside industrial buildings is against the law. Lau notes that most of the artists she knows prefer not to live in an industrial building and will only stay overnight for their work if it is absolutely necessary. "We [artists] only stay overnight here when we have no other options. Industrial buildings are not ideal for living. The air quality isn't good here either. There is far more dust here than at home. We only do it out of desperation," Lau adds.
In a bid to help local artists working inside industrial buildings, the Hong Kong Arts Development Council (HKADC) launched the ADC Artspace Scheme in 2014 to provide art studios to local artists at concessionary rents. One of the Artspace branches which is located on the 12/F of an industrial building in Wong Chuk Hang, provides 17 studios ranging from 300 to 1,400 sq feet in size. The scheme has been popular. In its latest round of tenancy applications, which ended in January this year, as many as 60 applicants competed for the studios.
Thomas Fung Yee-tin, a final year fine arts student, is one of the 17 successful applicants. He moved into the ADC Artspace (Genesis) in Wong Chuk Hang with two of his friends in late November to take advantage of the larger accommodation and more affordable rent. "I want to try to get used to an artist's lifestyle and see if this career suits me," Fung says.
The studio Fung and his friends rented is around 678 sq ft for HK$4,746 a month. Under the arts student or graduate rental subsidy scheme, tenants are charged HK$7 per sq ft, with HK$4 being rent and HK$3 being management, which is far below the territory-wide average rent of factory flats at HK$16.63 per sq ft in 2018. Tenants, in return, are required to make contributions to the community.
"In the application proposal, you have to outline your plan and explain how you will make use of the space to do art-related work during the tenancy period. We proposed to do community work and host workshops," Fung says.
Lau, however, does not find the ADC scheme appealing. She dislikes the semi-open design of the art studios, which is meant to foster interactions among artists, as she thinks privacy is of utmost importance to artists.
"It would be a real concern for me if there were many people walking past my studio. It is fine to have arranged media interviews or public interaction. But if the working space for artists is semi-open, that would make me feel like working in a zoo," Lau says. She adds that she has seen tenants in the Artspace using paper to block out openings in the walls for privacy.
Lau thinks having a place of her own is important for her creative works. "It is not just a matter of space. Of course, not having space at home is a problem. But more importantly, I need a good atmosphere for creativity or just a place where I can be alone," she explains.
Chow Chun-fai, a local artist and former chairman of the Fotanian, an artist community, criticises the government for not helping artists who face difficulties when working in industrial buildings.
Chow says the most significant hurdles that discourage the arts and cultural sector from utilising industrial buildings are the stringent and outdated regulations. He cites Hidden Agenda as an example. The Hong Kong indie music livehouse, which has repeatedly been hounded by government departments for operating without the proper licenses, has to keep moving from one industrial building to another.
"Law enforcers often suggest that the workplaces do not have enough urinals or suffer from other minor defects and fail to meet fire and building safety regulations. They will not let you off the hook easily. I think when someone is accused of violating the law, either he or she has made a mistake, or there is a problem in the legal provisions. In this case, I think it is the latter," Chow says.
In Taiwan, the government subsidies art studios and live music venues to enable them to meet fire safety requirements and also to provide an incentive to promote the development of the arts and cultural industry. Chow is not optimistic that Hong Kong will follow suit because of the different principles the two governments pursue when designing policies.
"The Hong Kong government would ensure that all sectors are treated on an equal basis and it may be a concern that, if the government decides to support the arts industry, other sectors will demand assistance as well," Chow explains.
Two years after the government announced the end of the first industrial revitalisation scheme, which was introduced in 2009, Chief Executive Carrie Lam Cheng Yuet-ngor said that the scheme would be revived in the latest Policy Address with new measures.
The government proposes that a new condition should be incorporated whereby 10 per cent of the floor area can be designated for specific uses, including arts and cultural use.
The waiver application policy will also be relaxed on a time-limited basis (for five years initially) to permit the arts and cultural sectors and creative industries to operate at individual units of existing industrial buildings without the need for making separate waiver applications and paying waiver fees, as long as such uses are permitted under the planning system.
Legislator Roy Kwong Chun-yu believes the new measures will be rather difficult to implement. "Acquisition of industrial buildings and full ownership endorsements are needed. Then, you still have to reserve some space for arts and cultural use. The idea is good, but it is hard to achieve. In the whole of Hong Kong, there have been only two to three successful cases," Kwong says.
Kwong suggests that an independent body should be set up to assist and define artistic work. He says it should only play a supplementary role to help the arts and cultural industry in the city.
"The soft power of a city hinges on this group of talented people. Are they robbing homes or doing something bad? No! They are hiding in industrial buildings and dare not be known. This is very depressing," Kwong says.
Kwong is currently proposing revitalisation of abandoned schools for arts purposes. "I hope that the first school can be refurbished and used in early 2019, and although this can only provide very limited space, let's say 20, at least 20 groups can work in this artistic village open in broad daylight."
Kwong realises the space shortage problem cannot be solved by just converting abandoned schools. "There are so many industrial buildings and there could be hundreds, even thousands of industrial building units where people are creating and doing art there and we don't know them," he says. "While we are opening up space synchronically through different methods, we should also enable people in those existing spaces to survive."
Edited by Crystal Wu