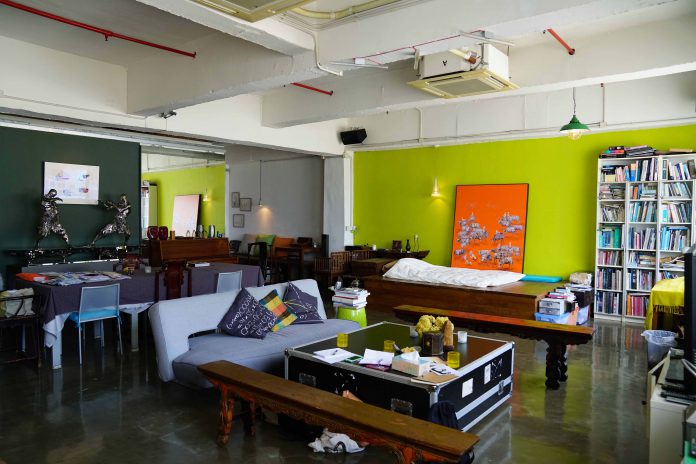 Soaring housing prices and rents are driving more people to live illegally in factory buildings
By Lily Yu & Fangdong Bai
Reclining in a spacious living room decorated with contemporary and vintage homeware, a long dining table and big windows offering a stunning view of a mountain, Andy (who does not wish to disclose his full name) is living the dream of owning a cozy home. In the wake of Hong Kong's runaway housing prices, his 1,350 sq ft apartment in Shatin district is a home sweet home to most people. But there is a catch. Andy is living in an industrial building.
Hong Kong has some 1,400 industrial buildings and it is illegal to live in them. But many, including Andy, ignore the regulation because of the sky-high property prices.
According to the latest UBS Global Real Estate Bubble Index published in September, people who earn the average annual income in the highly skilled service sector would need to work 22 years to afford a 600 sq ft flat in Hong Kong.
Andy, a private tutor, bought his home for HK$1.7 million 10 years ago. With the same amount, he could only have bought a 600 sq ft residential flat at that time. The same amount of money would now only be enough to buy a flat of less than 200 sq ft.
Water quality is Andy's biggest concern living in an industrial building. "I remember someone told me he got poisoned by water in an industrial building…That's why I installed a water filter. I used filtered water for drinking and washing," he says.
Brian (who declines to reveal his real name) also lives in an industrial building. The 31-year-old rents an around 200 sq ft industrial flat in Kwun Tong for HK$6,000 a month.
Working in the academic research field, Brian wanted to find a place where he could live and do his academic work uninterrupted. With a tight budget, he thought of living in a subdivided flat but then he found the living conditions too poor. He finally decided to move into an industrial  building.
"At that time I was just searching for a place in which I could live and stay up late to finish my assignments. As you know, the most efficient way to beat an assignment deadline is living apart from your family. Then, when I found some studios in Kwun Tong, I discovered the advantage of living here. You can apply for business registration for your flat so that you can really make your home in a studio," he says.
Brian moved into the flat equipped with its own toilet and bathroom after signing a contract with the landlord. "Owners of this kind of industrial flat are ready to enable you to use the flat for business and living. There is no problem at all. It is very convenient. I do not need to do any renovation," he says. Brian feels happy not only about his flat's rent, size and location, but also its layout.
"What comes as a surprise to me is that the design of many residential flats is very weird. However, flats in industrial buildings are usually very nice. You will not see a hexagon-shaped living room and a toilet close to a bed," he says.
Safety in industrial buildings is always a concern. Dangerous goods such as flammable chemicals can pose a serious risk. It is fortunate for Brian that nearly all the areas with dangerous goods which used to be located inside the industrial building have been moved away. Brian believes that the stores of material are relocated due to exorbitant rents, as more and more industrial buildings are being used for residential purposes pushing rental prices up.
Like Andy, Brian is also worried about water quality in industrial buildings. "The water supply is a big problem. After living here for a month, I realise I cannot merely boil the water before drinking it, but I have to filter the water first," he says.
Brian has also encountered other problems about living in an industrial building such as WiFi registration. He has to use a business registration, which is more expensive than a residential registration. Much worse, he might also face prosecution for living in an industrial flat.
He says he has never experienced a government inspection. He believes it would be difficult to prove that he is living in an industrial flat because the address is registered as a business and he can claim that the flat is used as his studio, which does not violate the law.
In a written response to queries from Varsity, the Buildings Department said it had mounted a series of large-scale operations to step up enforcement action to eradicate illegal domestic use in industrial buildings in accordance with the Building Ordinance. Owners of illegal domestic premises in industrial buildings who do not comply with statutory orders issued by the Buildings Department are liable to a fine of $50,000 and imprisonment for one year, or even a further fine of $5,000 each day the offence has continued. Apart from statutory orders, the Buildings Department may also issue removal orders. Failure to comply with a removal order is liable to a fine of $200,000 and imprisonment for one year, and a further fine of $20,000 for each day the offence has continued.
But Anthony Chiu Kwok-wai, executive director of the Federation of Public Housing Estates, maintains that the government is not wholehearted in its inspections to detect the use of industrial buildings for residential purposes. "I think the government is turning a blind eye to this situation. Where else can these affected residents live if the Buildings Department initiates harsh actions against them? They might end up sleeping under a bridge," Chiu says.
According to a written reply from the Development Bureau to the Legislative Council in December 2017, up to the end of October 2017, the Buildings Department had inspected 137 targeted industrial buildings and identified 155 units for illegal domestic use and had issued 304 statutory orders in total.
Kenny Ng Kwan-lim, spokesperson for the Kwai Chung Subdivided Flat Residents Alliance, reveals that some underprivileged people living in industrial buildings have to move frequently to avoid inspection. When the Buildings Department discovers any breach of lease conditions, a warning letter will be issued to the flat owner. Ng says that flat owners may force tenants to move out within days. Some flat owners may even cut the water and electricity supplies without any prior notice in order to force tenants to move out at once.
The constant worry about being kicked out of their homes usually makes people living in industrial buildings very cautious when they are entering or leaving. They try to avoid giving others the impression that they are actually living there.
Ng warns that the fear of inspection put lives in such buildings at risk. "If someone knocks on their doors after a fire breaks out, they may not answer the door thinking it is an inspection. They will not know what is going on outside and their safety will be jeopardized," he says.
In a bid to tackle the housing shortage problem, Chief Executive Carrie Lam Cheng Yuet-ngor announced in her latest Policy Address the revival of the policy of revitalising industrial buildings for transitional housing.
The new scheme will involve the wholesale conversion of industrial buildings into transitional housing units for grassroots families. Industrial buildings aged 15 years or above with a single owner located in "Commercial", "Other Specified Uses" annotated "Business" and "Industrial" zones are eligible for the wholesale conversion. The government encourages developers to participate in this scheme by granting exemptions from paying the land premium and a short-term waiver for conversion for five years.
The Planning Department, commenting on approvals for converting industrial buildings for domestic use, said traffic and fire safety would be the major considerations. Any conversion also would have to meet the requirements of other relevant legislation, such as the Building Ordinance and the land lease provisions.
Esther Wu Ka-yi, community organiser of the Society for the Community Organization, wants the government to extend the five-year waiver to 10 years or more. She says that a longer waiver can give owners more time to recoup the renovation cost and residents in this transitional housing will still have a shelter while awaiting public rental housing. With more than 270,000 applications, the average waiting time for a public rental housing flat stands at five years and three months.
Edited by Jennifer Leung