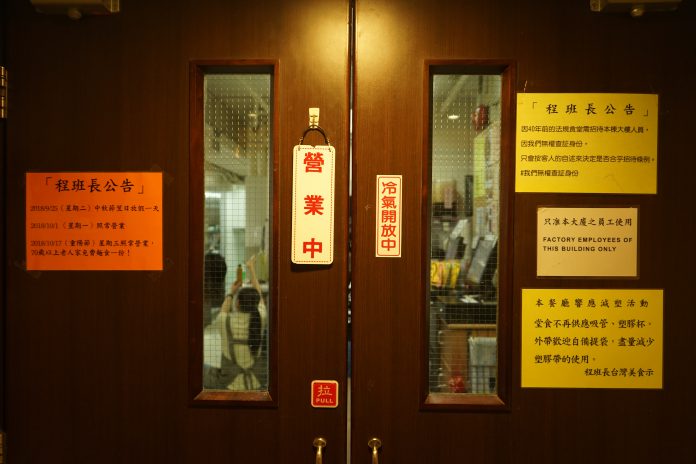 It is illegal for factory canteens to serve outsiders but factory workers
are few and far between
By Ada Chung & Edith Chung
Factory canteen owner Cheng Chih-hsien, better known as Captain Cheng, is full of sympathy for some of those who eat in his establishment.
"We feel sorry for our customers as they have to lie before they can come in," he says.
Many restaurants operate in industrial buildings due to exorbitant rents across the city. Captain Cheng, who sells Taiwanese food in Lai Chi Kok, is one of the many but it is in fact illegal for these "factory canteens" to serve people who are not factory employees inside these buildings.
As of 2018, there are 478 factory canteens, according to the Food and Environmental Hygiene Department (FEHD) website. They are scattered around 15 districts in Hong Kong and, of those, Kwun Tong has the most with about 143 eateries in the district's industrial buildings.
Restaurants in industrial buildings operate with a factory canteen license issued by the FEHD. Holders of such licenses are only allowed to serve factory employees.
Cheng says the regulation is totally impractical. "We have no right to check the employees' identities. We do not have such a right." He adds that there is no clear-cut definition of factory employees. "What is the definition of factory workers? If a delivery man sends goods to the factory, can the worker be regarded as an employee and go into the factory canteen?" Cheng asks. "Such rule is just meaningless."
Though he finds the regulations unreasonable, Cheng still tries to comply strictly with the rules by asking every customer if he or she is a factory employee of the building. "If they say they are not, we will just ask them to leave," he says. Customers are turned away and his business is impaired. "Some customers think we do it on purpose," Cheng says. "However, in fact, we have no option."
Despite trying his best to follow the regulations, Cheng has still been charged by the FEHD for serving members of the public. He maintains the FEHD inspections are unreasonable.
"Once, an [undercover] inspector from the FEHD came to our canteen. We did ask if he was a factory employee," Cheng recalls. "He did not respond to any of our questions. He just sat down and started ordering food. After that, he charged us with serving public customers."
Cheng says the officer insisted that he did not understand what the canteen workers said as he claimed that they spoke to him in Mandarin.
"They intend to catch you. Once they are determined to catch you, they will neglect all other things," he says.
The Lands Department, in response to Varsity's queries, says: "In general, the land leases of most industrial lots restrict the use of factory units to industrial/godown only."
Those running canteens are in fact operating on "waivers" which are granted by the Lands Department and District Lands Office on the understanding that only industrial workers will be served.
Meanwhile, the FEHD says it will "discuss with relevant government departments, and have a comprehensive review and corrections on the current feasibility of licensing on factory canteens." The department also says it will "continue to enhance regulation on factory canteen's strictly complying with licensing conditions. Sending undercover inspectors and issuing special prosecution action will be processed when needed."
Neither of these two departments was able to provide Varsity with readily available statistics on applications, approval cases and warning letters in respect of factory canteen use.
Other than the FEHD's requirements, these factory canteens are also forbidden to have an entrance or exit leading to a public road, to display promotional materials, or to have transparent external walls, such as glass windows under the lease conditions set by the Lands Department.
A direct investigation by the Ombudsman last year revealed that many factory canteens have violated such rules. Factory canteens located on the ground level are using the escape routes leading to public streets as entrances for customers. Some factory canteens use transparent materials in external walls, putting up signs and displaying menus and other promotional materials.
While factory canteens are prohibited from serving members of the public, many newspaper columns and food magazines are recommending certain factory canteens to general readers.
Ramon Yuen Hoi-man, Sham Shui Po district councillor for Lai Chi Kok Central constituency, says that violation of factory canteen law can be easily seen in the district. "Frankly speaking, the problem is very common, especially in Cheung Shun Street and Tai Nan West Street," Yuen says. "All the factory canteens have turned into restaurants. They just say they welcome factory workers only on the surface."
Yuen believes there are historical factors for people to break the law. "In the past, many manufacturing factories were located in districts like Lai Chi Kok, Cheung Sha Wan and Tsuen Wan. There were many labour-intensive industries employing a large number of workers. That is why there was a demand to provide factory canteens for factory workers," Cheng explains.
However, with the city's economic transformation from industrial to service industries, Yuen thinks the policy has lost its meaning and should be abolished. "In fact, the government can entirely suspend it [factory canteens licensing] by imposing a sunset clause, say, for three years," Yuen suggests. He adds that the government should formulate a plan to relocate these factory canteens, so that they can continue to operate.
Cheaper rent in industrial buildings is a major factor behind the abundance of factory canteens. Frank Sun Pin-hao, owner of a factory canteen named Doctor Beans in Kwun Tong, says the difference in rent between a factory unit and a normal unit on the street is quite substantial.
"Take the example of my place [2,000 sq ft in size], the rent downstairs could be HK$300,000, and up here is just one-fifth to one-tenth," Sun explains.
Since factory canteens can also have concessionary benefits like a waiver on additional premiums and less stringent government food and hygiene requirements, they can operate their businesses at a lower cost. Some people in the trade say such advantages have created unfair competition between factory canteens and eateries owning a general restaurant license.
But Sun does not think that it is unfair. "Opening a shop upstairs in an industrial building is your own choice. It is not about wheeling and dealing," Sun explains. "If you are capable enough, then, just open an upstairs canteen."
Roy Kwong Chun-yu, legislative councillor and a former member of the Panel on Food Safety and Environmental Hygiene, believes money is the reason why so many people are operating business inside industrial buildings. "Why are they in industrial buildings? It is because they have no other choice. The land price in Hong Kong is way too high," Kwong explains.
While factory canteens may reduce the owner's financial burden and offer the public more options, they also raise safety concerns.
Under existing legislation, only some of the old industrial buildings built before 1987 are required to have an automatic sprinkler system. Obviously the risk of fire spreading in such buildings is much higher.
Kwong maintains the government should take the initiative to improve fire safety facilities in old industrial buildings which would help the operation of factory canteens. But he believes the government will never do so due to the large cost implications. "High cost is not a reason for not doing that [improving fire safety facilities]," he says.
In spite of the many problems in factory canteens and industrial buildings, Kwong believes industrial buildings have their unique advantages. "One of the special advantages of industrial buildings is that they are large. Their space can be used in a good way," Kwong points out.
The current regulations on factory canteens date back to 1980 and Kwong believes it is time the government reviews them. "They should take a look at what is going on in society," Kwong says. "They should protect the rights of these industrial buildings users who deserve to have a reasonable answer about how to make a living in these areas."
He thinks the government should try to maximise the potential of these buildings. "In fact, they are gems. It all depends on how the government utilises them."
Edited by Rivers Zhang & Angela Siu