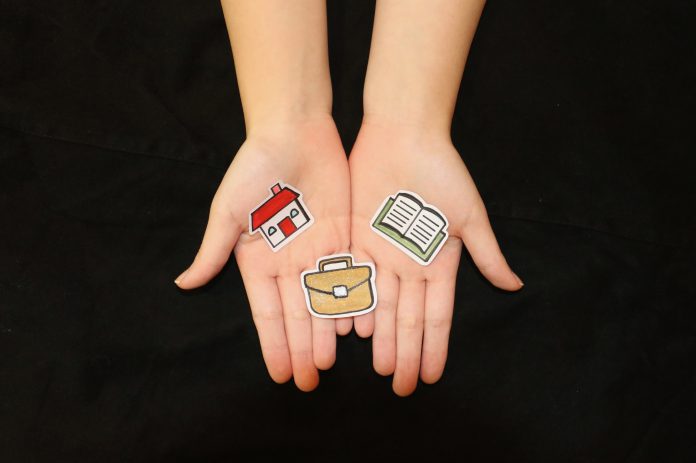 Volunteers help anti-Extradition Bill Movement protesters.
By Reüs Lok
"When you become homeless, it helps a lot if someone provides a place like home for you to stay," says Ah Hin, a frontline protester of the anti-Extradition Law Amendment Bill (anti-ELAB) movement who declines to reveal his full name. He moved out of his home after arguing with his family due to differences in political views. He then lived with a host family from November 2019 to January 2020. The arrangement was made by the Good Neighbour North District Church.
Settling Down in the Social Movement
The Good Neighbour North District Church arranges temporary shelters for homeless social activists or people affected by the social movement. It provides pairing service between applicants and people who are willing to offer bed places. Once the social worker team of the church receives applications, they will match applicants with available hostel places or host families as soon as possible.
For Ah Hin, "home" is a place to rest at ease. Though he only lived with the host family for three months, he thinks of it as his safe house and somewhere that could protect him. "Receiving help for a few months is already more than enough," he says, adding that it was better for him to stay with a host family than going home.
Receiving help for a few months is already more than enough.
J, a 26-year-old protester, who declines to reveal his full name, also lived with a host family under the arrangement of the Good Neighbour North District Church. Like Ah Hin, arguments and distrust with his family has driven him to move out.
J's host family paid great effort to protect him. "My host family even lied to their pro-government relatives that a guest came and stayed in their home. It was meant to prevent them meeting me," he says. He was touched and left a postcard to express his heartfelt thanks after living with his host family for three weeks.
"Temporary shelters act as a buffer for protesters in my view," J says. He says the measure can effectively mitigate short-term economic pressure for moving out.But he thinks the church can provide more assistance on career aspects so that unemployed protesters can sustain their living in the long run.
Bonding the Society
Roy Chan Hoi-hing, the person-in-charge of the temporary shelter project, says he decided to launch the scheme after meeting teenagers who are expelled from home after being arrested or having rifts in their families. The church takes up the social responsibility to help the needy.
"Even the government and businessman say they have given up the teenagers," Chan says. "But the church will pick up those being abandoned. 'Connecting with youth' isn't just a slogan but about taking care of others' need. Love means responding to people when they are desperately calling for help," he says.
"Connecting with youth" isn't just a slogan but about taking care of others' need.
Chan has also held different activities to take care of the mental health and financial needs of help seekers, such as organising meal gatherings for host families and teenagers, and hiring social activists as officers who offer help to those also affected by the anti-ELAB movement. But he acknowledges that these are just temporary measures to help young protesters.
"In the long term, it is vital for families to accept them," Chan says. Since the applicants have to face their own family members one day, he says that his accommodation services cannot be a permanent solution to the social problem. "Our work is only the tip of the iceberg. I am sure that help needed by teenagers is much more than you can think of," he says.
Supporting Helpless Students
Apart from offering a roof for the young protesters, academic support is also provided to secondary school students who took part in the social movement. University students EE, Tom and Yee, who decline to reveal their full names, are volunteer tutors of a social media platform Stand by U. They provide free online tutorials to secondary school students affected by the movement. Feeling baffled by the political atmosphere but could not provide assistance to the frontline protesters due to different personal concerns, the three "Wo Lei Feis" (和理非), which the term refers to peaceful, rational and non-violent protesters,join the online tutoring platform.
Unlike traditional face-to-face tutorials, EE, Tom and Yee have to teach through pre-recorded videos and distribute learning materials through cloud drives. They interact with students on social media platforms and tutoring service like marking exercises is done online.
These are measures to protect both tutors and students' privacy due to fear of potential privacy data leakage which might lead to arrests by police. EE says some students even create a new Instagram account to follow their social media page in order to protect their identities.
The three tutors always wonder if they have ever helped students truly in need, as students' identities are not revealed. "We cannot choose our students," Tom says. "Some of our students may not take part in the movement or even hold opposite views. We cannot stop them from accessing our resources," he says.
Yee believes no student should be left behind. "Can I really turn a blind eye to students when they ask me for help?" Yee says. She recalls how she chats with students online and says she can feel their anxiety facing public examination, especially when they do not know where to seek help.
Can I really turn a blind eye to students when they ask me for help?
The three tutors think the anti-ELAB movement will be a long battle and students may continue to feel helpless. They find the approach of reaching students online effective, as they can reach out to more students. "Students after a year or two can still access to those resources we have posted online, and they can still benefit from our service," Tom says.
Earning a Living with Dignity
Apart from academic support, some volunteers provide job opportunities for young social activists by setting up a company. HKongs, an online grocery store established in October 2019, has hired about 20 to 30 activists of the anti-ELAB movement. "We hope they (the social activists in the anti-ELAB movement) can join our company so that they can live with dignity," says Sam, a marketing team volunteer from HKongs who declines to reveal her full name. The idea comes from a rally held by the Civil Human Right Front on June 16, 2019. The company believes if all two million protesters in the rally are willing to shop from their online platform on a regular basis, it can sustain the business and even have sufficient capital to hire all unemployed social activists.
The structure of Hkongs is different from that of traditional enterprises – the managerial staff are 20 volunteers. Sam says they are responsible for major operation of HKongs while continuing their full-time job.
Hkongs takes a flexible and protective attitude towards their employees. Employees are welcomed to take leave for protests and strikes. The company even pays them in advance if they have financial needs. The company also takes an extra step to protect their employees' identities by hiding their company name with their logistics partners.
Sam says Hkongs is probably the first company in Hong Kong that employs social activists. "If candidates inform us that they were arrested in the social movement, we usually hire them before thinking about what duties they are capable of doing," she says.
Since most of their employees have little working experience, the volunteers offer vocational trainings before passing the work to them. "We hope they will be able to get promotion in the company and then they can take up the responsibility of training more newcomers in the future," Sam says, explaining their plan of running the business in the long run.
Sam has never expected getting involved in the company's operation as a volunteer for over four months. She believes the company operation is on the right track by offering training to social activists. "It would be great if we can ultimately help them in life planning," she says.
Talking about the company's future, Sam is full of confidence. "If Hongkongers continue to support us, I can't see why this business cannot go on," she says.
Edited by Cynthia Sit
Sub-edited by Kayi Tsang