Young people "lie flat" to fight against rat race.
Iris Jiang
Lisa Yiu*, a year two student studying childhood education at the Education University of Hong Kong, has decided to "lie flat" due to exhaustion from hard work and competition with classmates.
"My grades worsened no matter how hard I tried, so I decided to adopt a 'lying flat' lifestyle," the higher diploma student says, adding that she finds the grading system not transparent and it is not worth the effort to get better grades.
"Lying flat" is a lifestyle which promotes doing the minimum for a living. Yiu takes it as a fightback against society's pressure to perform well. She is content with her current situation and refuses to overwork.
"I still want to learn. But I will not burn the midnight oil for schoolwork anymore," the student says.
"The government just does not understand us. There is no use in condemning us or telling us not to 'lie flat' unless they actually do something to make us feel hopeful," she adds.
Hong Kong Government's Response
The Education Bureau released an article on its official website on November 28, 2021 stating the recent emergence of "lying flatism" is worrying. It also stated that this kind of negative mentality could easily make people decadent and would hinder the progress of society in the long run.
In a written reply to Varsity, a bureau spokesperson says: "One of the major emphases in the curriculum framework is adding "diligence" to the existing list of values and attitudes." These values also include perseverance, national identity and law-abidingness.
"Diligence does not mean overworking, but a time-honoured positive value which can motivate students to work hard since childhood," the reply states.
From Appearing to Disappearing
The buzzword "lying flat" sprang up when a 31-year-old jobless man Luo Huazhong released his article "'Lying Flat' is Justice" on Baidu Tieba, an online platform that gathers people with common interests by searching keywords, in April 2021.
Luo shared how he lived in his comfort zone while being unemployed for two years. "It doesn't feel wrong…'Lying flat' is my wiseman philosophy," he wrote in the article.
The idea of "lying flat" promotes: "Don't buy property and a car. Don't get married. Don't have children. Don't consume."
In response to the "lying flat" lifestyle, Nanfang Daily, a Chinese state media, published an article entitled "Lying Flat is Shameful, There is Nothing to Feel Righteous About" on May 20, 2021. The article accused negative emotions spread by "lying flat" practitioners while encouraging the public to be confident about their future.
"It is necessary to prevent the stagnation of social classes…and form an environment for improvement in which everyone participates, avoiding involution and 'lying flat'," wrote the Chinese President Xi Jinping on October 15, 2021 in Qiushi, the leading official journal on political theory of the Chinese Communist Party.
As the state media has made their position clear, Luo's article was removed by censors, "lying flat" discussion groups in Chinese social media were shut down and the search function for the term has been disabled.
Finding Comfort Zone
Though the Chinese government tried to suppress discussions, Taiwanese businessman Mark Zheng* set up a Facebook group entitled "Lying Flatism" on June 20, 2021. The group promotes "lying flat" lifestyles with over 100 members, mainly from Taiwan.
"I want to provide a safe and comfortable platform for people to express their opinion," Zheng says. He has observed that many have been complaining about pressure from work. He thinks that "lying flat" is a kind of spiritual resistance to rat races and the exploitation from employers.
Zheng only works one hour a day on average in an international trade company, with a monthly salary around 40,000 Taiwan dollars (US$1410). He brands himself as a "'lying flat' practitioner".
"I am content with my life and I do not think that I need to work harder," the 36-year-old businessman says, adding that everyone can choose whatever lifestyle he or she wants.
Making it Discussible
To show support for the "'lying flat' lifestyle", Zhang Jiumin*, a Chinese independent songwriter, released a song "Lying Flat Is Kingly Way" on Weibo and YouTube. The song lists some benefits of "lying flat" such as preventing burning out and maintaining people's physical and mental health.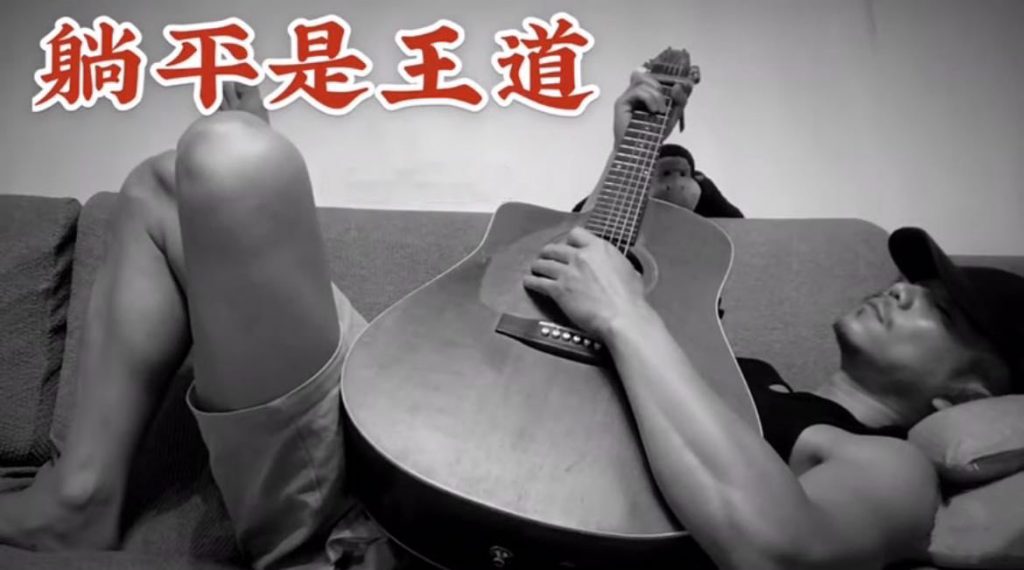 Despite being removed from Weibo, a popular social media platform in China, he keeps posting the song by not using sensitive words such as "lying flat" in his description to avoid censorship.
"I just want more people to listen to my song. It is written from the bottom of my heart. Although 'lying flat' is not a mainstream value, it should still be discussed," Zhang says.
Lau Siu-lun, a lecturer of Sociology in the Chinese University of Hong Kong, points out that "lying flatism" is not a new idea, citing the "Beat Generation" from the United States in the 1950s and the "Low-Desire Society" concept from Japan in the 1990s as examples.
"Living costs increase with economic development, while pay rise fails to catch up. The Chinese working class in first-tier cities like Beijing, Shanghai, Guangzhou and Shengzhen find it less rewarding to live and work in these competitive places," he explains.
Lau points out that people feel stressed when they work for long hours but still cannot afford housing property, while the price of daily commodities keeps rising.
"I think some of them will just give up their regular jobs in first-tier cities and return to their hometown or other second or third-tier cities to enjoy a more relaxing lifestyle," Lau says.
*Names changed at interviewees' request.
Edited by Leung Pak-hei
Sub-edited by Kajal Aidasani