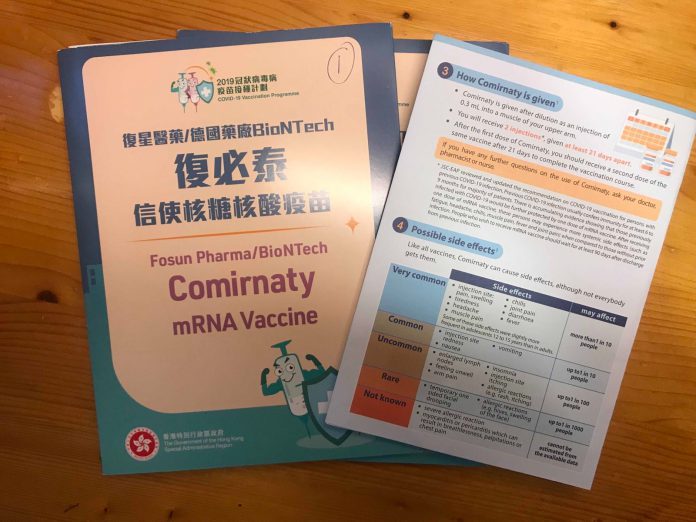 Some university students resist mandatory vaccination on campuses.
Amelie Yeung
Refusing to be vaccinated because of possible side effects, university student Reyna Wong* has to do self-tests every two weeks in order to attend lectures at the Chinese University of Hong Kong (CUHK) campus.
"I have heard from my friends of their friends having abnormal and heavy periods after receiving the vaccine. I think women are more vulnerable to these side effects," Wong, who is pursuing her master's degree, says.
For Wong, the announcement of mandatory vaccination by CUHK in January means she may opt for suspension of studies.
"I will wait until the pandemic is over to continue my study. I will not get the COVID-19 vaccine no matter what," she says.
As of 8 March, there are 497,000 reported cases in Hong Kong. Due to the outbreak, all universities have announced that classes will be conducted virtually.
In January, the CUHK Emergency Response Group announced that all persons on the university campus must have received at least one dose of COVID-19 vaccination. Otherwise, their enrolment in both physical and online classes will be cancelled.
Other universities in Hong Kong have implemented similar measures.
The Hong Kong Baptist University required all students and staff to be vaccinated by late October last year. The University of Hong Kong (HKU) also requires anyone who enters the campus to be fully vaccinated starting from February.
Wong joined a Telegram group with over 1,700 members in late December last year to discuss ways to fight against the CUHK's vaccination policy.
Chat group members exchange information about the virus, university policy and government measures.
"There are many reasons why students remain unvaccinated, like having medical concerns, and lacking trust in the vaccines' effectiveness. Some believe we should have body autonomy," Wong says.
She relies on the group for emotional support. "Without it, I may have gave in already. But being in the group and surrounded by like-minded people reminds me of the dangers of taking the jab," she says.
In October, the chat group filed a petition voicing objection against mandatory COVID-19 vaccination or testing required by CUHK. It gathered over 2,700 signatures from students, staff members, and alumni.
The petition letter called for students and staff to boycott CUHK's online vaccination report form.
Facing the tightening restrictions of CUHK, the group sent an open letter objecting to the university forcing COVID-19 vaccinations to President Rocky Tuan Sung-chi and CUHK Emergency Response Group in February. The university management has not responded to the group.
Side effects of COVID-19 vaccines
But science does not agree with the group.
In February 2021, the Centres for Disease Control and Prevention (CDC) in the United States found that six people developed a blood clotting disorder after receiving the Johnson & Johnson COVID-19 vaccines, among the 6.8 million people who were vaccinated.
In April, CDC recommended that vaccination be resumed because the side effects are rare and the benefits outweigh the risks.
There is no evidence suggesting that the COVID-19 vaccine will affect menstruation cycles.
In July 2021, Clara Paik, clinic medical director of obstetrics and gynaecology at the University of California (UC) Davis Health, an academic medical centre based in the U.S., suggested that changes to women's menstrual cycle may be due to the stress of vaccinating.
Despite these findings, CUHK student Mary Fu* is still not convinced.
"My concern is that the vaccine may cause gene mutation. The vaccines are so new and no one knows what side effects it may bring. What if the changes surface decades later? It will be too late by then and our entire generation will be plagued by them," Fu says.
The 21-year-old student also questions the protection rate of the vaccine. "Being vaccinated does not mean you will not get Omicron," she says, referring to the latest variant of COVID-19.
A joint study by CUHK and HKU last December found that the protection rate of Comirnaty and CoronaVac vaccines are greatly reduced against Omicron, compared with previous variants. The amount of virus neutralising antibody levels in blood were less than that of the protective threshold.
But a third dose of Comirnaty vaccine provides protection levels of antibody against Omicron, while CoronaVac vaccine does not, according to the study.
Fear of Needles
Apart from health concerns, Alice Chan*, an undergraduate student at CUHK, refuses to take jabs due to fear of needles.
She recalls once being tied down by nurses when receiving injections for a nervous breakdown in 2017.
"It was traumatic. I was hysterical and cried and screamed for hours. I begged the nurses not to give me the injection, but they did not listen. Even recalling it now leaves my left arm weak and heavy," Chan says.
Since then, the year two student cannot face being injected with anything again.
She has obtained medical proof for exemption from COVID-19 vaccination due to her unstable mental condition.
Tightening Restrictions
In the United Kingdom, 85 per cent of university students have received two doses of COVID-19 vaccine, according to a study by the Office of National Statistics in December 2021.
In contrast, the percentage of Hongkongers who have received two doses is 62 per cent, according to Our World in Data, a publication with its research team based in Oxford in December 2021.
To boost vaccination rate, the Hong Kong government has rolled out a vaccine pass, under which only vaccinated individuals will be allowed to enter facilities such as restaurants and malls starting from February 24.
Professor Lancelot Mui Wai-ho, a lecturer at CUHK's Jockey Club School of Public Health and Primary Care, says he understands students' concerns about the side effects of COVID-19 vaccine but notes they should get the jab.
"Globally, we have now administered over 10 billion doses of the vaccine. Our understanding of the vaccine is now much better than the early days," he says.
"COVID-19 vaccination is about risks versus benefits. Without a clear and present threat of COVID-19 infection, students will focus on the possible side effects of vaccines and think that the risks outweigh the benefits," Mui says.
"Vaccination is the only scientifically proven way to effectively protect society from getting overwhelmed by COVID-19," he adds.
Mui asserts that taking the vaccine is not only for our own benefit. "If not enough people are vaccinated, the virus will continue to circulate in the community, and people who cannot be vaccinated will suffer," he says.
"Taking the vaccine now will save the lives of many in the future," he says.
*Names changed at interviewees' request.
Sub-edited by Leung Pak-hei