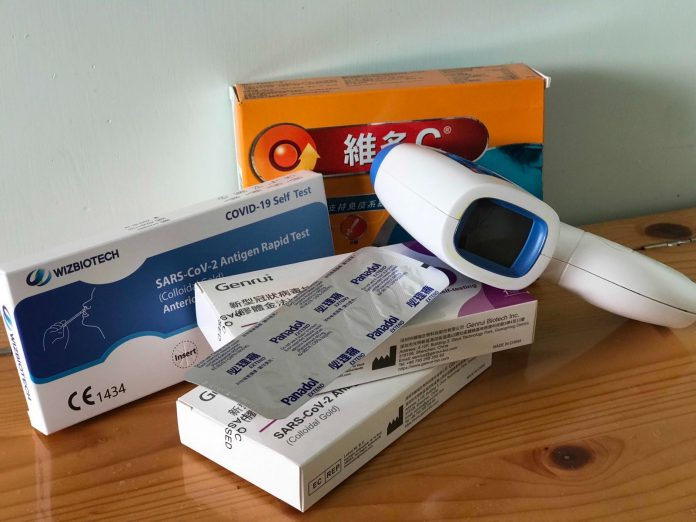 Omicron survivors: "keep calm and carry on".
Cheryl So
Support from family and friends, having more rest and taking Panadol are the keys to surviving the COVID-19 Omicron variant as four of our university students share their ordeal in fighting against the highly infectious virus.
The city has reported more than 650,000 COVID-19 infections and about 4,600 deaths
to date. More than 90 per cent of the population have had at least one dose of vaccine and most of the fatalities are among unvaccinated senior citizens, according to government data.
Four university students who had two doses of BioNTech vaccine in 2021 and tested positive in February say people should stay calm as they share their stories on surviving Omicron.
Jason Lee tested positive on February 16 and negative on February 26.
Jason Lee had a fever on February 16 so he did a quick test at home and the result was positive.
After joining a gathering on February 13, he and his group of friends were all infected with Omicron. He suffered from fever, headache, sore throat, stuffy nose and cough.
"The first week was tough. I took Panadol and slept more than ten hours every day. It was terrible to have a sore throat. It was painful whenever I swallowed," Lee says.
"I kept taking Panadol and got better five days later. I tried my best to finish my schoolwork, but I was too sick to take a mid-term test. The school granted me an exemption and will grade me with another test," he adds.
Lee's mother also fell ill two days later and suffered from a cough while his brother stayed negative as the family tried to have minimal contact with each other.
"I had meals in my room. My mother and brother also ate in their own rooms. We wore masks when we went to the toilet, kitchen and living room," Lee says.
Lee feels thankful that a friend of his dropped a testing kit at his doorstep. "My mother needed to do a test so that she could apply for paid leave, or else she would have to claim her leave as annual leave," he says. His mother works in a school and his brother is an office worker.
"Thanks to my friend…he brought me food and daily necessities when my mom and I were sick. We ordered takeaway food sometimes, as I did not want to bother my friend all the time," he says.
After waiting for almost 10 days, he received a text message from the Centre for Health Protection on February 26 and was surprised at the 'indeterminate' result.
"We did not receive any phone calls from any government department after the message. We tried calling a phone number we found in the government text message, but the line was always busy," he says.
Though tested negative on February 26 at home, Lee has been staying home ever since his recovery. "I do not want to be infected again. I just want to be safe," he says.
Lee kept chatting with his friends to get rid of his loneliness when staying at home. "It is really unusual for me to not see my friends for weeks. I think chatting with friends and sleeping really help me get through Omicron," he adds.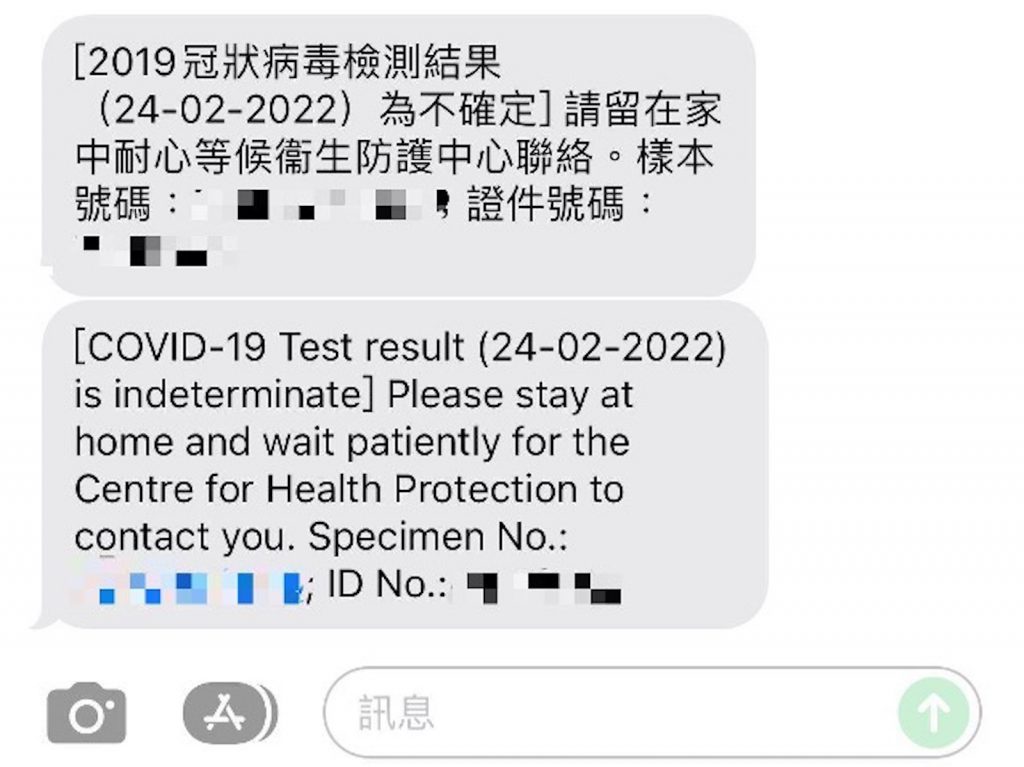 Christy Chan tested positive on February 15 and negative on February 27.
Christy Chan tested positive preliminarily after a few infection cases were reported in her dormitory on campus on February 15.
Suffering from a fever on February 14, Chan had symptoms of cough and having phlegm.
She was not allowed to use shared facilities such as the toilet and kitchen and she could not have shower or dinner outside her own room. Her room was also disinfected by the university.
"After taking Panadol and vitamin C for two to three days, I felt much better. I felt terrible when I had a fever on the first day. But once the fever was gone, I felt fine," she says.
She was sent to another dormitory with a private toilet to do quarantine for seven days. "The room was like a hotel room. It had a heater, new bed sheet and pillow prepared for me. The staff provided me with toilet paper and towels," she says.
She reported her case to the government a day later on February 16 and received a government text message on February 19, telling her to wait for their call. "My symptoms were gone when I received a call from the Centre for Health Protection. The caller asked for my address only and there were no further questions," she says.
During her seven-day quarantine, her mother brought food and daily necessities to her university and a staff delivered them to her room. "My family was pretty calm about the whole situation. They did not seem to worry," Chan says.
On February 26, Chan received a package with a testing kit, a thermometer and a handbook of personal hygiene from the Centre for Health Protection.
"More and more people have been infected, so it has become less of a big deal. People do not need to panic and go to the hospital if their symptoms are mild," she says.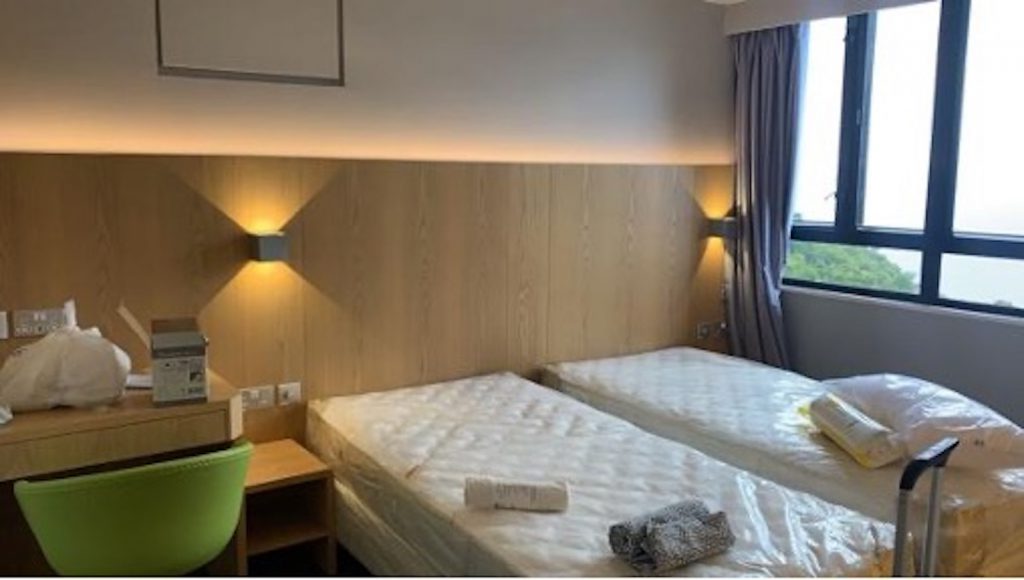 Jade Cheung tested positive on February 21 and negative on February 27.
Jade Cheung did a quick test at home and tested positive on February 21 after suffering from a sore throat and a runny nose for two days.
She suspected that she was infected when she bid farewell to her friend at the airport on February 19. "I did not take off my mask. I still do not know how I was infected," she says.
"I just took some Panadol and slept more than eight hours a day when I was sick. I felt better four days later," she adds.
On February 25, Cheung went to a community testing centre in the North district after her symptoms were gone.
"The queue was short with only a few people. After two days, I received a text message saying that my result was positive. My family including my father, my mother, my sister and my brother were all negative. So they went on with their lives and went back to work," she says.
"While I was in quarantine, I watched Youtube and played mobile phone games. Sometimes I did revision for my tests. It was just like every other day. A relative tested positive in early February so my family had some experience dealing with this and they were all very calm when I fell ill," she adds.
"A relative has two flats so I stayed at one of them for quarantine. I had to attend online classes with my mobile data but the network was unstable. Despite the trouble, I managed to get on with my study," she says.
Her mother brought her food and other daily necessities. She also cooked meals and ordered takeaway food sometimes.
On 29 February, she went to a community centre to do another test and received a message saying her result was negative two days later.
"We are on our own now. There are too many cases and the government cannot provide support to everyone. It is important to have testing kits and Panadol at home. We need to equip ourselves and get ready for a rainy day," she says.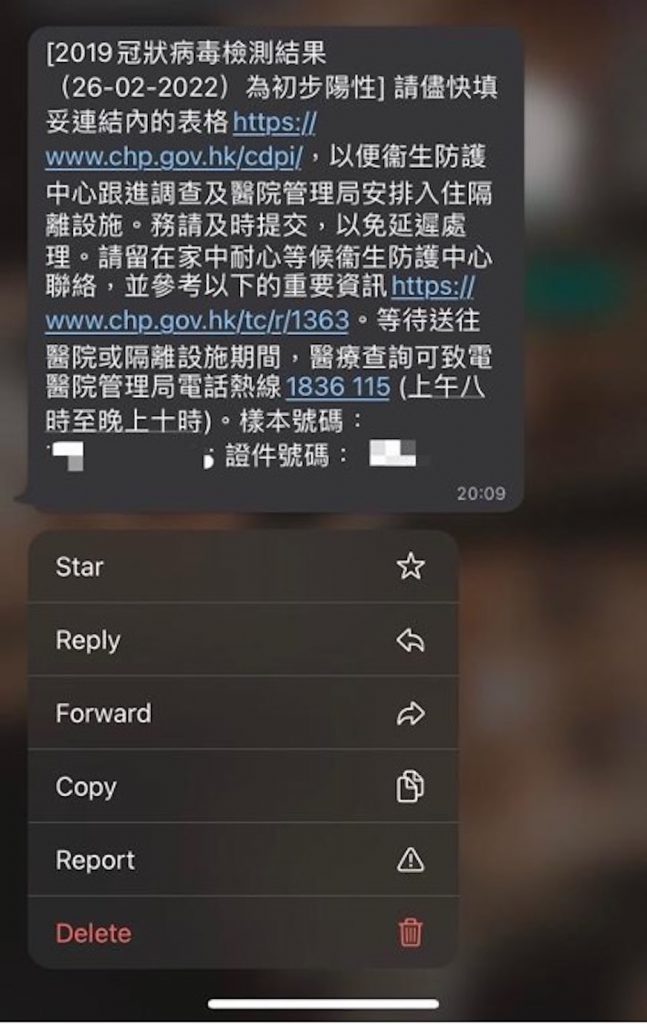 Mary Wong tested positive on February 17 and negative on February 26.
Mary Wong tested positive at home on February 17 after hanging out with a friend who later also caught Omicron. Suffering from mild symptoms like cough, she stayed in her room after testing positive.
"I cleaned the toilet after using it. I had meals in my own room and my family had meals in the living room. My family asked me to wear a mask even when I was in my bedroom alone," Wong says.
"My sister had to move out of our bedroom so that I could quarantine myself. Though I was ill, I was quite happy that I could have some 'me-time'," she adds.
On February 17, she sent a specimen to the government for a test. None in her family was infected but her family could not go to work because she tested positive.
"My family needed a proof from the government for paid leave, so they kept asking me when I would have my test result and even asked me to do more tests. They seemed to blame everything on me and thought I was very troublesome," she says.
"I was annoyed when they yelled at me for not wearing a mask. So I got into quarrels with them more often," she adds.
After taking Panadol and sleeping ten hours a day, she felt better five days later. She received a government message informing her that her result was negative on February 26.
"My family still forced me to stay in my own room and wear a mask all the time even after I tested negative because they were afraid I might still be sick," she says.
"I do not think my health is affected by Omicron and my family just overacted. People really do not have to panic. It was like a flu to me," she says.
Sub-edited by Angel Woo