Mainland Chinese children feel upset about a new policy that limits their time playing video games.
Eve Qiao
High school student Zak He used to play two hours of online video game every day. He feels upset for not being able to play the Honor of Kings, a popular online video game, whenever he wants because of a government restriction that limits online gaming time for youngsters under 18 to three hours a week.
"I feel bored. Playing online video game is my favourite hobby. But now I can only play one hour a day on weekends," the 17-year-old student says.
Under the government restriction introduced by the National Press and Publication Administration in August 2021, teenagers under 18 can only play video games for at most three hours a week, with playing time on weekends and holidays limited to between 8 pm and 9 pm. This move aims to combat the problem of video gaming addiction among minors.
"My roommates and I used to play video games one hour a day after finishing our homework, but now we cannot because of the government policy. What can I do when I am bored?" he sighs.
He says now he can only kill time by watching videos on different applications. "But I have more fun playing video games," Zak says.
Cheng Dong, a 14-year-old junior high school student, shares her frustration. The new policy not only limits her playtime, but also makes her lose money.
"I feel angry about this policy because I have less time to play video games. I always buy monthly subscriptions for online games which requires me to log in every day to collect in-game items. But now I can only log in to the game on weekends, which means I lose about RMB ¥180 (US $30) every month. This amount is quite a lot for a student," Dong says.
But the junior high school student also admits that she has spent more time on other interests after the policy has been implemented.
"I spend more time on singing and reading novels now. I have been doing other things since I play less video games," she adds.
Game operators have quickly changed game systems to prevent minors from playing games overtime. To identify underage group, all players are required to upload their identity cards and do face recognition for their first log in to play video games starting from August 2021.
To get around the rules, 11-year-old pupil Andy Zhao borrows his elder brother's identity card to cheat the registration system. His brother celebrated his 18th birthday in November 2021.
"I uploaded my brother's identity card and asked him to do the face recognition for me so that the system would take me as a grown-up and I can play video games whenever I want," the pupil says.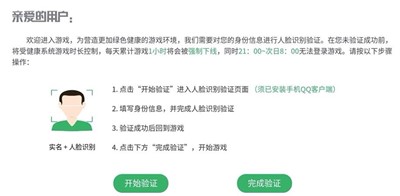 But this trick does not solve all problems. "I need my brother to stay with me when I play online games. The system sometimes asks for face identification before login," Zhao adds.
"I also need to register a new account for myself when I turn 18, which means I will lose all credits I have now in my current account," he sighs.
Nearly 63 per cent of young people aged under 18 played video games, according to a study The 2020 National Report on Minors' Internet Use published by China Internet Network Information Centre (CNNIC) and other government departments in 2021.
The report also shows about 65 per cent of minors played video games for more than 10 hours a day, with eight per cent playing for more than 15 hours.
Anthony Fung Ying-him, a professor at the Chinese University of Hong Kong's School of Journalism and Communication, says the policy might not be perfect, but it is quite effective.
Fung also thinks intention of the government measure is good, and its purpose is to combat addiction.
"There are still many minors using other people's identity and other ways to cheat on the recognition system. Other supporting measures should be introduced to prevent them from doing so," he says.
The professor points out there are many reasons causing gaming addiction such as family relationship.
"I did a survey in Shanghai in 2016, and I found a strong correlation between the time teenagers spent on playing games and the time they spent with their parents. Family factor accounts for most gaming addiction cases," Fung states.
He adds the policy is very effective in the short term, but joint efforts involving both families and the government are needed if people want to solve this problem fundamentally.
"I think families and schools are responsible for doing proper digital literacy education. Parents should set examples for their children and teach them the right way to learn about the digital world," the professor says.
Edited by Alina Chen
Sub-edited by Leung Pak-hei