Hong Kong secondary students are doing less exercise due to the COVID-19 pandemic.
By Yap Ying Ye
Ashley Wong Wui-yin has gained six to eight kilograms since 2020, as she has become less active during the COVID-19 pandemic.
"I am less toned and look so much chubbier now. I am embarrassed to wear a swimsuit these days," the Form 3 student says.
The student stopped her habit of doing sports and stayed at home all day since the pandemic struck Hong Kong in 2020.
"I stopped swimming regularly since 2020 as swimming pools were closed. I did not have a Netflix account before the pandemic, but I started eating and watching Netflix everyday during the pandemic," Wong says.
"Training sessions of the table tennis team and tennis team were all cancelled due to social distancing measures, so I stopped doing exercise during the pandemic," the 15-year-old adds.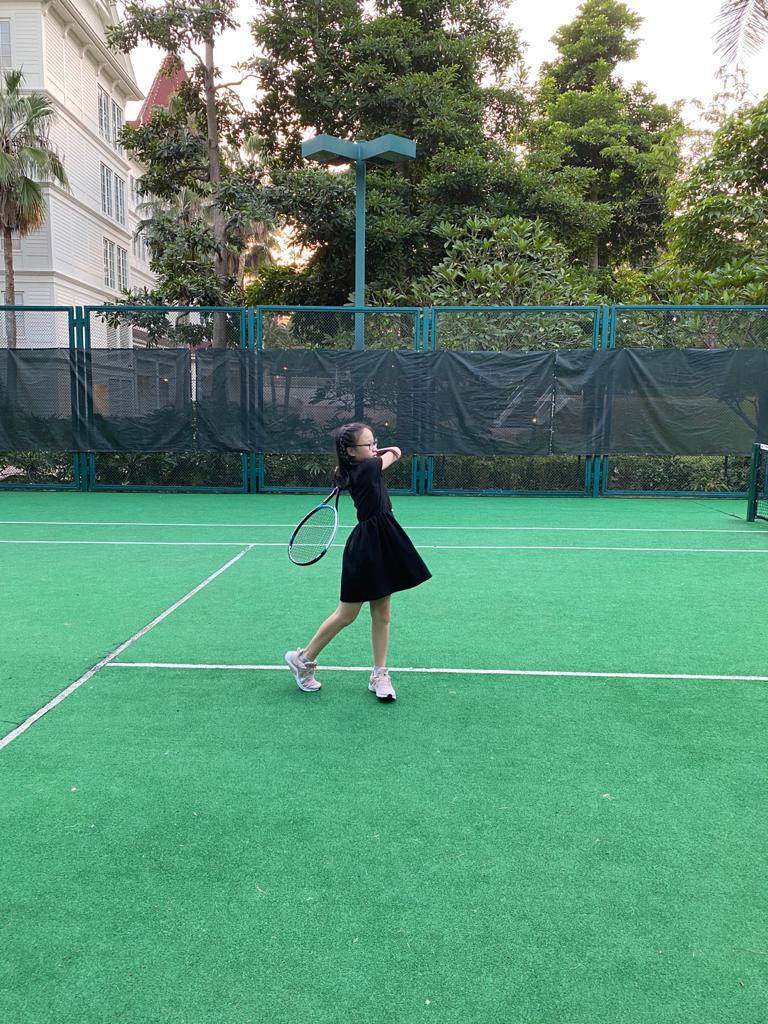 The Hong Kong student thinks that social distancing measures makes her think that going out is meaningless.
"It is so easy to get lazy and stop taking care of myself. I stopped moving because I had little reason to go out. I just stayed in my room all day watching Netflix, browsing the internet and eating," she adds.
Wong adds her fear of possible infection and social distancing measures have made her stop exercising in public venues.
"I was worried about germs at public sports facilities, or if water at public swimming pool was dirty. So I dared not go out," she says.
Wong's eating habits have also changed for the worse due to the COVID-19 pandemic.
"I had started eating a lot more takeaway like McDonalds when social distancing rules were in place. I became a lot lazier and did not want to cook my meals," Wong says.
Based on a study conducted by the University of Hong Kong which surveyed 1,140 students in 2021, only five per cent of students met the World Health Organization (WHO) guidelines on children's physical activity time, and secondary school students did only 15 minutes of exercise per day.
The WHO recommends at least 60 minutes a day. The study also found that the amount of time spent on physical activities by secondary students dropped by 50 per cent during the pandemic.
The Education Bureau launched the "Active Students, Active People" Campaign ("ASAP" Campaign) in the 2021/22 school year. "Vitality Fitness Walking/Running Challenge", for example, was held under the campaign to encourage students to walk for at least 30 minutes a day.
Fong Ka-kui, a physical education (PE) teacher at Buddhist Hung Sean Chau Memorial College observes a drop in his students' physical abilities after resuming in-person lessons.
"Most of their abilities have decreased or not improved. My students did not have the opportunity to exercise outside or attend PE lessons when school was suspended and there were anti-COVID measures in place," he says.
Fong points out that restrictions such as mandatory mask-wearing also affects his students' physical abilities.
"The school has stopped all long runs because we think it is dangerous for students to do high intensity exercise with a mask on," he says.
Fong says it is difficult for students to engage in online PE lessons during the pandemic.
"Some students do not have a lot of space at home. They have a lot of clutter around them. It was not very safe for them to follow along with my workouts. After a while, we stopped having online PE lessons altogether," he says,
His school has hosted fitness activities to try to get students to stay active and take care of their physical health during the school suspension.
"I taught students how to create an eating and diet plan, how to count and plan out their calories. The school also hosts lunchtime or after school sports exercises for students," he says.
Charlotte Li, an instructor from Pure Yoga recommends people to do outdoor exercise when strict social restrictions are in place.
"People can go out to parks and walk or move around in open space. It is good to get some sunshine and get motivated to move rather than being in a confined space," she says.
Li stresses that exercise is important not only for students' physical health, but also their mental health.
"Exercising can be a time in a day where you can really focus on yourself. It can improve your mood. Exercise is also important for flexibility, agility, coordination, and posture. If students do not have exercise, it can affect their ability to carry out simple tasks such as running and walking in the long run," she says.
Chow Chi-ngan, an assistant lecturer from the department of Sports Science and Physical Education at the Chinese University of Hong Kong warns of the negative impact on physical development amongst students if they do not get enough exercise.
"Lack of exercise will affect our cardio health, muscular strength, body fat ratio, and our neuromuscular fitness levels will also be lowered," she says.
Chow stresses that the negative impacts are particularly dire on younger children.
"[Students'] bodies are still growing. So the lack of exercise will be detrimental to their fundamental health development. They will be more susceptible to illnesses such as strokes, heart diseases and high cholesterol," she says.
The university sports science instructor encourages students to turn exercising into a social activity to motivate themselves.
"Exercising is tiring and difficult, so students need to put in effort and discipline. It will be easier for them to do so if they can find an activity they enjoy and make exercising fun. Students can plan an activity to do with their friends which will give them more motivation," she says.
Chow also urges teachers and parents to exercise with their children.
"Teachers and parents need to create a habit of exercising at school and at home. This will motivate children to exercise together," she says.
Sub-edited by Felicia Lam