By Sean Pan
Yan Liu, a housewife from Guangzhou, China, spent RMB ¥8,200 (US $1200) for a packet of Paxlovid in late December, 2022.
Weeks before that, the Chinese government dropped its zero-COVID policy, easing COVID-19 testing and quarantine rules. After this measure, infection cases increased dramatically in many mainland China cities.
Alongside the skyrocketing COVID-19 infection number, the price of Paxlovid increased more than 3.5 times from its original price of RMB ¥2,300 (US $335).
Like many people in China, Yan scrambled for this foreign oral treatment approved by Beijing in December, during the peak of the inflation.
"I bought the drug in case anyone in my family gets infected for the second time since catching COVID-19 again can bring even more serious health problems," the 42-year-old woman says.
All family members of Liu were tested positive in December, 2022, except her seven-year-old son.
"I learned about Paxlovid from my peers. After that I noticed someone selling it in a WeChat group chat for parents in my child's school," Liu says.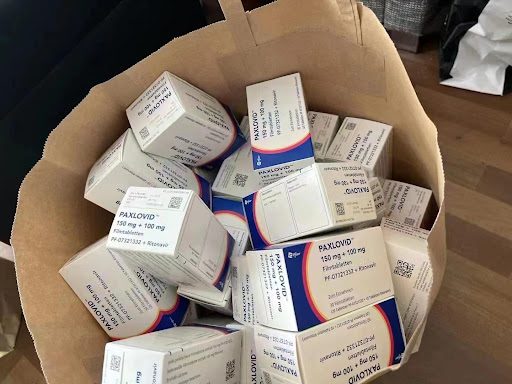 The supply shortage of the drug has fostered a black market in China. Yan bought her Paxlovid from a scalper on WeChat. After spending RMB ¥8,200 (US $1200), she has not used any of the medicine yet.
"I will not regret buying Paxlovid. It is about health, an essential thing. Money should be spent on health," she says.
According to the National Medical Products Administration (NPMA) of China, the drug is an investigational medicine used to treat mild to moderate COVID-19 patients.
Pfizer, the manufacturer of Paxlovid, writes on its website that "Paxlovid is an investigational medicine because it is still being studied and there is limited information about the safety and effectiveness of using Paxlovid to treat people with mild-to-moderate COVID-19."
May Lee*, who lives with her 10-year-old son and husband in Guangzhou, also bought 30 tablets of Paxlovid. She bought the medicine from a private clinic without requiring a prescription in January this year.
"I paid RMB ¥3,400 (US $500) for the drug. It is an amount that I can accept. My family and I might not need to take this medicine but having it ready at home is always nice. I can also send it to my parents or other elderly in the family if they need it," the 35-year-old accountant says.
"I learned about Paxlovid in early November, 2022, before catching COVID a month later in mid-December. But the price was too high then, costing around RMB ¥7,000 (US $1,010)," she says.
In a bid to learn more about how the drug is being transacted, a Varsity reporter posed as a potential buyer in late January. The reporter was offered RMB ¥4,300 (US $620) for 30 tablets of the medicine by a scalper named Sir Yi on WeChat.
"I got the medicine mainly from private clinics all around China. I had sold the drug to more than 50 customers in the past two months," says the scalper, who claims to be based in Shenzhen.
"The medicine can ease symptoms of COVID-19 and be used by people of all ages without causing any allergies or side effects," he says to the Varsity reporter.
"The price has been stable for a while and the demand is still high as there are no substitutes. You should buy the medicine even if you have already been infected. Buying Paxlovid is always a good idea. Prices might go up again when there is a further shortage," Sir Yi claims.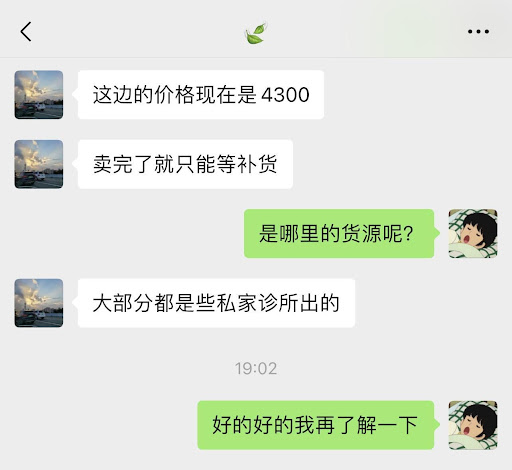 While many people had resorted to underground channels to buy the drug at inflated prices, Paxlovid is now available on different online platforms at a lower price. Platforms like MeiTuan medical and JD medical sell the drug at the price of around RMB ¥2500 to RMB ¥2800 (US $360 to US $400), a few hundred more than the official pricing. However, these platforms only supply a fixed amount of Paxlovid daily, leaving them unable to fulfil the high demand.
Professor Grace Wong Lai-hung of the Department of Medicine and Therapeutics at the Chinese University of Hong Kong says Paxlovid is a helpful medicine to cure COVID-19 with minimal side effects.
Wong adds that Paxlovid can be taken by most patients, apart from those taking other medicines as there may be drug interactions.
"The chaos in Mainland China seems unreasonable. It is wrong to buy or sell any medicine without a legal prescription or to inflate the price, making it unaffordable for certain patients," she says.
"However, in the Mainland, Paxlovid as a valid treatment for COVID-19 is still worth purchasing if it is necessary to help save a life," she adds.
*Name changed at interviewee's request
Edited by Lesley Lam