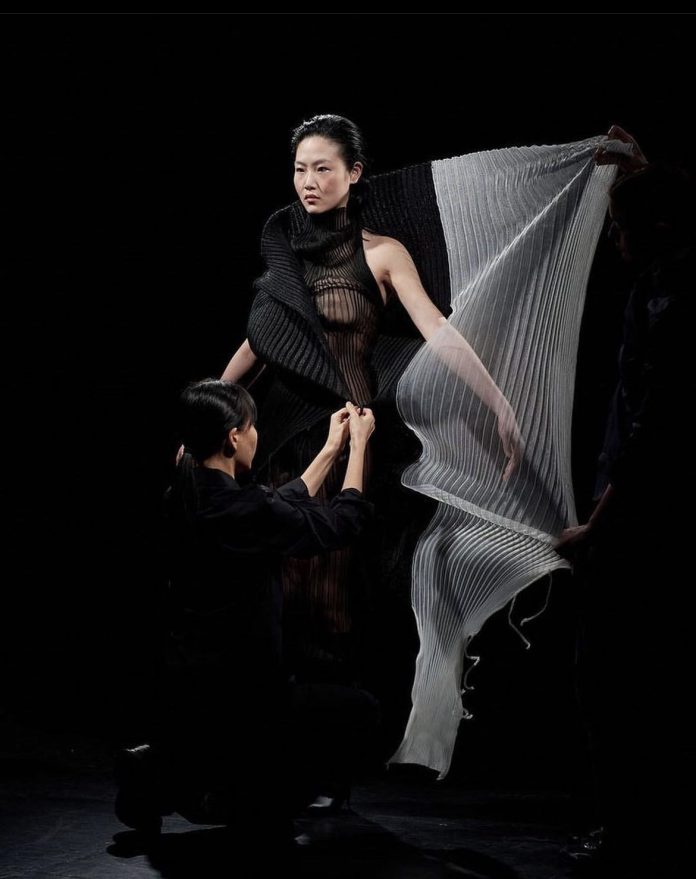 Challenges and setbacks did not hold Yiu Mei-Ki back from pursuing her modeling career.
By Yilie Lo
Hong Kong model Yiu Mei-Ki, who has walked on the runway for brands like Lili Blanc and Mossi in Paris Fashion Week 2023 was forced to change to another secondary school because of her modeling career.
Having been modeling for four years, the 23-year-old landed her international debut at Copenhagen fashion week this year. She also participated in VOGUE Fashion's Night Out Hong Kong in March 2023.
But her secondary school ruled that her modeling was "indecent" and would have a negative influence on other students in the summer of 2018, after Yiu, who was in her last year of study at a secondary school, joined a local modeling training camp.
Yiu was given two choices: transfer to another school, or quit modeling for a lifetime with a guarantee letter signed by her and her mother.
"The second choice was unreasonable. They were trying to control my whole life. I know what I want for my life very clearly. I want to embrace challenges instead of having a stable life like an office worker until I retire, " the young model says.
"I never regret the choice I made about school transfer. Every time I completed a fashion show, I feel wonderful," she adds.
Yiu was then transferred from Hong Kong Taoist Association Tang Hin Memorial Secondary School, an elite school with over 95% university admission rate, to a Band Three school in 2018.
"It was my last secondary school year. Despite my good academic performance, no school was willing to take me in except for a Band Three school," Yiu says.
She had a difficult time adjusting to the classes conducted in Chinese because she used to study in an English Medium Instruction (EMI) secondary school.
But Yiu's new school fully supported her pursuit in the modeling world.
"The school told me that I could do fashion modeling after school or during holidays, as long as it did not affect my academic results," Yiu says.
Dating back to her teenage days, the pressure from school was not the only challenge she had to overcome. Yiu struggled with weight control since she was 15 and the weight-loss journey continues as she stays in the modelling industry.
"I was not born skinny. When other models weigh around 50 kg at 180cm, I doubled them. I weighed 95kg at 172cm. I tried every way to lose weight to meet the industry's requirements and it was not easy," Yiu says.
The young model suffers from insomnia, anxiety, and migraine. She has to take 5-Hydroxytryptophan (HTP) pills every day.
"I have been taking the pills for three years to treat my anxiety. Luckily, there have been no side effects," she says.
Apart from health issues, Yiu struggled to find work. She did not have a single magazine shoot in the first few years of her career.
"It's all about connections. If a model starts with an agency with no connections with editors, the model can hardly get a shoot for a magazine, no matter how good the model is," she says.
"Luckily a make-up artist introduced me to her friend who works in the fashion industry. I finally got the chance to do pictures for Tatler Asia, a magazine that focuses on fashion and lifestyle," Yiu recalls.
Not long after Yiu started modeling full-time, COVID-19 hit the world.
"I went to Singapore for a model placement in January 2020. Two weeks after I arrived, I completed four jobs. Then, COVID-19 started to spread in Singapore and a lockdown was imposed. Everything stopped. There was no job, no casting, nothing," she recalls.
"I was stuck in Singapore for three months. When I finally flew back to Hong Kong, everything in the world was put on pause for three years. I didn't have any job," she adds.
Despite all the uphill battles, Yiu manages to build her career step-by-step.
She has to pass rounds of casting to compete for jobs with over 1,000 top models.
"After passing all of the castings, I have to try out sample clothes for fashion shows. Clients can still change models when doing fittings. Models can be replaced seconds before a show," she says.
In the fashion season of Autumn/Winter 2023 that took place from February to March 2023, she walked for young fashion brands like GANNI, Rosin Pierce, Lili Blanc, and MUNTHE with ten shows, where all castings, fittings, and rehearsals had to be done in just three days.
"To be honest, I was exhausted. But at the same time I feel so proud of myself," the model adds.
Yiu is now taking a break after her hectic schedule.
She plans to start her next fashion week in May or June for Istanbul Fashion Week and Milan Men's Fashion Week.
Yiu set a goal for herself to complete a full circuit of the "Big Four" fashion weeks, starting in New York, followed by London, Milan, and Paris.
"I think I will stay in the fashion industry as long as I can, as I love fashion. I might become a stylist one day after I retire from modeling," she says.
Edited by Phoebe Chu
Sub-edited by Fiona Dongye