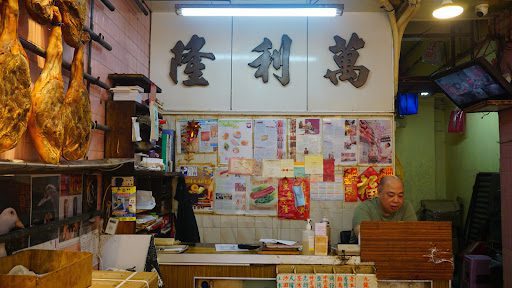 Old store owners are committed to run their business in the traditional way.
By Nicole Li and Hannah Tang
Preserved meat store owner Chan Kui-cheong is determined to continue running his shop just like his father did. Founded in 1958, Man Lee Lung Lap Mei Store (萬利隆臘味家) in Sai Ying Pun has a long history.
"My father taught me how to make preserved meat when I was 20. After he retired in 1998, I inherited the business. I have been running it for over 20 years now," the 53-year-old owner says.
The store, which sells preserved meat sausages, preserved duck liver sausages, salted fish, and other dried seafood, offers no e-payment options.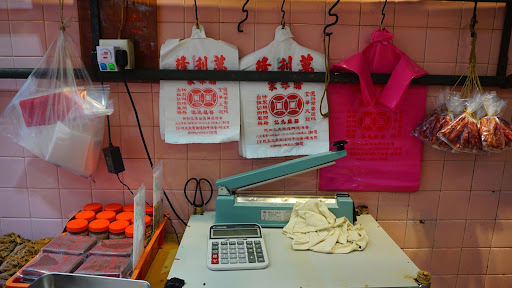 Chan still uses an old weighing machine, a small calculator, a simple vacuum packaging machine and a worn-down cashier register in his shop. He prefers sticking to traditions in the digital age.
"We have our own factory in Hong Kong, so all of our sausages are made in-house," he says.
Preserved sausages are beloved treats for many Hong Kong people, especially during cold winter months when workers for the store need to toil for long hours.
"The workers have to wake up as early as 4 a.m. to start the day-long process of producing preserved sausages. From preparing ingredients to baking sausages, each step requires tremendous effort," Chan says.
"Survival has never been easy here. Competition is fierce in the business world but the key to survival is maintaining a good reputation," he says.
"We make our preserved sausages with the best ingredients we can find. Customers come as our sausages are good. Our sausages do the talking for our shop," he says.
The store has garnered a loyal following, with customers who love their products.
"I come to this shop at least once a month and spend about HKD $300 (USD $38). The taste and the quality of the food here are excellent," a loyal customer surnamed Wong who declines to reveal his full name says, as he buys some preserved sausages from the shop.
"I've never been disappointed with their product quality, and I haven't been able to find anything similar at other stores," he adds.
Another food store with years of history in Hong Kong and is still running the business in the traditional way is Min Fong Hong (民豐粉麵行) in Tsuen Wan.
No Instagram account, no "Likes and Shares" on social media platforms, the store only accepts cash and always has a long queue outside.
Turning 70 next year, the store is well known for its flour-made products, from raw noodles to desserts like mochi.
One of the current store owners, Wang Baoxiu, better known as Mrs. Jiang, is always busy chatting with her customers in her signature apron. She always greets all her customers by name even though her store is always packed.
Customers from different parts of Hong Kong travel to Tsuen Wan for their food.
"One of our customers travelled from another district and waited here for 15 minutes for our oven-fresh leek chives dumplings and a few boxes of raw tang yuans (little glutinous rice orbs) once every few weeks," Mrs. Jiang says.
"We aim to make fresh products everyday inside our store. We do not use preservatives and sell them at a reasonable price," Wang says.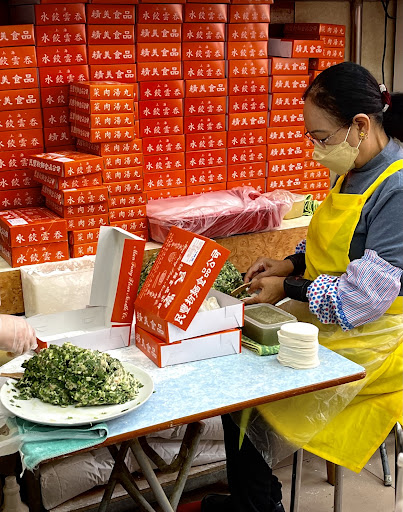 She adds that their loyal customers and the reputation they built over the years keep the store kicking and alive.
Inside the 500 square feet store, six workers are always busy preparing handmade food items. As the founder's daughter-in-law, Wang is proud of her production team.
"Machine-made ones are all identical. They are nothing compared to ours which are made by hand," Wang says.
Loyal customer Mrs. Lee, who often goes to the store with her daughter, shares that the store is more than a food shop to her. "I always enjoy chatting with Mrs. Jiang and her workers every time I buy food here. They know what I usually buy and even remember what my daughter likes to eat," she says.
A few old store enthusiasts started an Instagram and Facebook page (@hongkonghistoricalshops) in 2018 to share pictures and stories of Hong Kong old stores like Man Lee Lung.
The page has 240,000 followers on Instagram and 200,000 followers on Facebook, and is now being operated by 15 team members who hunt for old stores.
Wong Toa, who joined the team in 2021, finds shops with a long history appealing because their stories are touching and full of surprises.
"I can find out a certain period of Hong Kong history just by knowing stories of a small old shop. This is a perspective that I cannot see from history textbooks," Wong says.
The team hopes to promote the value of traditional stores and increase their exposure through social media.
"During visits and interviews, we learn down-to-earth stories and craftsmanship behind these shops with colourful history. Most of the operators of these old stores are facing a thorny question – finding an inheritor. ," she adds.
Another team member Chim Wing-yi says the team wants to dig out more meaningful stories behind old businesses in Hong Kong. "We don't just briefly describe what a store sells. We want people of all ages to understand the history and see the connections within a store and its customers," she says.
"The old stores are mediums that inherit the history and reflect the intangible culture of Hong Kong," Chim adds.
*Name changed at interviewee's request
Edited by Karmen Yip
Sub-edited by Yap Ying–ye