Hong Kong artists use their brushes to record the city.
By Sunnie Wu
Born and raised in Hong Kong, Elaine Chiu explores her cultural identity by painting local cityscapes.
"I started drawing cityscapes in secondary school. Sham Shui Po, To Kwa Wan and North Point are good spots for urban sketching as they are full of local character," the local artist says.
Chiu discovers how the city evolves when she practices on-location sketching.
"There are many organic lines and shapes in a street market, especially the overhead wires that make the picture plane look messy. Whereas you can spot repetitive patterns and straight lines in Central's buildings. It makes me contemplate how people design and shape the city," Chiu says.
The young artist also explores her cultural roots by painting cityscapes.
"Hong Kong is a place of hybridity. You can observe its diverse culture through the neon signs, typography and architectural styles," the 27-year-old says.
Her painting "Plane Over Head" shows signboards of Thai restaurants and jewellery shops in Kowloon City. The signboards are in different languages and design styles which reflect the city's cultural diversity.

The painter always uses watercolour in her paintings because it can show both Chinese and Western art styles.
"Watercolour paintings appear Western style when they have a thick, solid texture. But when the watercolour is blurred, it looks like traditional Chinese ink wash painting," Chiu says.
Other than preserving the heritage and urban identity through paintings, Chiu has also held over 200 street-sketching workshops for the public.
She collaborated with an NGO on a social art campaign called "Street and Seek" from 2018 to 2019. They held workshops in various districts, especially the ones more affected by urban renewal, such as Sham Shui Po and To Kwa Wan.
Participant Wendy Fung says the campaign helps her better understand the old Hong Kong. She went to Sham Shui Po and Tai Kok Tsui for urban sketching.
"I rarely go to those areas because I work in Central. The workshops taught me the background behind the historical buildings and I felt as I travelled back in time," Fung says.
She also noticed the city's unique aesthetics through urban sketching.
"I now pay more attention to the colour tone of Hong Kong buildings. Take tenements as an example, it often has a dull grey tone which brings out the historical traces. I find it very nostalgic," the recruitment consultant says.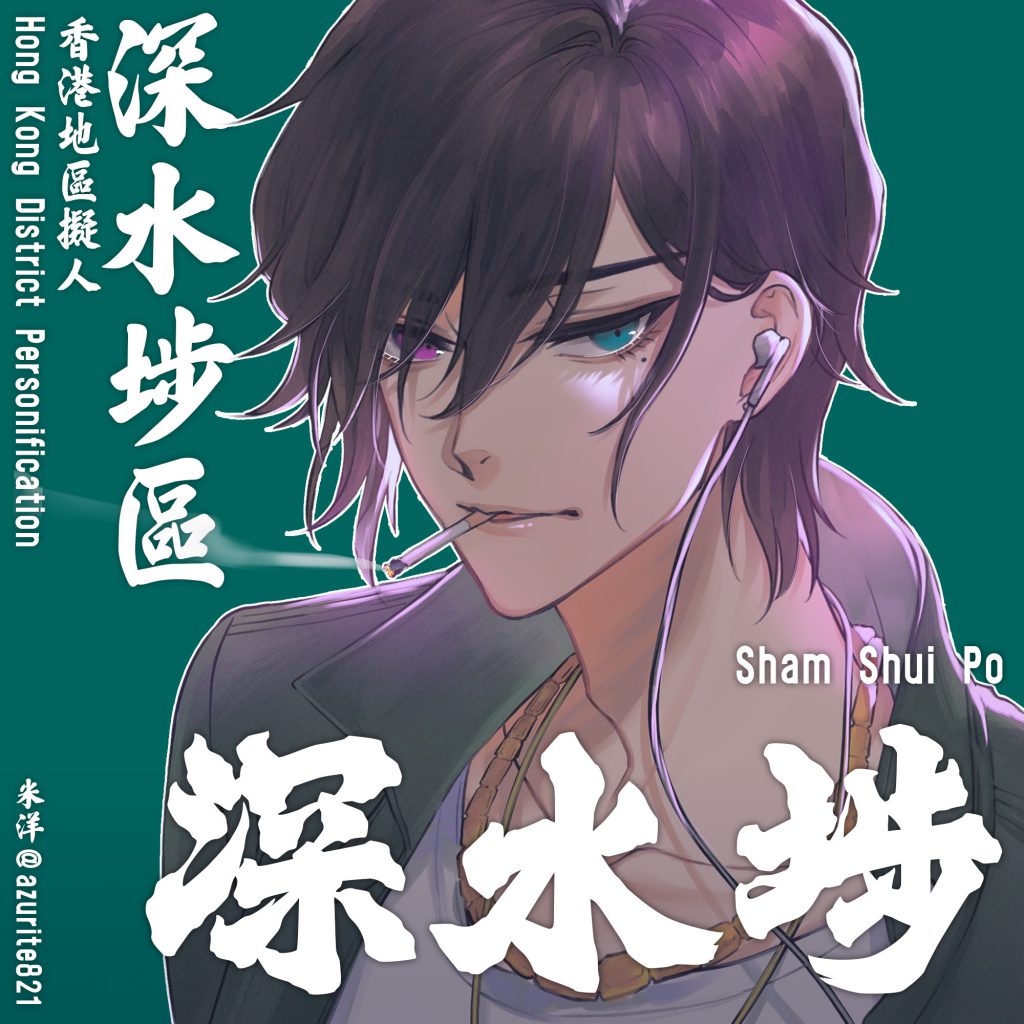 Other than portraying Hong Kong's cityscape, another artist, Azu Kung, tries to present the 18 districts in the city in a lively way. She has created over 110 personifications of Hong Kong districts since 2019.
Kung met people from different districts when she worked as a human resources manager. It inspired her to pay attention to the characteristics shared by people living in the same district.
To design characters for different Hong Kong districts, Kung first researched the history of the district. Then she does city walks to gather first-hand information on the district such as its atmosphere and the personality of residents.
For example, Chek Lap Kok's character has a feather-like hairstyle and pilot costume because it was inspired by Hong Kong International Airport located there.
Kung is glad that her artwork encourages Hongkongers to discover more about their home.
"Some secondary school students told me that they gained interest in Hong Kong's geographical environment because of my artwork. That is why they chose geography as their elective subject," Kung says.
Professor Anthony Fung Ying-him from the School of Journalism and Communication at the Chinese University of Hong Kong explains why people resonate with cityscape painters.
"Cityscapes are iconic symbols in daily life with a straightforward message, so audiences can easily relate to these artworks," Fung says.
Edited by Esme Lam
Sub-edited by Karmen Yip