As the pre-made food industry expands in China, consumer concerns about food safety and quality are on the rise.
By Kamun Lai
Joy Lyu* used to suffer from an irregular heartbeat and hypothyroidism, according to her body check results in 2022. But the report this year shows her health has improved, and she only lacks vitamin D after she stopped eating out and started making her own meals.  
Hypothyroidism is a disease that leads to reduced metabolism due to decreased synthesis and secretion of thyroid hormones. 
"I used to eat out when I worked at an internet company. The working hours lasted from 9 am to 9 pm and sometimes I had to work until early in the morning. So I usually ate fast food or take-away food and never ate on time. That took a toll on my health," the office worker says.  
Lyu now spends two hours preparing meals for the next five working days during weekends, and she has been cooking for herself for a year.  
"After cooking for myself, I joined a weight loss competition in the hospital and followed their low-oil and low-salt diet recipes. I lost 20 pounds in 12 weeks," the 33-year-old says.
"Why not make your own food at home, given the fact that what we eat outside is all pre-made food anyway," says Lyu, who posts a daily homemade meal picture on social media. 
Pre-made food refers to finished or semi-finished products in which ingredients have been pre-cooked and pre-cut. Pre-processed and pre-made food is packed into bags to extend its shelf life.
More and more videos revealing restaurants using pre-made packages, which are pre-cut or pre-cooked, to quickly prepare a dish in less than a minute, are being shared on social media platforms like Douyin. A video showing how packages of pre-made food are turned into dishes served at restaurants by a cook earns 6.3 million likes and 2 million comments. Comments below describe the practise as "horrible". One of the comments, "Consumers have the right to know whether the restaurant is using pre-made food!" gains 3474 "likes".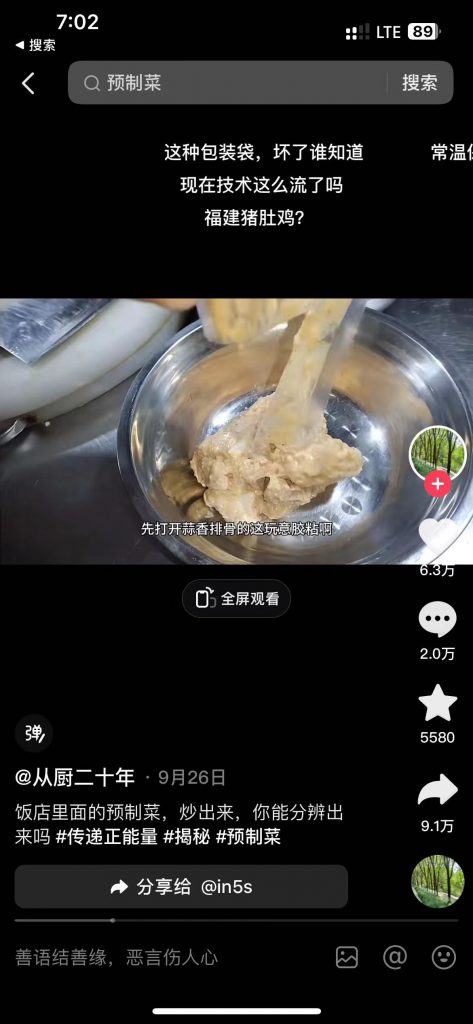 Chinese restaurants such as Xibei, which Lyu used to visit, are also found to have been using pre-made food to serve diners, according to the China Chain Restaurant Industry Report 2022 released by the China Chain Store & Franchise Association.  
"That is the reason I started to prepare meals myself. The cost of a pre-made meal with few vegetables is the same as my homemade meal. I just want to have a balanced and regular diet to become healthier," Lyu says.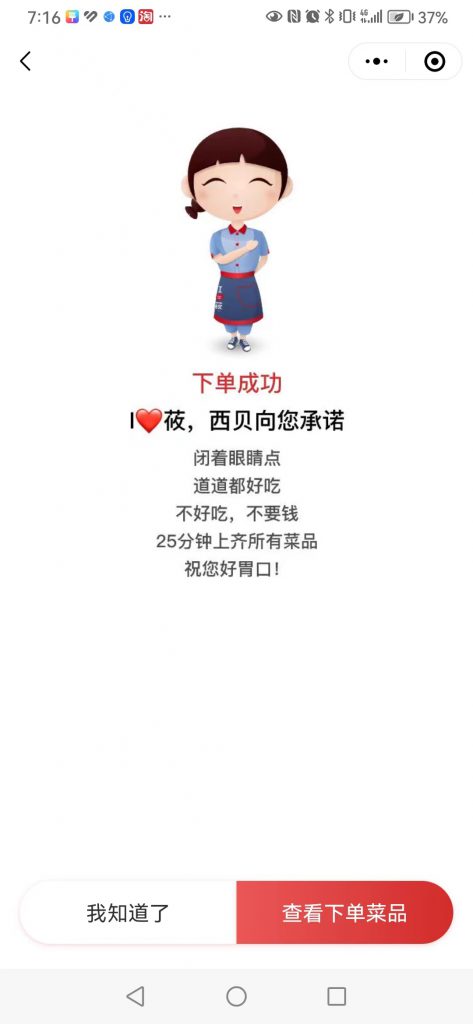 But not everyone can change their lifestyle of eating out. "My colleagues tried but failed. Some complain that their fridges are too small, as they live with roommates or family. So, they are still having takeaway food," she says.
The "No. 1 central document," which the Chinese government released in February, identified the development of the pre-made food industry as a key task for 2023. The market size reached RMB ¥419.6 billion (USD $57.63 billion) in 2022, growing at a rate of 21.3 per cent. The market is estimated to reach RMB ¥510 billion (USD $70.05 billion) in 2023 and rise to a trillion yuan in 2026, according to the Development Report of the Pre-made Food Industry released by the research institution of People Daily in June.
Jack Zhang*, a manager in the food industry for more than three decades, questions the product quality as the regulations for pre-made food used in restaurants are still in their infant stage.
There is no national standard for pre-made food. Guidance documents for the industry are only available in 15 provinces and cities such as Guangdong, Shandong, and Shanghai.
"People are confused about the concept of pre-made food and processed food such as sausages and baked products. The regulations of food packages used in restaurants, the so-called pre-made food, are inadequate. But processed foods have been developed for more than 20 years, and classification and standardisation have been done very well," Zhang says.  
"Young people nowadays can't tell whether the food they are eating is pre-made food because they don't know what the traditional flavour of Chinese cuisine is," the food industry practitioner says.  
Adjunction associate professor Leung Ka-sing at the Hong Kong Polytechnic University's Department of Applied Biology and Chemical Technology, believes the development of pre-made food has evolved due to the fast-paced lifestyle.  
"Compared to previous generations, the pace of life gets much faster. In families where both husband and wife finish work at six or seven, it is difficult for them to cook for themselves," Leung says.
"Also, the cost of freshly cooked food in a restaurant is several times higher than the cost of using pre-made food, including rent and labour," Leung adds.
Leung points out that if pre-made food factories can get a licence to operate and follow current technological standards, there will be no difference in food safety and nutrition between pre-made food and freshly cooked food in restaurants. 
"But the large-scale standardised production and low-temperature storage can cause the food to lose the unique flavour created by chemical reactions at high temperatures. So whether consumers are informed about a restaurant's use of pre-made dishes is a matter of consumer rights," Leung says.
The professor thinks that nowadays people generally suffer from obesity and high blood pressure due to the heavy use of oil and salt.
"The healthiest diet is still cooking by yourself because you can control your salt and oil intake," he adds. 
*Name changed at request of the interviewee
Edited by Eve Qiao
Sub-edited by Christine Tang