British girl founded her knitting business in South Korea, providing knitted garments for K-pop idols.
By Sunnie Wu
Having K-pop idols including SHINee, StayC and Hyuna wearing her hand knitted clothing such as tops and balaclava gives Rebecca* the biggest satisfaction of her life.
The knitwear designer's first major client was Emma Chamberlain, an influential figure in the fashion world with more than 15 million Instagram followers.
In July 2021, six months after she created her own brand Dainty Knit, Rebecca received an Instagram message from the influencer's stylist, asking for a "Dainty Two-Piece".
"At first I thought it was a prank. My sister encouraged me to pursue it. It was so unbelievable and amazing to see her wearing my garments on Instagram as Emma is well-known as a Gen-Z fashion girl," she recalls.
The yellow and green halter top and striped mini skirt was shown in the YouTuber 's Instagram post, earning more than one million "Likes", in September 2021.
The 25-year-old knitter started her knitting journey in 2017 for a university project. She learnt knitting from her grandma and then made a series of small beanies and tops.
Rebecca started selling her products on Depop, a social e-commerce platform where users can buy and resell their items, during the COVID-19 pandemic, and established her brand in 2021 after she moved to South Korea.
The designer made her way to the K-pop fashion arena after customising a design for girl group StayC, who had her tailor-made black and white two-set shown on stage in August 2022.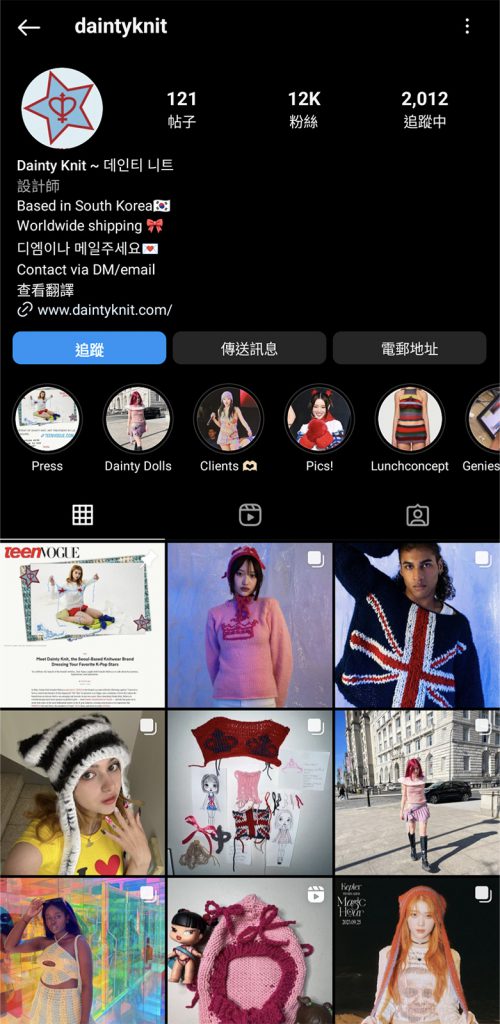 "It felt really fulfilling and I was finally seeing the payoff for all of my hard work. I think it is crazy because I just cannot believe I made the clothes when they were shown on screen," she says. 
The British knitter even managed to tailor-make 20 balaclavas in five days for Korean boy band SHINee's music videos. 
The balaclavas were worn by a group member Kim Ki-bum, who bears the stage name Key, and his dancers in a music video "Hard" released in June 2023.
"The job has to be done in a very timely manner. You have to be willing to sacrifice any sleep to finish something," she says.
Impressed by the Korean's "ppali ppali" culture, which means hurrying up and everything has to be done properly and fast, the knitwear creator thinks it motivates her to work harder.
"Koreans work really long hours. If I do not post on social media for a week or have not made something and completed it, I think I am very lazy. And if I do not work hard enough, I feel like I will get left out," the fashion design graduate says.
After posting a video of clothes she made for various idols on Tik Tok in March 2023, Rebecca shot to fame with her followers increasing rapidly from 3,000 to 20,000 on the social media platform. The video even reached 2 million views.
But the knitter has been repeatedly accused of paying idols to wear her garments, recreating clothes Idol wore before and claiming that she made it.
"They assume idols only wear designer brands and expensive garments. People did not believe it was me [that had made the clothes] because idols will not tag your brand on social media," she says.
Rebecca refused to reveal her full identity as she has received many hostile messages on the internet after collaborating with celebrities.
When I read really negative comments regarding me or my products, I take it personally because they are all mine. I do everything, and I do not have any employee that can block that out.
"My comments and direct messages have been crazy," she says.
Apart from dealing with accusations on the internet, she also needs to handle all the cyberbullying alone as she is all alone in her company.
"I only have myself, but a lot of people do not realise that. When I read really negative comments regarding me or my products, I take it personally because they are all mine. I do everything, and I do not have any employee that can block that out," the brand owner says.
Instead of adopting setting changes such as limiting comments or separating direct messages to block messages from strangers, she still allows direct messages because it is the way she gets orders from clients including celebrities.
Despite the cyberbullying, the young brand owner channels negative vibes into motivation.
"I am more thick-skinned now. And I get more love than hate from my job. For example, most of my followers are K-pop fans," she says.
"Even if my brand does not do very well, I will still continue to make stuff and sell it online, because I just cannot see myself not designing or not making anything. I am truly passionate about it," she adds.
"When I first moved to Korea in 2021, I always saw Hyuna's outfits and I thought that was so cool. I wondered what it would be like if she wore my outfit. And now it came true," she says.
Hyuna is the mononym of Kim Hyun-ah, a former member of Korean girl band 4Minute and now a soloist singer, songwriter, and model.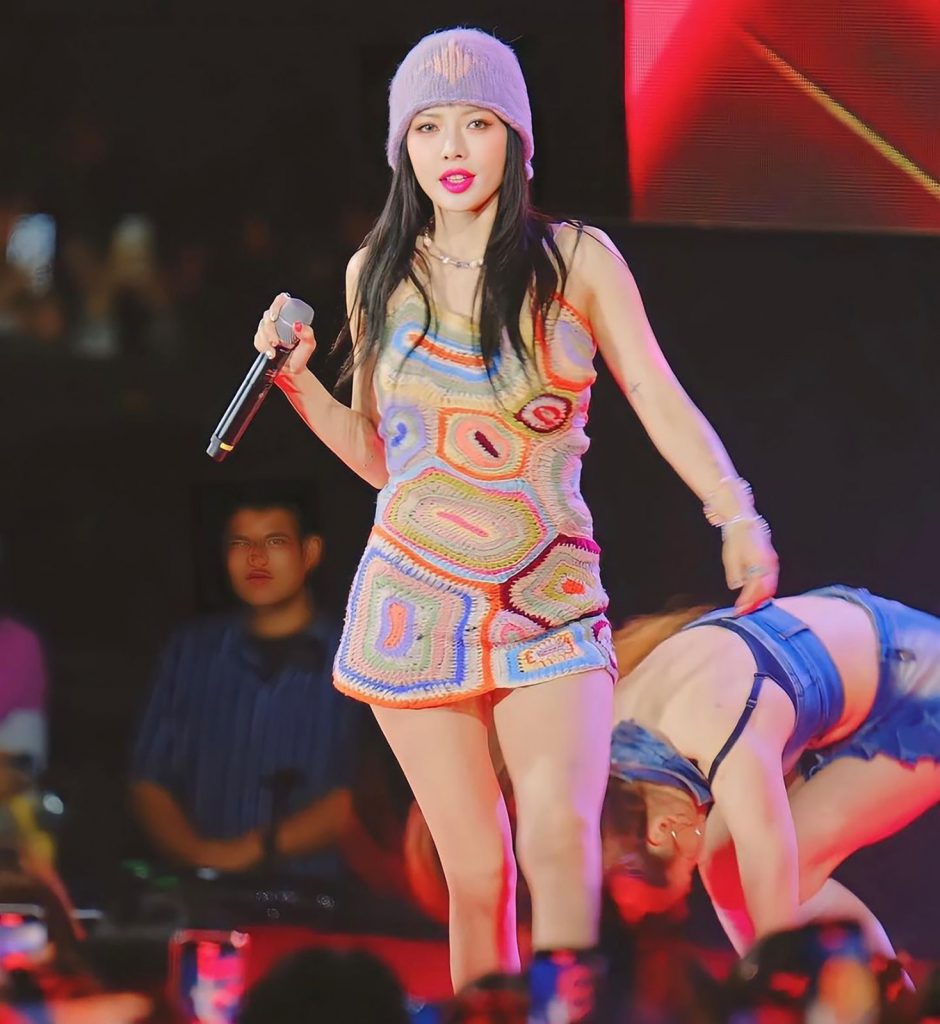 The brand owner hopes one day she can knit clothes for Beyoncé and celebrities appearing in Met Gala or the MTV Videos Music Awards.
"I have these delusional thoughts sometimes and I never take it too seriously, but it is also a kind of motivation," she adds.

*Name changed at request of the interviewee
Edited by Christine Tang
Sub-edited by Leopold Chen