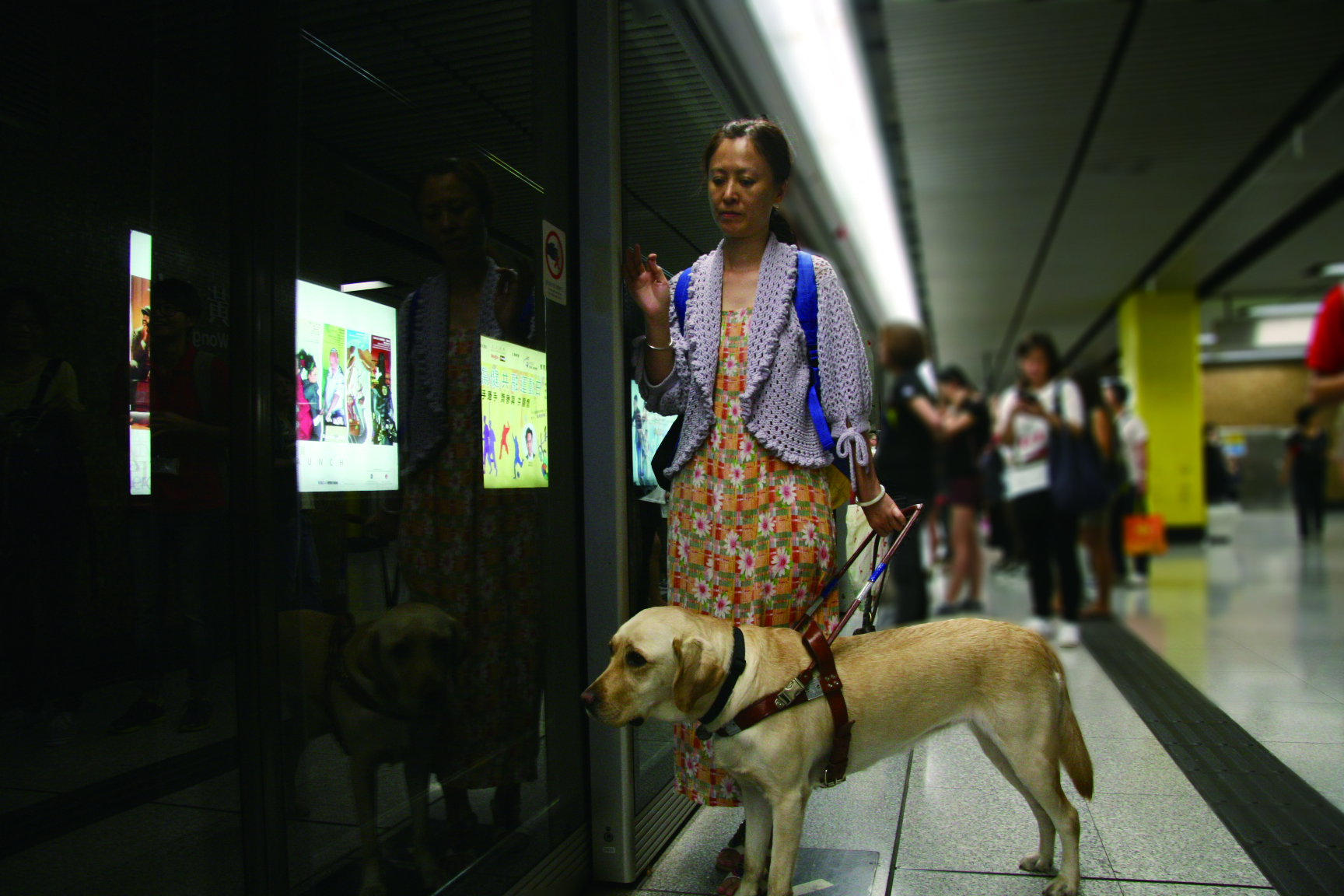 Hong Kong last saw guide dogs on the streets in 1970s now they are back with a new generation of puppies in training
By Cherry Wong
On a sunny day, a labrador retriever leads its handler through the crowds while the handler follows, holding onto the handle that is attached to a snugly fitted harness on the dog. On their short journey from the handler's home in Wong Tai Sin to the MTR station, many pedestrians stop to look and whip out their cell phones to take photos. The dog's name is Rally and she is not an ordinary pet dog, she is a guide dog.
Rally's everyday work is to lead her owner, Trada Yip Man-yee through her daily routine. Yip became blind around 10 years ago after developing glaucoma. She used to rely on a white cane to help her get around. However, the cane is only useful as a mobility tool up to a maximum height or distance of 2 ft below waist level. Whenever she went out, Yip had to be extremely cautious, or else she would end up bumping into passers-by or other obstacles.
The elderly people living in her building used to shout at her to warn her against accidentally hitting them with the cane. But around six months ago Rally came and brightened her life.
It took 26 days for Yip to master communication with Rally. Handlers communicate with their dogs through a variety of signals using voice, body gestures, and collar gestures. Now, with Rally's assistance, Yip can walk much faster and further than before. "I've become happier, as all my neighbours like Rally a lot. After these six months, Rally gives me the confidence to get around," Yip grins.
Yip finds she is now welcomed by strangers as people are often curious about Rally. She attracts attention and her presence starts conversations.
The history of guide dogs in Hong Kong can be traced back to 1975 when a German Hong Kong resident sponsored two guide dogs which received training in Australia to the territory. Unfortunately, due to a lack of local support and experience in handling guide dogs, one eventually died of disease and the other was killed in a car accident.
The guide dog service in Hong Kong was subsequently suspended as Hong Kong was not ready to produce guide dogs locally. Puppies chosen to be trained as guide dogs must have descended from at least seven generations of selectively bred guide dogs.
Guide dogs made a return to Hong Kong two years ago after two guide dogs were imported from Taiwan. At present, there are six guide dogs serving in Hong Kong and another six are receiving training provided by two local guide dogs organisations, the Hong Kong Guide Dog Association (HKGDA) and Hong Kong Seeing Eye Dog Service (HKSEDS).