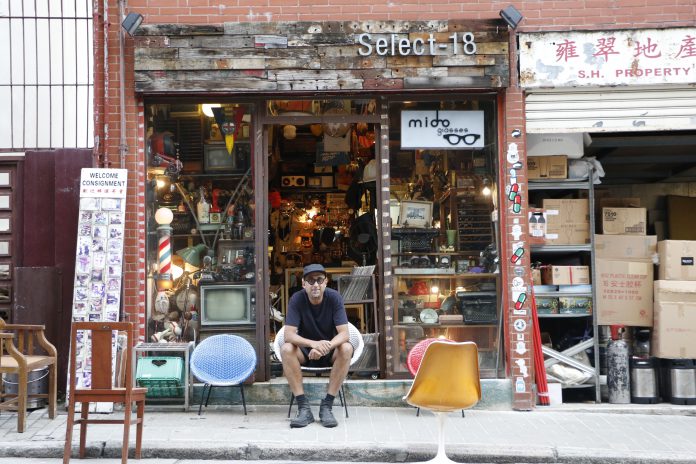 Browse through a huge collection of Hong Kong memorobilia at Select-18
By Crystal Wu
At first glance, vintage shop Select-18 looks more like a storeroom for junk. The window display is messy, stacked high with miscellaneous objects such as typewriters, rotary dial phones, vinyl records, a random bowling pin and even a barber's pole.
Unlike the antique stores one block away on Sheung Wan's Hollywood Road that sell Chinese porcelain and Buddha statues,  Select-18 offers colourful bits and pieces that made up Hong Kong life in the past, especially during the colonial period. There is a framed photo of Queen Elizabeth that used to hang in Hong Kong schools in the 1970s, an empty bottle of Green Spot, a popular orange soda brand back then, and guest badges issued by the Royal Hong Kong Jockey Club, which was renamed The Hong Kong Jockey Club after the handover. Old clocks, cameras and McDonald's Happy Meal toys cover the walls, while vintage fans, lights and posters hang from the ceiling. The dimly-lit store is a treasure trove of memories.
Mido Dhillon, the owner of Select-18, says his obsession with collecting old items stemmed from his identity as an ethnic minority in Hong Kong.
"I had this question since I was a kid: Why was I in Hong Kong when I wasn't Chinese?" says Dhillon, an Indian Hongkonger. He began digging into Hong Kong history to find out how Indians came here. He soon fell in love with local history, and began collecting items.
"I will collect anything with historic value and background, and put them here so that someone with a feeling for it can get it," he says. Sometimes he takes in everything from old stores when they go out of business, save a couple items for his own collection, and sell the rest in Select-18.
"After 1997's handover, a lot of things from the colonial period are disappearing, which is why I want to collect them," he says. Born in the 1970s, Dhillon grew up living in civil servants' quarters and has a fervent passion for collecting civil servants' furniture from colonial times. He says the furniture is different according to the rank of the civil servants and he has a warehouse in Kwai Chung dedicated to his furniture collection.
He picked Sheung Wan as the location for his store because this is where the British first settled in the 1840s. "This is where Hong Kong was first developed … I think this place is very colonial, and I find it is not as commercial," says Dhillon.  The store used to be an old fridge repair shop, and he has kept its old green and white checked tiles.
Whether you are a professional collector looking for a specific article, or just someone who is interested in Hong Kong's past, Select-18 is a good place to start looking.  You can visit the store at 18 Bridges Street, Sheung Wan or go to its Facebook page.
Edited by Chloe Kwan