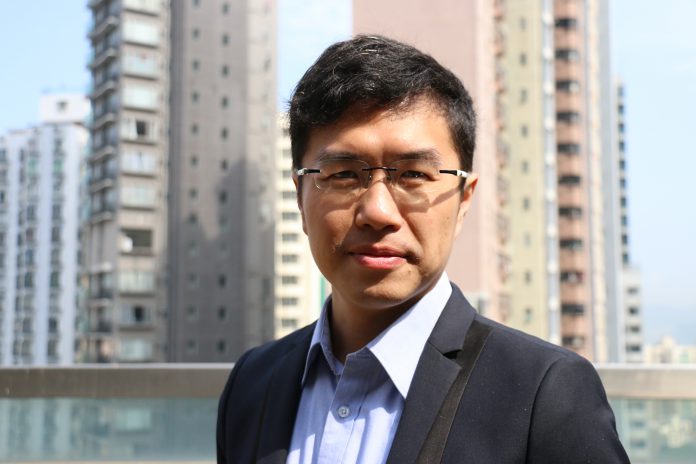 By Gloria Li
Former Democratic Party Executive Committee member Au Nok-hin says he's running in the Hong Kong Island Legislative Council by-election as the Plan B for the whole pro-democracy camp, not just Agnes Chow Ting and Demosistō.
The 30-year-old Southern district councilor fears the government's moves to disqualify lawmakers and candidates with dissenting political views is becoming 'normalised'. He compares the current by-election – which was triggered by the disqualification of  four lawmakers – to a referendum.
"The disqualification of legislators is actually a disqualification of 180,000 voters' opinions," Au says. "It is a disregard of the people's voice."
Au's candidacy has the support of the whole pro-democracy camp, including the Democratic Party which he quit last year in order to play a role uniting progressive pro-democracy forces. It's a role Au has some experience in as a former convener of the Civil Human Rights Front,
As for whether he is afraid of being disqualified himself, Au says: "If the government is to disqualify me, please disqualify the whole pro-democracy camp," Au says.
As the candidate the pro-democracy camp is united behind in Hong Kong Island, Au thinks he is representing certain values. For instance for the rule of law rather 'rule by law'. Controversial issues and events, such as the  co-location checkpoint scheme and the imprisonment of the student leaders of 2014's Occupy protests have raised questions about the independence of Hong Kong's judiciary, as well as the way the government uses its power and the law.
"I don't want a Hong Kong that is ruled by law. We should bring back the idea that laws are used to protect citizens' rights, rather than become a tool for suppression," says Au.
As the candidate with the most experience in politics, Au says that he is also interested in exploring how to bring local issues into the legislative council and improve the regulations around buildings management.
While Au thinks that his biggest rival is Judy Chan Ka-pui from the New People's Party, he hopes that people vote for him, and for justice.
"Instead of saying that I have confidence in myself, let's say I have confidence in Hong Kong citizens," he says.
The other candidates in the Hong Kong Island constituency in the 2018 Legislative Council By-election are Judy Chan Ka-pui, Edward Yum Liang-Hsien and Ng Dick-hay.
Edited by Jade Li