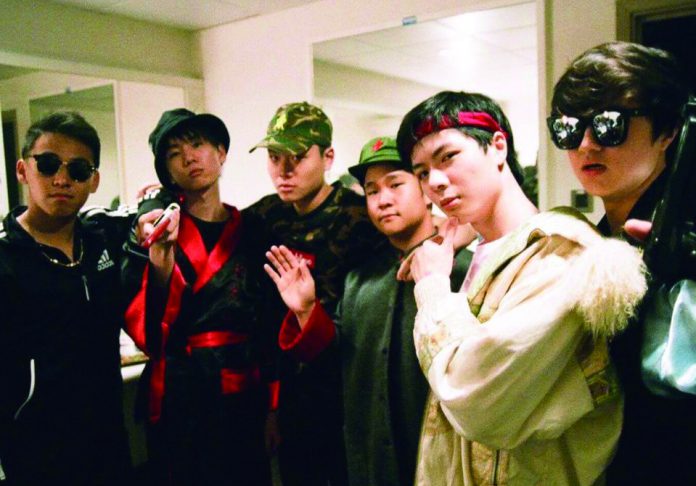 The Low Mays rap their version of Hong Kong culture
By Jane Leung
Hip-hop group The Low Mays may look tough with their gangster outfits and profane lyrics, rapping about sex, gangs and violence, but they are just six local university students in their 20s who want to express themselves through what they think represents Hong Kong culture.
Group members Matt Da Bospel, Butcher Fong, Lil Hanwo, Healthy Lin, Creme Supreme and Yung Bumblebee are primary and secondary schoolmates who started making music for fun. They made their debut in 2015 with songs revolving around Hong Kong's gang culture in the 1990s, and gained popularity the following year when their YouTube videos were widely shared on online forums. The music video of one of their songs, Pekyau Street, which features violent clips from local films, went viral on the Internet last year, garnering more than 160,000 views on YouTube to date.
In August last year, the group released the mixtape Triadism, which features political messages. Tank speaks of the June 4 massacre, and other songs include Bad and Bourgeoisie, No Child Policy and Great Leap Forward.
The six members never thought they would go all the way from performing rap at their secondary school's morning assembly to having their own shows today. "It was funny and astonishing," says Creme Supreme as he recalls how they rose to fame and saw their fans singing along with them at their live shows.
Creme Supreme, who is responsible for audio mixing, says their music is influenced by trap artists such as Lil Pump. Instead of copying their music styles, he says they try to extract certain components and develop them into something unique. For example, ad-libs, which are single words or short phrases that are spoken in the background, are commonly used when American rappers perform. The group incorporates this feature in their music using Cantonese slang.
Despite being a full-time student, Creme Supreme says he normally spends a few hours on songwriting every day. The rapper's inspiration can come from anything around him. Whenever he has a new idea, he jots it down, records lyrics on mobile phones and arranges the tunes on a computer. Many of the songs by The Low Mays are impromptu, including Fulham Space Station (富林太空站), which was released last summer. Creme Supreme didn't expect listeners to like it, because he just wrote the whole song in 10 minutes, but the video has over 71,000 views on YouTube.
With their daring style, the band has encountered obstacles when trying to promote their music to a wider audience. They have been asked by concert organisers, record labels and radio stations to change the names of their songs because they contained bad language. "Hong Kong has its own Cantopop, which is unique to the city and [people's music taste is] hard to change, but more and more people are listening to our songs," says Creme Supreme, who is optimistic about the group's future.
Fans of local hip hop should check out The Low Mays' concert this summer. You can also listen to their music out on YouTube (Warning: contains profanities and references to sex and violence).
Edited by Elaine Ng