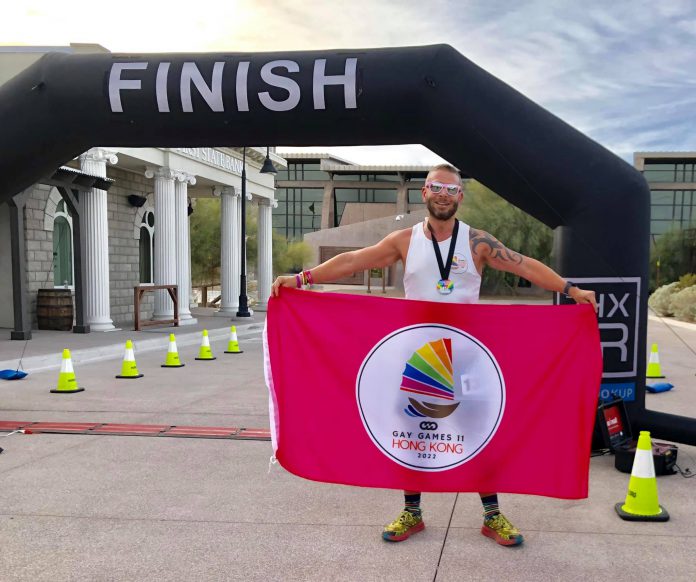 Dennis Philipse brings LGBTQ's Gay Games for the first time to Hong Kong, hoping sports can connect people together.
By Lynne Rao
On October 30, 2017 at Hôtel de Ville in Paris, the deputy mayor of Paris announced Hong Kong won the bid to host Gay Games in 2022.
"It was amazing. Everybody was super excited," Dennis Philipse, co-chair of the Gay Games 11 Hong Kong 2022 team, says when recalling the night his team won the bid.
The 47-year-old Dutch, who has been living in Hong Kong since 2010, devotes himself to making preparation for the Gay Games HK 2022 and serving Hong Kong's LGBTQ community.
Originated in San Francisco in 1982, Gay Games is a global sports competition held every four years and perceived to be the Olympic Games for LGBTQs. Back in 1998, when visiting the Gay Games held in Amsterdam, the young Philipse was impressed by the event.
"There were so many people, so many spectators and so many things going on… You could feel what was happening," he says, "People from all over the world came together for sports. That's quite unique."
Gay Games has only been held in western countries since it was founded. Philipse had an idea of bringing the Gay Games to Hong Kong in 2014. He then started a campaign to fight for the right of hosting the game.
Working with a team of 15 people and 40 volunteers in the campaign, Philipse spent six months preparing a 300-page bid proposal and a presentation to convince the game committee that Hong Kong was the perfect candidate to host the game.
Hong Kong beat 10 strong competitors, including Washington DC and San Francisco, and won the bid to host the Gay Games 2022. The biggest difficulty Philipse and his team faced was to explain the event to the public. "People have no idea about how big it is and how important this is for Hong Kong," he says.
The successful story is actually closely related to an LGBTQ community he founded and his love for outdoor activities.
Set up an LGBTQ Community
Philipse observes that many people do not like mingling with friends in clubs or bars. He opened a Facebook page – Out in HK in 2014 and began organising sports activities with his friends every week from then on with connection he made on social media platforms. The activities include trail running, swimming, tennis and so on.
He hopes by founding the group, members of the LGBTQ can meet new faces. "If you go to bar or club, it's very loud and noisy and difficult to talk to people," says he, "If you go hiking, it is easy to make friends because when somebody gets cramps or falls, people help each other."
"If you go hiking, it is easy to make friends because when somebody gets cramps or falls, people help each other."
"There are several sport groups in Hong Kong but those are usually very exclusive. Out in HK is a community for everybody to join. It's more visible," says Philipse.
He believes that sports can help people keep fit and build connections. Some LGBTQ people even found their lovers when taking part in the sports activities.

Out in Hong Kong is now one of the biggest LGBTQ communities in Hong Kong with more than 6000 members. Philipse incubated the organizing team of Gay Games 2022 through this group and is using it as an important platform for promotion.
"It's nice to bring people together," Philipse says, "People who come the first time for the events like this and they keep coming. It's really important."
Philipse believes that playing sports is important for physical and mental health. He embraces challenges by participating in Hong Kong 100 Ultra Trail Race, a 100km trail running challenge in Hong Kong, twice and completing the race once in 22 hours. "If you run for a long time like 24 hours, you are on your own," he says, "It's a mental game."
"If you run for a long time like 24 hours, you are on your own. It's a mental game."
Get Ready for 2022
Gay Games 2022 is still in "the developing stage". Philipse and his teammates have deployed multiple media channels to promote it in Asia. They expect the game to attract 12,000 LGBTQ athletes and 75,000 spectators.
"Because it's the first time the game comes to Asia, many people have not heard about it," says Philipse, "We really need to explain what it is and why people should join it."
Philipse is now working in a technology company, and plans to quit the job to dedicate himself to the big event, though he has not yet thought about other ways to make a living.
Philipse points out that as the degree of acceptance of LGBTQ communities in Asia isn't as high as that of western countries, many people hide their sexual orientation.
By organizing sports events for the LGBTQ community, Philipse wants to change public's view on homosexuality. "It's quite hard if you can't bring your whole self to work or home," says Philipse, "Hiding half of yourself is an emotional burden."
"Gay Games is about education… being LGBT is normal," he adds.
Edited by Jasper Cao
Sub-edited by Howard Li