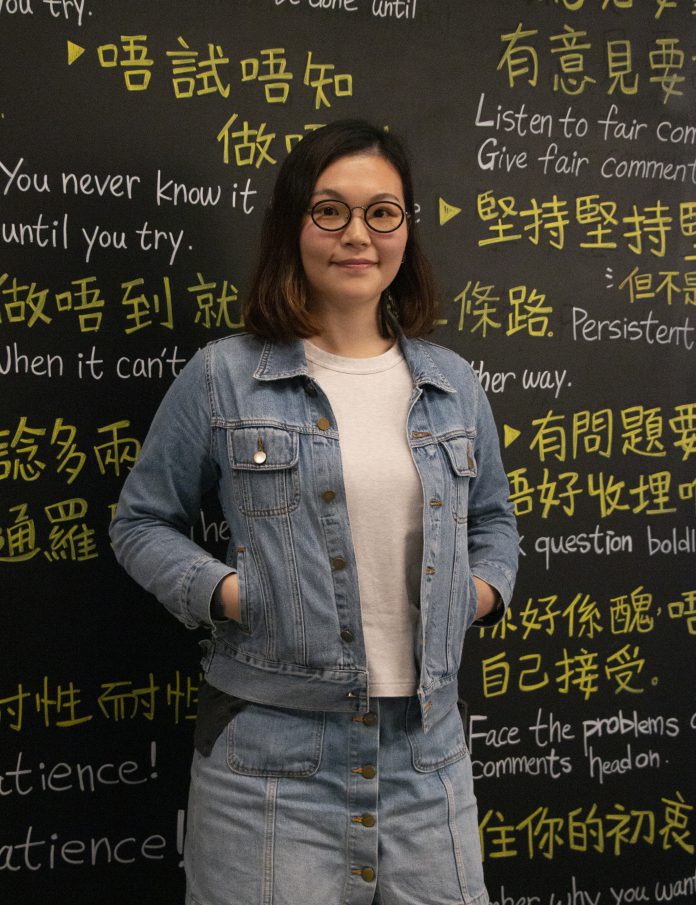 A Handmade paper maker finds a new way to advocate green lifestyle.
By Coco Zhang
It is easy to buy paper in Hong Kong, but Because Yeung still prefers making her own paper. She learnt the craft when studying at Hong Kong Art School (HKAS). She now makes green wedding cards and offers paper-making workshops to promote green lifestyle.
Thanks to her green production concept and tailor-made design, Yeung is able to sustain her business by making handmade wedding invitation cards using recycled offcuts from local paper mills. "It is trendy for young people to have a green wedding to spread green message and that's why they come to me," says Yeung, "They want handmade invitation cards which are made from recyclable materials."
Apart from making wedding invitation cards, Yeung also organises workshops to promote green lifestyle. She teaches participants how to turn a common waste like milk cartons into usable handmade paper by showing them how to separate plastic films from the cartons. "The best way to persuade people to save paper is to let them do it and see how hard-won it is," says Yeung.
Although more and more people are adopting a paperless lifestyle and relying on electronic devices, Yeung still makes paper because she believes paper is irreplaceable. She says the thickness of a book can influence readers' experience and its texture can help you immerse in the story. "Paper raises the temperature of reading," says Yeung.
Make paper from scratch
Yeung's love affair with handmade paper started when she was studying in Hong Kong Art School (HKAS). At that time, the campus had just relocated in the rural area and she was assigned to design a poster to celebrate the 10th anniversary for the school.
Wandering around the new campus, Yeung was inspired by the surrounding environment. She decided to create an artwork featuring the natural environment around the campus.
The paper available in the market is too thin and its texture is too smooth to fulfil her aesthetic requirement. "There is really no choice but to do it by myself," says Yeung. There was no paper-making course available in Hong Kong seven years ago, so she learnt it by watching clips on YouTube.
"I like the state of paper when it's in the water, which resembles the clouds in the sky, "says Yeung, "The paper pulp is high in plasticity and I like its plasticity and freedom."
Turn hobby to her career
Yeung had never thought about turning her hobby into a career until she was invited to hold a paper-making workshop in HKAS's open day. The event was a turning point in Yeung's life – she started thinking about setting up a studio to make handmade paper or books.
Yeung was a full-time designer in an advertising company back then. She decided to quit her job and start her own paper-making business. "You never know whether you have made the right decision until you get a result," says Yeung, "You won't succeed if you don't take action."
"You won't succeed if you don't take action."
Introduced by her friends, she went to Taiwan to learn traditional paper-making techniques from a paper-making family. She received a systematic training from planting mulberry trees to selecting raw materials.
Though Yeung is happy that she can turn her interest into a career, she feels confused sometimes. When making paper, she needs to stand for hours and sometimes up to five hours a day, especially when she is loaded with many orders from her clients. Long hours of repetitive work annoys her. "I don't want to be a machine," she says.
Yeung believes that one has to be very careful and attentive during the process of paper-making. The products in some way can reflect the mentality of the maker. There were times when she found the paper she made was fragile. "I asked myself why I didn't enjoy it when the hobby became my career. And I found it was because my mindset changed," she says.
Yeung keeps reminding herself why she started making paper in the first place — it is to enjoy the process. She tries to focus better when making paper by putting her phone aside. "It's more like 'heart-made paper' instead of 'handmade paper'," she says.
"It's more like 'heart-made paper' instead of 'handmade paper'."
Yeung named her studio "Somood" because its pronunciation resembles Cantonese "水木" (meaning "water and wood" ), which are the major raw materials for making paper. She also finds that Somood is a Muslim name (Arabic writing: صمود), which means "steadfastness" and "firmness". Yeung says that such coincidence perhaps explains why she falls in love with handmade paper and turns it into her career.
Edited by Jasper Cao
Subedited by Emilie Lui