Mirror fans design products to support their idols.
Esme Lam
Sheep Yeung, a fan of Mirror, started to make dolls modeling on Jer Lau Ying-ting, one of the singers in the 12-member boy band in January 2021.
"I posted an image of Lau edited by myself on my Instagram story and tagged him to share his song to others in August 2021. To my surprise, he saw my story. Although he did not reply to me, this made me feel so happy. So I tried to design some goods to promote Lau," she says.
Each of her dolls nicknamed "Lau BB" comes with a set of clothes, a birth certificate and a linen bag. Each package costs HKD$250 (US $32.1) and over 300 fans of Lau have ordered it.
"I chose to design and produce dolls for Lau since there are fan-design dolls in each fandom and I wanted to own a doll modeling on Lau," she says.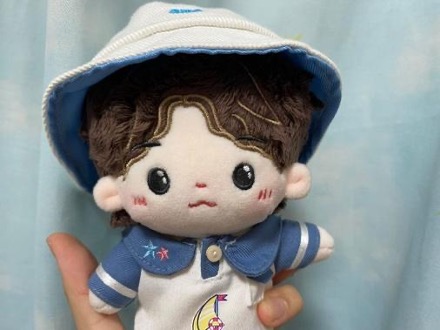 Yeung spent three to four months and many efforts to revise her design and communicate with a factory for production.
"I never thought so many fans would buy my dolls. It is a miracle. I am not studying design or anything about creativity. I am not even good at drawing. But still some people like my dolls and are willing to pay for them," she says.
Although many fans have ordered her dolls, Yeung does not make any money from it.
"Being a creator and fan of Mirror, the starting point of designing and producing these dolls is to make my creations come true and share them with others. So it is never about making money," she says, adding that she is only selling at a price which is slightly higher than the cost.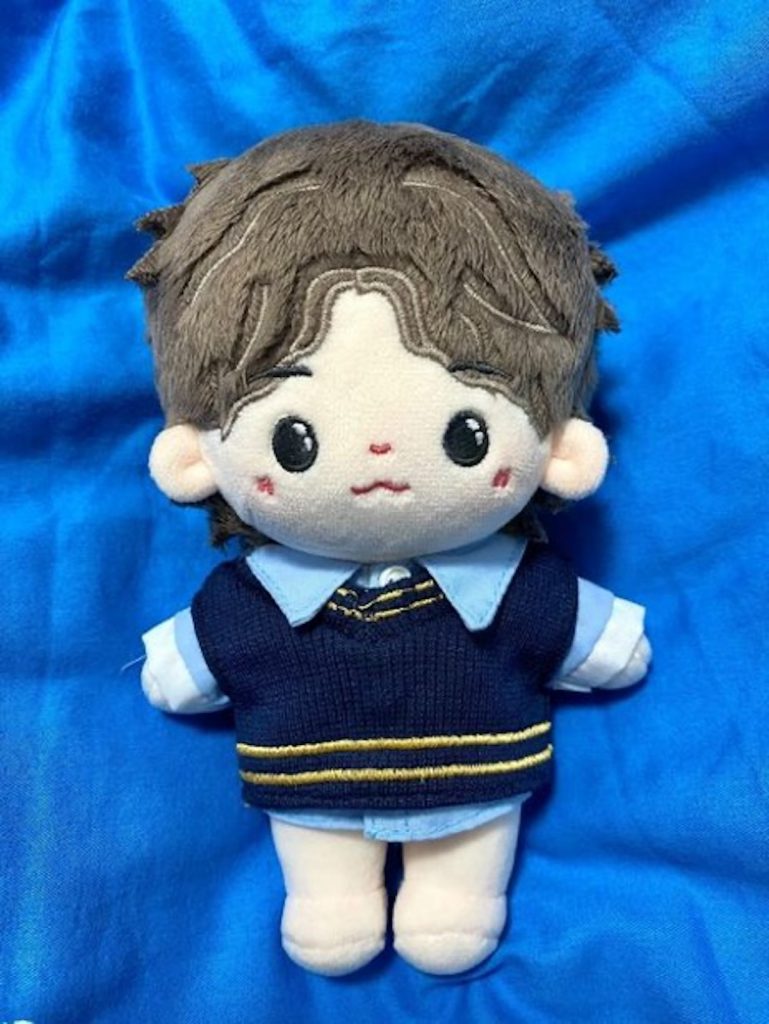 Cup holders holding fans together
Another Mirror fan, Ko Sin-lam designed cup holders featuring images of Jeremy Lee Chun-kit, another member of Mirror, for free distribution at three milk tea shops to celebrate his 26th birthday from September 4 to 9, 2021.
"I think it is a good opportunity to celebrate my idol's birthday by distributing free cup holders as it is a good chance to promote Lee. Consumers who just want to have a drink may take a look at my cup holders and learn about Lee," Ko says.
"Milk tea shops can also be a gathering place for fans to celebrate his birthday together by holding events," she adds.
Ko and her partner started to design her cup holder in July 2021. They picked a photo of Jeremy from her concert photo collection and a background colour to match the picture.
"To match Lee's image and the vibe of his performance, roses and butterflies were added to enrich the design of the cup holder," Ko says.
"It is a very rewarding experience. I received lots of support and encouragement from many Mirror fans," she adds.
She says she will continue to design cup holders for her idol this year.
Sharing the same passion for Mirror as Yeung and Ko, Maggie Leung started designing stickers featuring one of the 12-member boy band Edan Lui Cheuk-on in 2018.
She has so far designed over 140 stickers which are shared on instant messaging platforms including Telegram, WhatsApp and Signal.
Leung became a fan of Mirror after watching their debut press conference in 2018. The freelance illustrator then started to produce these stickers with her "Berdan", a character designed by herself.
"Berdan" has the characteristics of both Lui and Bert, a character from a children television show Sesame Street.
"After watching the canvassing video of the final round of King Maker in 2018, I found Lui and Bert look quite alike. That was how I found inspiration for my stickers design," Leung says.
"I started to draw stickers as I wanted to make something useful with low cost, and I thought it would be interesting to use them when I text my friend. So I do it for myself rather than for Mirror and their fans," she says.
Leung says it takes about 30 minutes to draw a draft, outline a sticker and finally colour it.
She launched her first batch of her stickers on Telegram in November 2018. Lui's fans love them and often use them.
"I am really surprised. I just make them for fun. I never thought my stickers would be used by others in their chats," she says.
Leung says she will continue to expand her series of stickers.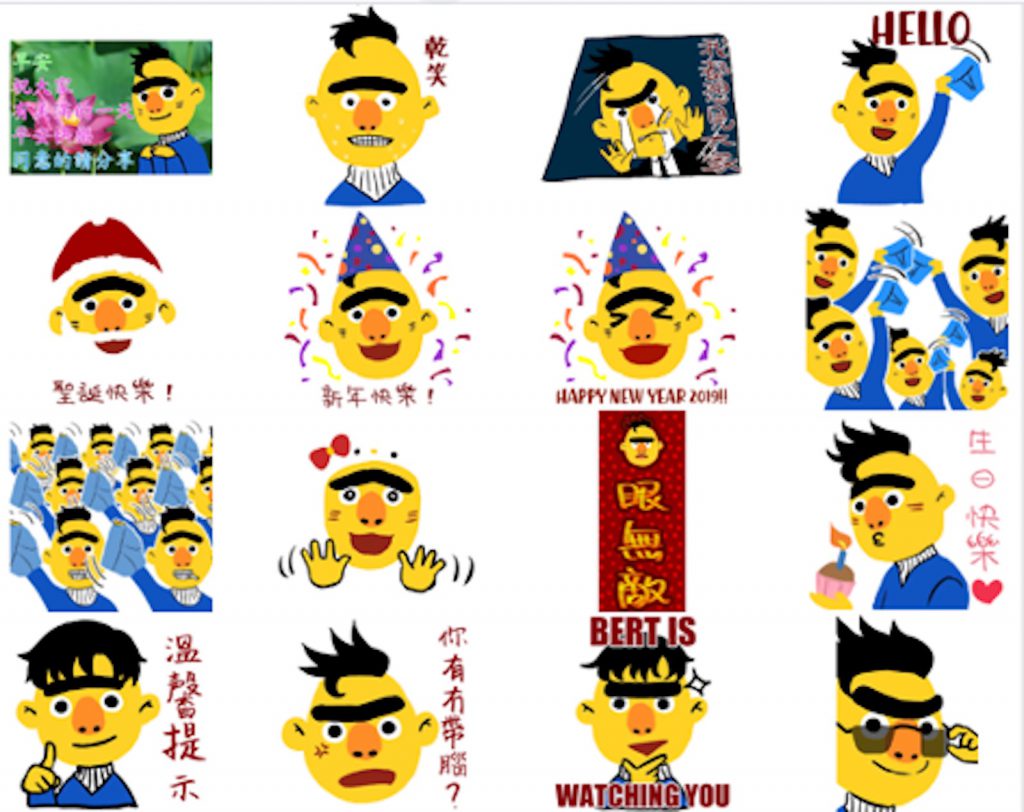 Joy to Hong Kong
Chan Ka-ming, former lecturer in social science at the Hang Seng University of Hong Kong, thinks that the fan-design culture of Mirror is more overwhelming than the Korean version.
"Take advertising light boxes and billboards as examples, they are just little spots for fans to take pictures in Korea. But light boxes and billboards featuring Mirror are now city attractions in Hong Kong," he says.
"To celebrate Keung To's (a member of Mirror) birthday, fans placed many light boxes, billboards and even decorations on a tram in Causeway Bay, where Keung To lives. It became "Keung To Bay" during his birthday," Chan adds.
Chan states that fans can make use of their talents and in return they have a sense of achievement when producing designed products.
"People are frustrated due to the political issues in recent years. As fans can achieve both joy and sense of achievement through supporting their idols, they are very involved in making these goods," he says.
Chan thinks that making fan-design goods may also be seen as an act to vent their dissatisfaction to society.
"Mirror is a Hong Kong boy band, a product of ViuTV, which is a 'weaker' player in the television industry compared with TVB. Supporting Mirror therefore becomes a way for their fans to show their dissatisfaction to the great powers," he adds.
Sub-edited by Angel Woo