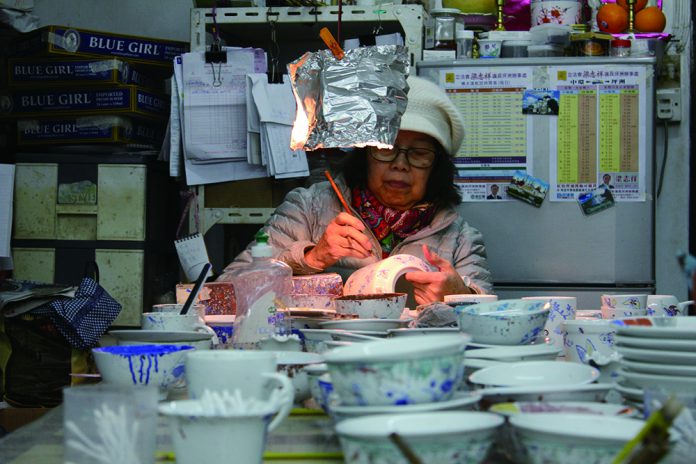 How an artisan and art teacher is keeping a dying art alive
By Gloria Li 
Sitting quietly under an amber light, Lam Kiu colours a porcelain teapot with a brush. For the 73-year-old, this is just another peaceful afternoon in her shop, Chiu Kee Porcelain. Tucked away on Peng Chau Island to the east of Lantau Island, Chiu Kee has witnessed the vicissitudes of the Cantonese porcelain industry since the 60s. Lam, who is one of the few remaining masters of porcelain painting, has been practising this traditional technique for over half a century.
An industry which thrived from the 60s to the 80s, the Cantonese porcelain business relies on the skillful artisans who paint intricate patterns on the white ceramic. In its heyday, thousands of were craftsmen employed to create these pieces of art in Hong Kong.
After learning the art of porcelain painting in Singapore, Lam and her husband returned to Hong Kong in 1967 and started their porcelain business on Peng Chau Island a year later. She says back then the area was a bustling industrial center with dozens of Cantonese porcelain factories.
They would purchase semi-manufactured white china and paint them before baking them to the kiln. Their products were then transported by ferry to Kowloon for sale. In the glory days, Lam employed over 30 artisans to cope with the mass of orders.
Cantonese porcelain features gorgeous colors, precise composition and exquisite hand crafts. Lam's specialty was impressing patterns onto porcelain with stamps, then painstakingly polishing them and colouring them with brushes.
However, with the increasing labor and rental costs, the local Cantonese porcelain industry declined in the late 1980s because labour was cheaper in the Mainland. Lam closed down Chiu Kee's factory but opened the Chiu Kee Porcelain shop where she would paint and sell porcelain on her own, while her husband worked other jobs to make ends meet. "Fewer and fewer craftsmen stayed in the industry because they couldn't make money," Lam says.
Facing serious financial pressure in 2005, Lam considered closing up the shop for good as the family could no longer afford to pay the rent by selling porcelain. "I was loath to part with porcelain painting as I knew it would disappear if I closed the shop," Lam says. The shop was saved when Winus Lee, a ceramist and art teacher, offered to join the business and share the rent.
After the partnership was formed, Lee helped Lam host painting classes for interested people in order to promote the traditional craft. In the workshop, Lam explains the basic skills and knowledge about Cantonese porcelain painting, and instructs students to practise by themselves. "Sometimes when I see my students enjoying painting porcelain so much or making pretty works, I am also very happy," Lam says.
Although she is well past retirement age, Lam has no intention of putting down her brushes. "I will feel bored if I don't paint," she says. "I enjoy the process of painting. I don't want to stop once I've started."
If you are interested in purchasing porcelain or joining a workshop, please visit 7, Wing Hing Street, Peng Chau. You can search "Winus Lee mini ceramic workshop" on Facebook or call 91938044 for more
Edited by Yi Yeung