Families separated by the pandemic hope for border reopening.
Cynthia Chan
Working in Xiamen, a city in Fujian province, Chen Yihua has not seen his family in Hong Kong for two years. Before the pandemic, he would return home every two week to see his wife and daughters, who are working and studying in Hong Kong.
"My elder daughter graduated from secondary school and entered university last year. My younger daughter grew from 155 cm to 160 cm tall. She is becoming a teenager. We are growing apart, yet I still cannot see them," the 52-year-old father sighs.
Separated from his wife and daughters since early February 2020, Chen and his mother, who stays in the Mainland, miss their family in Hong Kong.
"My 87-year-old mother is in poor health. She always asks when my children will visit her," the merchandiser says.
"She could not hold her tears when she saw her grandchildren in a video call this Chinese New Year. It does not feel like Chinese New Year without the whole family," Chen adds.
While many countries are coexisting with COVID-19, China is one of the few countries adopting "Zero COVID" policy.
But Chen questions the logic of the policy. "China should take reference from Singapore's border control policy. Achieving community immunity is the right way to combat the virus," Chen says.
The Long Wait for Reunion
Chen's family is not alone. Form three student Hannah Cheng Zihan has not seen her father for a year. The 14-year-old girl came to Hong Kong from Shenzhen with her mother in 2019 while her father stayed to work.
Before the pandemic, Cheng's father travelled to Hong Kong every day. Now, they can only stay in touch by phone calls and text messages. Cheng misses the physical interaction with her family.
"I can only see my dad on screen, but I cannot touch him or hug him. I am worried we will become distant after being apart for so long," she says.
"I can only see my dad on screen, but I cannot touch him or hug him. I am worried we will become distant after being apart for so long."
This year's Chinese New Year is Cheng's first time spending the festival without her family.
"I feel lonely and I miss my family. We used to have dinner in Shenzhen to celebrate Chinese New Year. But we could not this year, as my school holiday is too short due to having quarantine," Cheng says.
Hong Kong citizens travelling to the Mainland must undergo a 21-day quarantine, according to an announcement from Guangdong provincial government on December 31, 2021.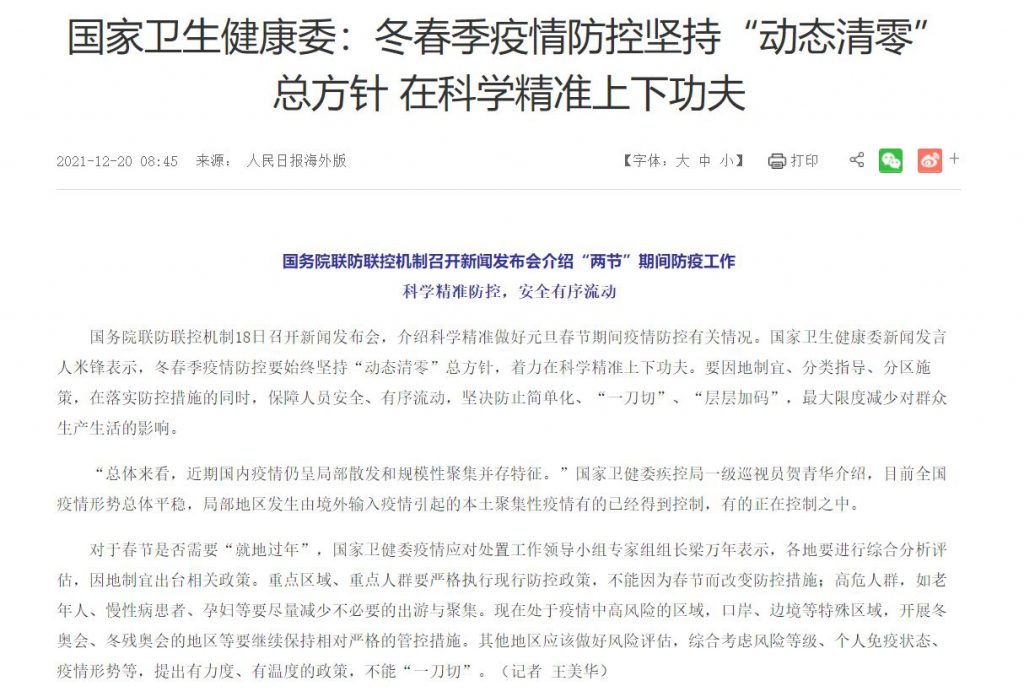 "My relatives in the Mainland always tell us they miss us and my grandparents at home long to see us. I feel sad that I cannot see them too," she adds. 
Cheng is also worried about getting along with them after the long separation. She hopes to return to the Mainland as soon as possible. "The travel restrictions are too strict. I hope the government can shorten the quarantine period," she says. 
The Pains and Cries Neglected
In view of the situation of cross-border families, the Society for Community Organisation (SoCO) has been helping more than 1,000 families since 2021 by negotiating with the government.
They held a press conference with grassroot families on December 12, 2021, urging the government to reserve quotas for reuniting families and people with special needs when borders reopen.
Sze Lai-shan, the deputy director of the organisation, says they are offering them financial and legal assistance.
"We are helping One-way Permit holders to extend their stay in Hong Kong," she says.
One-way Permit is a document issued by the Chinese government, allowing residents of the Mainland to live in Hong Kong or Macau.
Sze says some have quitted their jobs in Hong Kong to reunite with their families in the Mainland, while some are suffering from financial plight, especially single-parent families.
According to a report about the impact of the pandemic to cross-border families conducted by SoCO in May 2021, over 80 per cent of respondents were extremely depressed due to reduced income and class suspension.
"The Hong Kong government said it was none of their business but rather that of the mainland government. The border control policy is too rigid without considering the cross-border families. The Hong Kong government should communicate better with the central government," Sze says.
Edited by Winkie Ng
Sub-edited by Kajal Aidasani