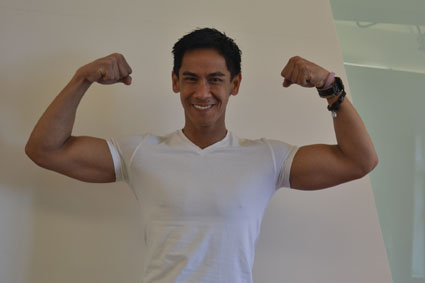 Mr Gay Hong Kong 2012 Benjie Caraig vows to support local community
By Matthew Leung

To the beat of the music and the endless cheers from the audience, five muscular young men walk confidently on stage and introduce themselves one by one. They are taking part in a beauty pageant with a difference. In addition to sculpted bodies, great personalities and the desire to make the world a better place, the contestants in this beauty pageant are proud to be gay and parading in the Grand Finale of Mr Gay Hong Kong 2012.
The man taking home the title on the night is Benjie Caraig, a 30-year-old fitness and dance instructor who came to Hong Kong from the Philippines almost seven years ago. With his tanned complexion, muscular build and sunny smile, Caraig lives up to the image of a pageant winner. But there is more to him than a pretty face.
Caraig has a passion for contributing to the local gay community, a passion he attributes to his strong connection to Hong Kong. He first came here to work as a parade performer at Disneyland, a job he did for five years. He says they were the most unforgettable years of his life and the experience shaped the person he is today.
"I've learnt to be independent, strong, brave, creative and to always be happy, trust my instincts and stand for what I believe is true," Caraig says.
For Caraig, Hong Kong is "the place to be", a place full of opportunities which has given him the chance to explore himself. But his mind is also never far away from the Philippines because that is where his parents are.
Today Caraig is very close to his parents and sisters but he remembers a time when he became a self-imposed "outcast". Caraig says he first realised he was gay at the age of 18 and after that he isolated himself from the family, fearing they would find out.
Caraig was raised in a devout Catholic family. When he was in the Philippines, his family, including himself and his three sisters, took part in voluntary church work to help people with drug and alcohol abuse problems. Even today, he adheres to his mother's teaching that he should put God first in everything he does. It is a message he takes to heart and he says he is grateful about everything he owns today, including the title of Mr Gay Hong Kong 2012. "When they announced the winner, I just shouted, looked up and said 'Thank You Lord'," he says.
Looking back on his childhood, Caraig recalls his parents would tell him how to live his life properly almost every day. But he says he was a rebellious kid who never listened to their advice. "I always ignored their opinions about me and their advice. I thought I can live my life on my own," he says.
Caraig's decision to come to Hong Kong to pursue dancing as a career was a turning point for both himself and his family. That same year, his sisters moved to New Zealand and the family was split into three. It was after this that he finally realised family was the most important thing and everything his parents had told him was true.