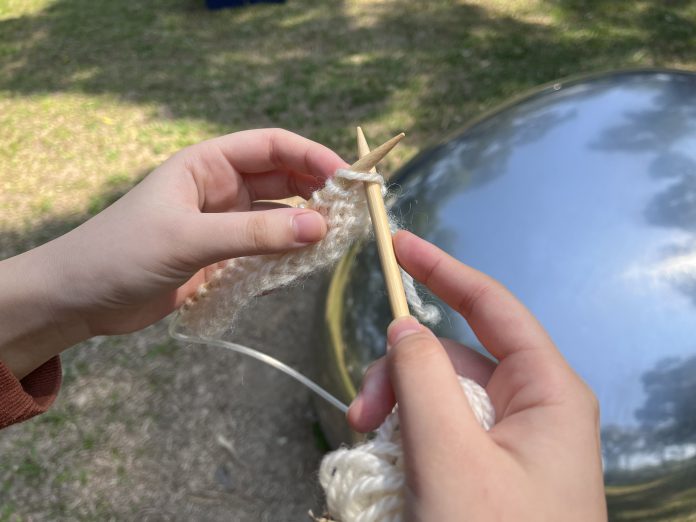 Youngsters enjoy knitting in the UK while the culture is fading in Hong Kong.
By Sunnie Wu
When most young people buy fast fashion to catch up with latest trends, university student Margaret Law Wan-hei Loves knitting clothes, hats, scarves and bags not only for herself but also for her family and friends.
She has already created more than 10 pieces, some were knitted as farewell gifts to her loved ones for her departure from Hong Kong.
"I become very focused when I knit, as I devote all my attention to the repetitive and rhythmic movement of my needles. It helps me relax and ease my stress from studying," the 18-year-old student says.
Law has been watching her mother's knitting since she was a small child. The young girl finally picked up knitting needles to learn the skill from her grandma after sitting for the Hong Kong Diploma of Secondary Education (HKDSE), when most youngsters are glued to their smartphones.
She now spends 10 hours on her interest every week. Her grandma offers help to Law when she faces obstacles in understanding written patterns.
"Sometimes I feel lonely knitting on my own, as it is not a popular hobby among my peers. My friends are shocked and puzzled when they find out I knit since they think knitting is a hobby for seniors."
While it is hard to share her passion in Hong Kong with her friends, Law finds the UK, where she lives and studies now, a paradise for knitters with a long history of knitting culture and easy accessibility to resources.
"Knitting seems to be a granny's hobby in Hong Kong and I feel awkward telling people that I am a knitter. It feels like people will treat me as an introvert. But in the UK, it is a hobby for all ages," Law says.
She was amazed when she visited a yarn shop of 4,000 square feet in the UK where she found a large variety of yarns and tools.
"I was very surprised. Knitting needles for chunky yarn is quite difficult for me to buy in Hong Kong, but there is a whole tray displaying it in the UK," she says.
Law believes British diver Tom Daley, who knits in public and even when attending Olympic Games, helps promote knitting.
"Daley makes more young people want to try knitting since he is quite influential on social media," she adds.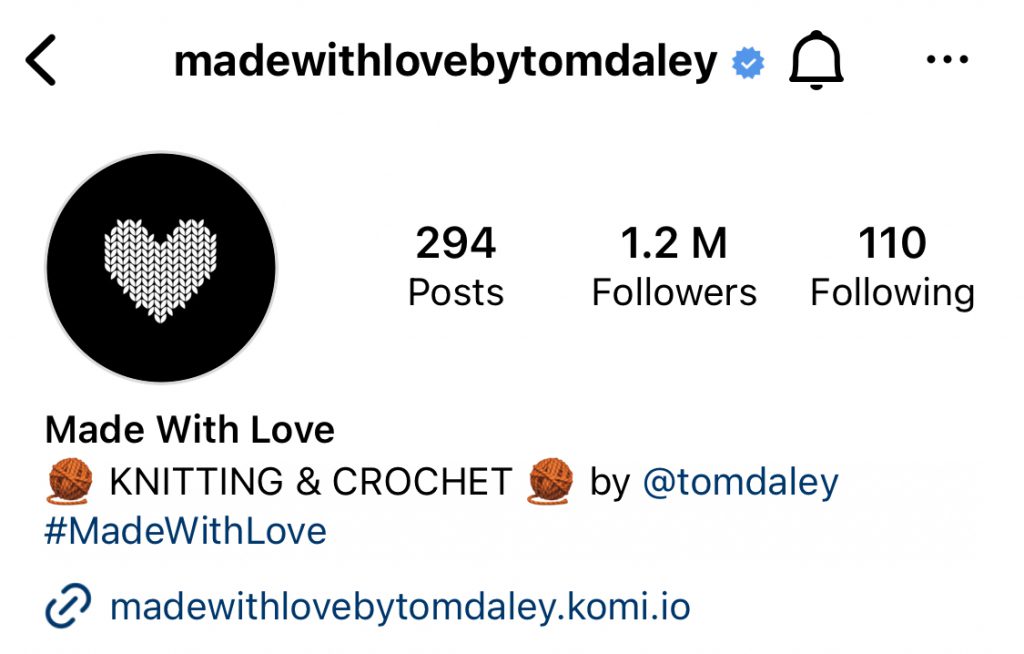 There are over 400 knitting groups in the UK, according to the UK Hand Knitting Association. Knitting groups provide opportunities for members to make new friends who share common interests. They help each other with advice when someone runs into difficulties with a project.
Peer Support in the UK
Another university student, Cassie Yip Ka-hei, who is now studying at Durham University in the UK, is also amazed to find that knitting is popular among young people in the UK.
"There are many knitting societies in the UK, and this is the total opposite in Hong Kong. The hobby club at my university makes me want to knit," Yip says.
Yip says there are about 10 to 20 people in each gathering and it is a good chance for her to learn new skills and get to know more people. She thinks the club makes knitting a meaningful social activity.
"Knitting requires many small and repetitive motions that my stiff fingers cannot handle. Despite watching many step-by-step tutorials on Youtube, sometimes I feel like my hands are not able to make stitches," Yip adds.
The university student thinks that the learning environment affects young beginners' motivation.
"As a beginner, it is challenging for me as I always forget the steps or get lost in the process. I often feel frustrated after spending several hours knitting and making almost no progress. This is why peer support is crucial to me. They calm me down, try to help me and motivate me to keep going," the Year One student says.
Fading of Knitting Culture in Hong Kong
While there is more new blood learning knitting, some elderly in Hong Kong also heard of the trend among youngsters in the UK.
Alice Wong, who has knitted for over 30 years, says her friend also noticed that more young people are learning the skill around the world.
"One of my friends who moved to the UK last year told me she often saw people knitting in public such as in parks, coffee shops or on buses. It is quite encouraging to see more people willing to learn knitting," Wong says.
Though some young people in Hong Kong learn knitting, yarn shops in the city are struggling to survive.
Vinchi Lau, who took over his father's wool shop in 2020, has witnessed the decline of the wool industry. MeiFung Wool shop was first opened in Tsuen Wan in 1985.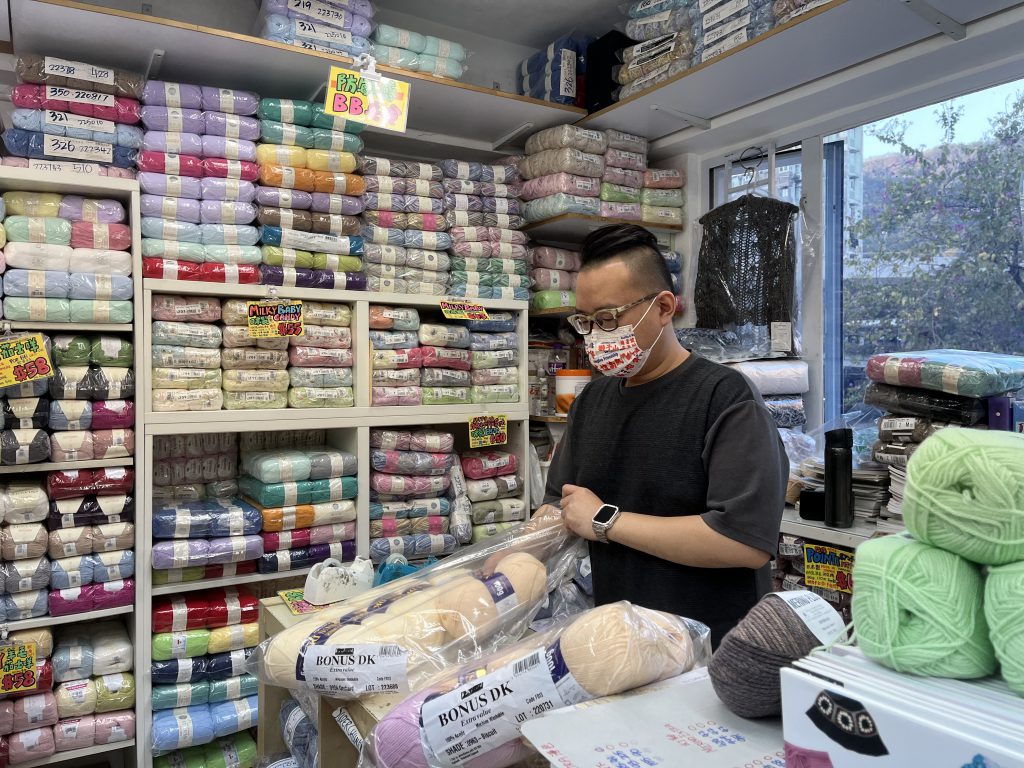 He says their sales dropped significantly during the pandemic and the social movement in 2019 so it is difficult for them to run the business.
"As far as I know, around three wool shops have shut down in the last few years. Comparing the peak season with the off-season, there is a difference of around HK $500,000 (US $63694) in annual income," Lau says.
"Around 80 per cent of my customers are around 50 to 70 years old. They stop knitting mostly due to health issues and immigrations. Besides, I only have a few new customers. It is difficult to run the business," Lau adds.
The shop owner blames the fast-paced lifestyle for declining interest in knitting.
"Knitting requires a lot of time, effort and patience. You need a lot of time to hone your skills and you will not become an expert shortly, so less young people start learning it," he says.
Edited by Esme Lam
Sub-edited by Charlie Chun