Photographers from Hong Kong and Taiwan take street snaps to capture fashion inspiration from passers-by.
By Carrie Lock
Many street-style photographers around the world are shooting people's streetwear as they believe one's unique identity, character and attitude towards life are shown through their clothes. Hong Kong street photographer Stacey Li* is one of them.
"Seeing people dressing up stylishly, I can feel that they are enjoying their lives. I want to make records for future generations so that they know how Hongkongers in the 2020s dress up," she says.
Li started doing style snaps in the summer of 2021 and has been posting nearly 500 Hong Kong people in their trendy outfits on her Instagram account named @streetsnap.portrait with more than 730,000 followers.
From her experience, the photographer points out that pedestrians of different districts have distinctive styles of observation.
"Black, grey and white colours are prevalent among white-collar pedestrians in Central. Luxury brand logos may not appear in everyone's outfit, but most of them care about styling details. For example, their shirts are beautifully ironed and accessories are used to present personal style," Li says.
"People walking in Mongkok show their characteristics by choosing bold colours, whereas pedestrians in Causeway Bay have a good understanding of brands. They look stylish even in t-shirts and jeans," she continues.
She observes that the personal traits of Hongkongers are showcased through accessories, hairstyle, use of colours and tattoos.
"Yet, compared with cities like New York and Tokyo, Hong Kong lacks diversity in looks mainly because of our climate. It limits people's exploration in styling," the photographer says.
Li regards Hong Kong as an unfriendly place to do on-the-street snaps.
"Although Hong Kong does not recognise portrait rights, street photographers are often attacked and accused of clandestine photo-taking, especially photographers like me who are not well-known by the public," Li says, adding that it is the reason why she declines to reveal her full name.
"Also, Hongkongers are sensitive to cameras and walk so fast that I often fail to take a snap of their outfits," she adds.
Despite all these, Li wishes to convey the message of love through her lens.
"One day I bumped into an elderly couple at IFC. Their moves caught my eyes so I went closer to observe them," she shares.
"At first, I thought the husband was reminding his wife to wear her mask properly as she was covering her mouth. In fact, he said to his wife that he is going to buy her a lipstick. Later, I saw them holding each other's hand and entering a makeup store," she continues.
In Li's pictures, the couple is looking into each other's eyes and holding hands. "I enjoy capturing moments about love, but not necessarily romantic relationships. People can feel the warmth of the photos," she adds.
Street Style Snaps in Taiwan
Beyond Hong Kong, street photographer Kevin Tai Wei-chien in Taiwan also snaps pictures of the city's most stylish.
"For me, street photography is an observation of people's lives. I want to combine photography with something related to people's lives, and what first came into my mind was outfit snap," Tai, who developed an interest in fashion photography when reading his first GQ magazine as a kid, says.
He started street fashion photography when he was studying at university. Later, his work was recognised by GQ Taiwan.
"Having met and exchanged contact with the chief editor of GQ Taiwan at a brand function, I later contacted him and requested an opportunity to take snaps at Taipei Suit Walk organised by the publication," he says.
After the event, he was invited to write style blogs for the magazine. "I still remember how excited I was at that time," he continues.
He thinks it's impossible to define the fashion style of the Taiwanese in general. But he can recognise cultural symbols shared by the local people from their outfits.
"What I mean by cultural symbol can be a certain fashion item which is popular across the country, it's part of our collective memory. These days, when you see people wearing merch T-shirts with the Chinese name of a local restaurant, they must be Taiwanese because only Taiwanese know that restaurant and the inside joke," the 26-year-old photographer says.
When taking snapshots, Tai picks pedestrians who look confident about their looks. To capture the best moment, he always stands behind a lamppost at the side of a crosswalk.
"It's a covert spot for me to take quick snaps. The targets usually do not know they are shot as most of them are looking at the front or their destination," he continues.
Similar to the situation in Hong Kong, only a few can make a living as full-time street photographers in Taiwan. Tai is a full-time fashion photographer working for several publications.
"Many street-style photographers need to do freelance jobs for their living. Other than taking snapshots on the street, we take photos for huge fashion events," he says.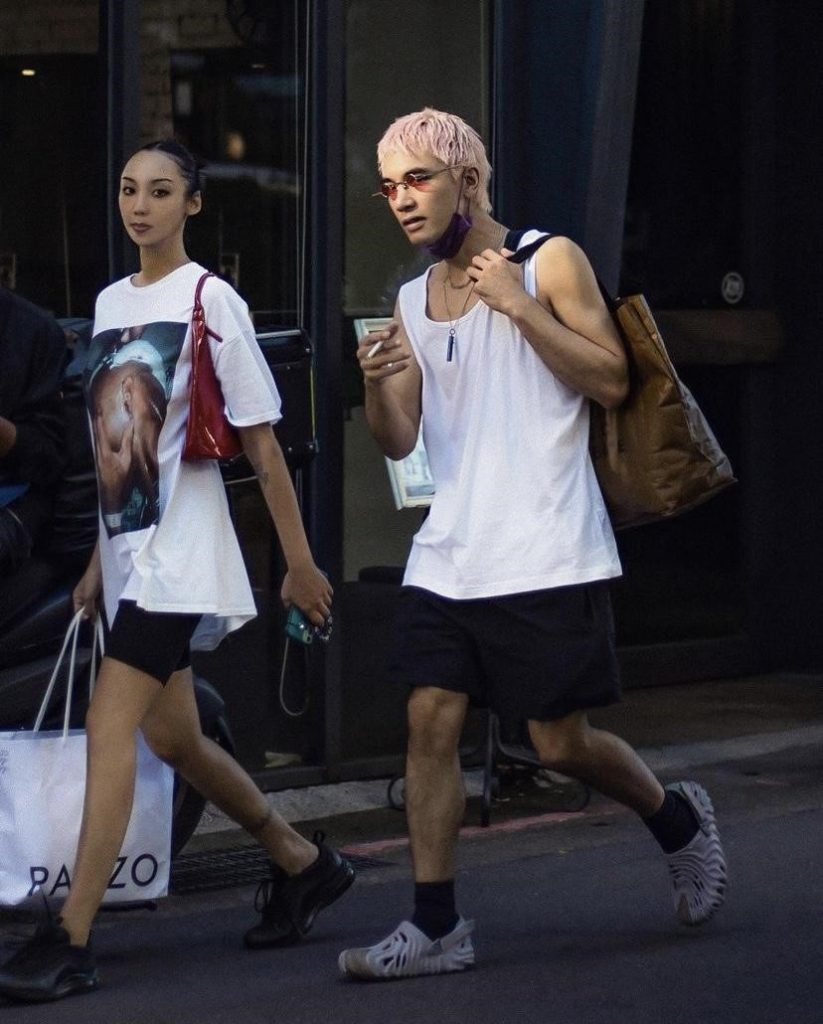 Tai points out that fashion activities are widely available in Taiwan. Taipei Fashion Week and Taipei Suit Walk are some of the examples. And fashionistas show up whereas photographers can record their outfits outside the venue.
"Fashion event attendees tend to wear non-mainstream or uncommon items, which are not well-accepted by the public, as other attendees are able to appreciate their unique style," he says.
The Culture of Street Style Photography
Street outfit snaps are by-products derived from fashion week, as Katherine Ho, senior fashion editor of Vogue Hong Kong notes.
"Street-style photography was present before the internet and social media. Fashion magazines reported and published street style during fashion week," Ho says.
She says that style snaps can give outfit inspiration to ordinary people.
"Models and fashion icons are tall and skinny, they are too perfect while street snaps showcase what people of different body shapes and colours are wearing. They are more relatable and applicable to ordinary people," she says.
Ho also observes that street-style photography is not popular in Hong Kong because of the lack of local fashion activities.
"There are a number of big fashion events in other countries which attract fashionistas to attend. So they provide more working opportunities for overseas street-style photographers," she points out.
Only a few fashion events are held in the city like the annual fashion week organised by the Hong Kong Trade Development Council, where fashionistas can dress up and show up every year but people know little about them, according to the fashion editor.
"If more fashion activities are held in the city, the culture of street style photography may flourish," she continues.
*Name changed at interviewee's request.
Sub-edited by Ella Lang