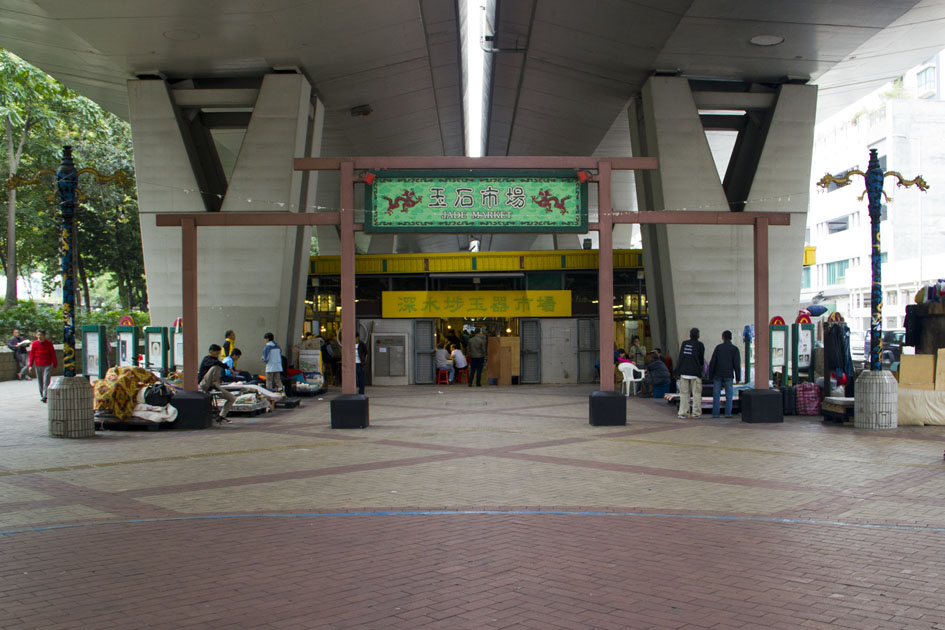 How the street sleepers find their place on the street
By Rene Lam and Nicole Chan
Right on cue, there is a "pop" sound and the floodlight switches off. This means it is 8 p.m. The scent of brewing Vietnamese tea mingles with the stench from the rubbish station and the smog from West Kowloon Corridor overhead hangs in the air. A group of homeless people chitchat, gamble and unwind after another tough day.
This scene plays out every day in front of the Jade Market in Sham Shui Po. It is less than a home but at least it is a refuge to a community of street-sleepers.
The area became a hub for street people in the early 2000s after their previous spots in Yau Ma Tei and Mongkok were cleared for redevelopment.
Street sleepers in Hong Kong can be generally divided into three categories, people with mental health problems, drug users, and the jobless elderly. Their family members have abandoned them for various reasons and with no other alternatives, sleeping on the street is their last resort. The majority are men who mainly fall into the first two categories but there is also a community of Vietnamese former asylum-seekers.
"For some, Hong Kong is a blessed place," says Fung, a street sleeper in his 50s. Looking out from the footbridge he sleeps on, Olympic City and the new and fancy West Kowloon residential developments are just a stone's throw away.
When Varsity visited him, Fung had been sleeping there for one week. Before he settled on the street, he used to rent a sub-divided unit in Sham Shui Po. He recalls that the space was the size of a single bed. The fleas and the odour due to high humidity and poor ventilation made it unbearable to stay any longer.
Life is simple. During the daytime, street sleepers stroll around to find their friends, go to the library to read newspapers and listen to groups of the elderly singing in the park – Chinese opera on weekdays and old pop songs at weekends. They usually stay within walking distance as they cannot afford public transport.
But life is not completely free on the streets. There are certain hidden rules Fung feels obliged to follow. For instance, street sleepers usually put their important personal belongings on or near to their mattress. Everyone's mattress marks their own "territory". He explains he never sits on others' mattresses, for fear of being accused of thievery. Also, he only sleeps beside someone he knows.
"This is not a hotel. You cannot sleep wherever you want," he says.