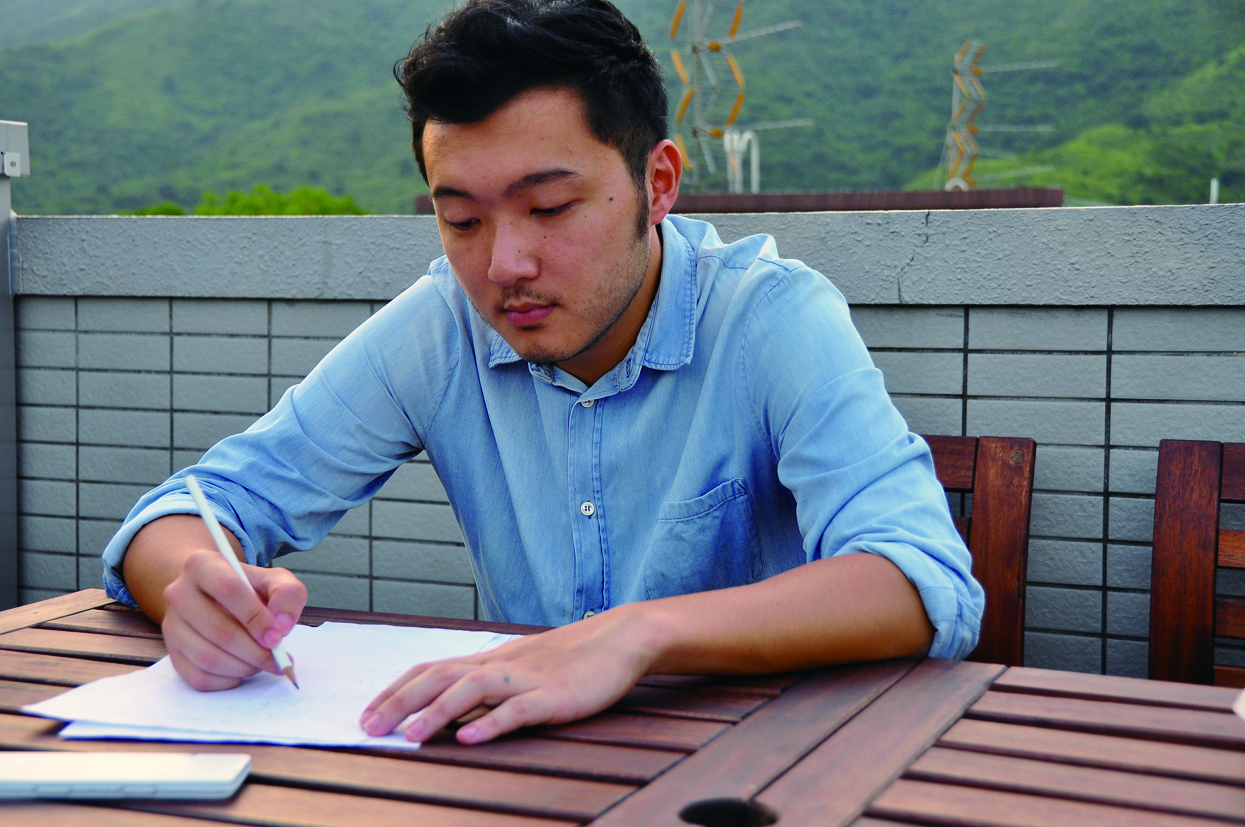 Lyricist Chan Wing-him stays hopeful and lives life his own way
by Macau Mak
On New Year's Day this year, while others were making their new year's resolutions, musicians dressed in glitzy brands attended the Ultimate Song Chart Awards Presentation, waiting to learn how the pop industry's year-end "report cards" would be distributed. It was a night on which the same familiar faces claimed their designated prizes, until it came to the Best Lyricist Award.
For 18 years, the prize had alternated between Lin Xi and Wyman Wong Wai-man but this year, a young man broke the dominance of the duopoly. To thundering applause, 27-year-old Chan Wing-him stepped up to receive the golden trophy with shaking hands.
Chan has written Chinese lyrics for nine years and worked with stars such as Eason Chan Yik-shun, Hacken Lee Hak-kan and Pakho Chau Pak-ho, to produce notable hits, including Swipe Card (碌卡), Sky Lantern (孔明燈) and My Vow (我的宣言). The prize was like a vindication – Chan was glad he had kept up with lyric writing because he had a track record of easily giving up halfway in childhood and adolescence.
In primary school, Chan had a greater interest in mathematics than music and was once a member of the Hong Kong team for the Mathematics Olympiad. However, the mischievous boy was dismissed from the team after being caught sticking joke memos about teachers in the staff room and using school trophies to make a robot. Explaining why this episode ended his interest in maths, Chan says, "When I was small, I was rebellious. [I thought] if you give up on me, I'll give up on you."
Upon entering secondary school, Chan developed an interest in singing. Nevertheless, he disliked training in the school choir because it only practised a few songs for competition. "I think using music for competition is the most disgusting thing to do," says Chan. Instead, he joined the Hong Kong Children's Choir because it focuses on performance.
Chan's studies went well until he was in Form Six. That year, he formed a group with his friends and ran for the students' union election. Despite being the only choice on the ballot paper, they lost due to Chan's notoriety in the school. Chan says that, at that time, some of his football companions used to bully the younger kids and he was tarred with the same brush. As a result, Chan's group received a significant number of no confidence votes. He felt ashamed and played truant for nearly two months.
Although he later resumed his studies, he gave up on preparing for the Hong Kong Advanced Level Examination (HKALE). Instead he chose to concentrate on debate training and won the title of Best Debater in a territory-wide competition. Eventually, Chan got disappointing grades in the HKALE.