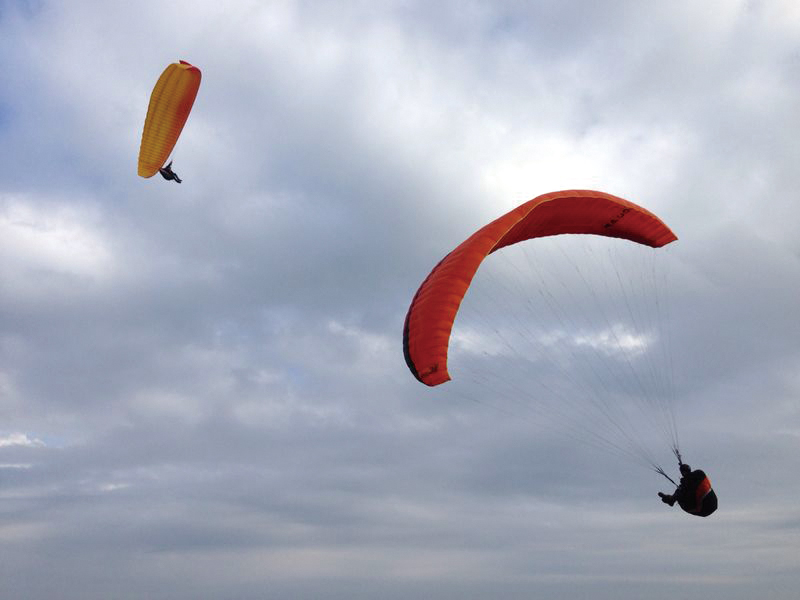 Get an aerial view of the city from a paraglider
By Stella Tsang
Ever imagined that you can fly? Fancy enjoying a bird's eye view of Hong Kong, while feeling the wind on your face? Now you can, because paragliding will let you experience all of those things.
There are several places in Hong Kong where you can paraglide. Dragon's Back in  Shek O will give you a spectacular sea view, but if you are a little more adventurous, try flying off Pyramid Hill in  Ma On Shan, where you will find yourself high above the mountain and sea.Making use of aerodynamic forces and air pressure, the design of the paraglider allows the pilot to drift through the sky for as long as several hours before landing.
Beginners who want to learn this extreme sport can sign up for courses led by qualified coaches. In addition to field training, you will also learn about different aspects of aviation knowledge such as navigation and meteorology.
But if you are not ready to commit to proper training, try taking a tandem flight. With a professional pilot steering the paraglider, you can simply lean back and enjoy the view. You can also bring along a selfie stick and take a few snapshots with the world under your feet.
Monkey Kwan Chi-ming, who has been paragliding for five years holds licenses for both single-wing and tandem flight paragliders. He went through military-style training to become a qualified pilot. And for him, the safety of the passengers is a top priority, so he will check all the equipment and the weather conditions meticuously before taking flight.
For Kwan, the thrill of feeling the breeze and soaring through the clouds cannot be put in words. "I am still excited whenever I am heading to my next flight. It is like an addiction," he says. To share the joy of flying with others, he organised the Hong Kong Tandem Paragliding Program, offering tandem flights as well as beginners' courses.
For more information, please visit http://instagram.com/joy_flight or email percyky@gmail.com.
Edited by Rachel Cheung