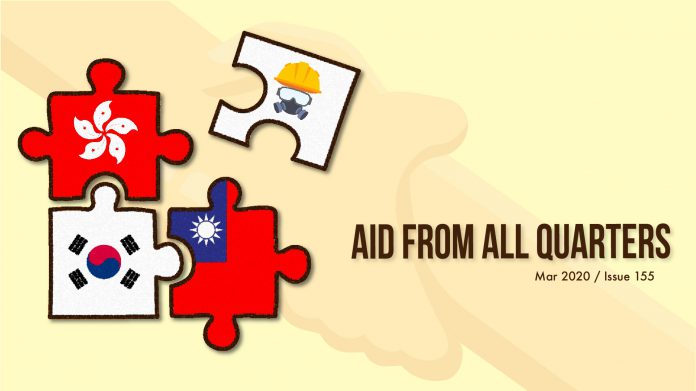 A generation of young political activists was born in the Umbrella Movement in 2014. The 79-day movement made Hong Kong people feel the urge for a revamp in the political system in Hong Kong. The city is under the international limelight again after five years. The unprecedented anti-extradition bill movement has taken the globe by storm and even won support from foreign governments.
The movement has a long-lasting impact on Hong Kongers, especially young people who have active participation in the fire line. It has affected their mental health, academic studies and family relationship. Thousands of protestors have been arrested and some are facing criminal charges. Some young activists even fled to Taiwan for political asylum. Our periscope section sheds light on how volunteers in Taiwan, South Korea and Hong Kong offer support to young protestors.
The Mainland Affairs Council of Taiwan joins hands with other non-governmental organizations to offer assistance to Hong Kong young protestors who fled to the island. Temporary residency and mental care are available for them. Scenes of police firing tear gas and water cannon at protestors in Hong Kong bring a strong sense of déjà vu to Koreans. What happened in Hong Kong bears much resemblance to the 1980 Gwangju Uprising. Varsity talks to Korean students and witnesses of Gwangju Uprising to learn their views about the social unrests in Hong Kong and how they show support to the democratic movement in the city.
In Hong Kong, a church provides temporary accommodation to young protestors who are expelled by their parents due to different political views, while other volunteers offer private tutorial service and job opportunities to them. Varsity interviews university students who provide free online tutorials to secondary school students who had active participation in the social movement. Volunteers from an online grocery store, which aims to hire activists, share with us how they create a platform for boosting the "yellow economy".
This issue of Varsity also features how people from all walks of life ushered in a revolutionary change in Hong Kong. The social unrests affect dating relationship, district council elections and domestic helpers' job opportunities in Hong Kong.
You will also find stories about pet adoption, pursuing quality lifestyle and cultural significance of neon signs in Hong Kong. Flipping through the profile of three professionals with an unusual occupation and the photo of Freedom Trail in Boston definitely bring you some inspirations to life. We hope you enjoy the read!


Tiffany Chong
Editor-in-chief