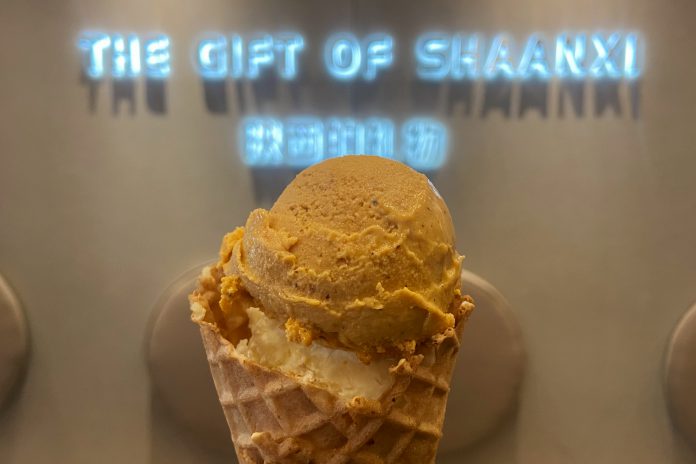 Exotic flavours of ice cheese such as spicy chilly oil tickle people's taste buds in an ice-cream shop in Shaanxi.
By Coco Zhang in Shaanxi
Have you ever tried chilly ice cream? Wu Chunye and Hai Bin, who founded Shan Shi San in Xi'an, Shaanxi in 2013, are the inventors of the spicy flavour.
Inspired by Italian gelato, they use local produce in the province such as chilly, corn and fruit to make ice-cream and name their product "ice-cheese"(冰酪).
"Ice-cheese is a combination of the Chinese flavour and Italian gelato. It is handmade and low-fat," Wu says.
People in the province like spicy food, and "red chili oil" is an indispensable ingredient in Shaanxi's cuisine. They grind qinjiao, a local red pepper, peanut, sesame and other spices and splash the mixture with hot oil.
Wu and Hai create "red chili oil" ice-cream and it is a top seller in the shop.
Liu Yuhang, a visitor from Guangdong, goes to the ice cream store by recommendation from his friends studying in Xi'an. After trying red chili oil ice-cheese, he says: "It's spicy and distinctive."
Apart from the "red chili oil" ice cheese, the store has 103 types of flavours. "Lintong pomegranate" flavour, "Hancheng Chinese prickly ash" flavour and "Sanyuan sesame" flavour are all made of local ingredients. It costs RMB ¥25 (US $4) for two scoops with a cookie.
Another signature product the store has is tiger tally cookie.
"Shaanxi is a fertile region. But it is hard to find gifts with innovative design, exquisite craftsmanship and beautiful packaging in the market," Hai says.
Tiger tally was issued to generals for troop movement in ancient times, and this treasure is a highlight in Shaanxi History Museum. Inspired by the history and special presentation of tiger tally, the pair makes cookies modeling on the shape and design of it.
Li Hao, a visitor from Beijing says: "I really want to buy some gifts with historic culture of Shaanxi. The cookies are delicious and well-packaged, and I believe my family will like this gift."
If you want to give spicy ice-cream a try and take a bite of tiger tally cookies, you can find out more about Shan Shi San on Dianping (大眾點評), a leading shop review website in the Mainland.
Edited by Lasley Lui