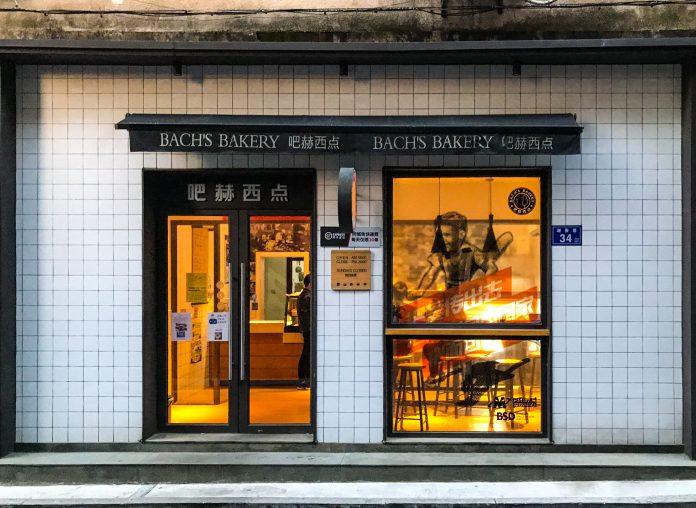 A touching story behind a bakery in Changsha draws crowds to buy bread.
By Coco Zhang in Shaanxi
Bach Bakery is a quiet shop, as bakers are hearing impaired. The shop sells a variety of traditional German bread, including sugar-free bread. A card is attached to a bread tray listing all nutrient content in the shop.
Red card means the bread contains sugar, and blue means sugar-free.
Most of the bread costs no more than RMB ¥10 (US $1.5). You can buy a cinnamon roll and a cup of coffee at RMB ¥18 (US $3) and enjoy a wonderful afternoon tea.
Uwe Brutzer, founder of the bakery, is from Germany. He is better known as Wu Zhengrong in China.
Wu has run Bach Bakery for nine years in Changsha, a famous tourist city in Hunan Province.
"Bach's music is perfect. We named the bakery Bach because we also want to produce perfect German bread," Wu says.
There are four bakers and two apprentices in this traditional German bakery, and all of them are hearing impaired.
"Bakers and apprentices have their way of communicating. Apprentices are lucky because they can't find another place where sign language is used to teach them," Wu says.
Every trainee undergoes three-month training and a two-month paid internship before working as qualified bakers.
"Every piece of bread is made of love," Wu says. "People who want to support their career always come to buy bread made by our bakers," he adds.
Wu has been living in China for more than 20 years. He can speak fluent mandarin. Wu loves to share everything about his life with his customer, especially his volunteering experience in China. Photos on the wall tell what he has done these years.
Wu and his wife went to Taiwan to study Chinese in 1997. Then they have settled in Changsha since 2002. Before they opened the bakery, they have worked in the China Disabled Persons Federation (CDPF) of Hunan to provide professional rehabilitation training for hearing-impaired children for nine years.
"The deaf communicate in sign language. They have flexible fingers, so they are good at handwork," Wu says
"I'm wondering how to help the deaf make a living like other people. I think being a baker is a practical way, as they can make use of their strengths," he adds.
If you want to know more about their stories and support this loving bakery, you may visit their website www.bachs-bakery.com or visit the bakery when you travel to Changsha.
Edited by Lasley Lui