Taiwanese girl Huang Yu Hui decides to settle down in Hong Kong when Hongkongers are leaving the city.
By Yika Ng
When most Hong Kong people are leaving the city, Taiwanese Cynthia Huang Yu Hui came to the city in 2019 and is now working in a content creator agency.
Huang is a manager of three Hong Kong social media influencers. She is also running her own YouTube vlogging channel which has 155,000 subscribers.
"Hong Kong is the place where I first taste happiness in my life and I find satisfaction from my work here. This place is full of opportunities and potential which makes me want to stay and see what the future holds for me in Hong Kong," Huang says.
"Hong Kong is the place where I first taste happiness in my life and I find satisfaction from my work here."
"I did not think much when my boss offered me this job in Hong Kong, I quickly made my decision to come because I do not want to regret," she says.
Huang first came to Hong Kong in March 2019, a few months before the social unrest sparked by the proposed extradition bill.
"When I first came to Hong Kong, my first impression was I always got yelled at by waiters in restaurants. The impression has changed during the social movement when I saw Hong Kong people stayed united to fight for freedom," Huang recalls.
Despite the change of impression, Huang struggled to adjust to working pace in Hong Kong.
"I remember crying in my office alone as I had no friends here. I had to communicate with Hong Kong clients but I did not understand a word in Cantonese and the culture here is so different from Taiwan," Huang recalls.
The 28-year-old social media influencer manager spent two years working in Hong Kong alone because the company was still in its infant stage.
Huang is now able to understand Cantonese after coming to HK for three years.
"Now I have Hong Kong colleagues, and I have picked up Cantonese," Huang says.
The 10-year Eating Disorder Journey
Though Huang now has rich experience working and living abroad independently, she struggled with eating disorder for 10 years.
She was a ballet and contemporary dancer since her childhood to her teenage years and having a slim figure affected her health.
"At 15, I wanted to be admitted to my dream school, which was a boarding school for dancers in Taiwan. My teachers told me that if I lost a couple of kilograms, I would be able to get in. So, I followed all different kinds of weight loss recipes I found online which set me off to my eating disorder journey," Huang recalls.
She once weighed 44.5 kilograms with a height of 163 centimeters.
"I felt weak all the time and lost my period for a year and a half. I even fainted once in a convenient store," Huang says.
Huang was admitted to her dream school, but her health condition continued to deteriorate.
"I was surrounded by girls and boys with perfect figure at that time. They had long legs, and they were skinny with perfect flexibility and physical ability. I felt very insecure when I compared myself with them," Huang recalls.
"When I was sixteen, my doctor told me that I must eat or else my period would stop forever. I ate and then threw up hoping that I would get nutrition I need but not calories," Huang says.
With support from her friends, she recovered from eating disorder and regained her health and self-confidence when she was 17.
Huang then decided to give up on dancing and went to the University of California, Berkeley to continue her tertiary studies as a business major student.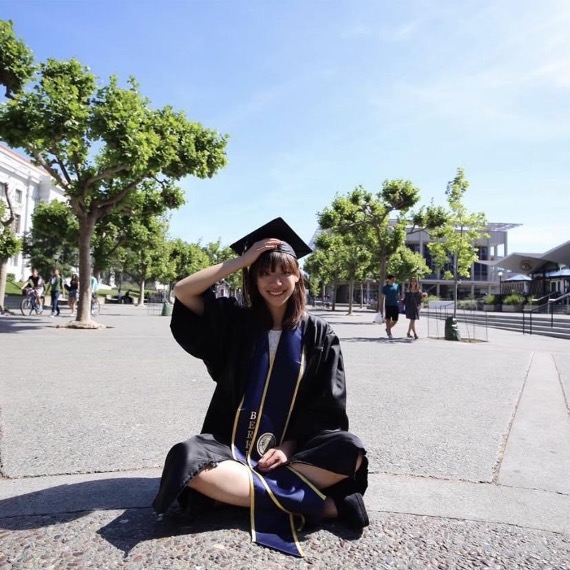 "I gave up dancing because I did not think that I could be a professional dancer. I wanted to explore my other possibilities," she says.
But her eating disorder relapsed after she graduated from university.
"I broke up with my boyfriend and I didn't know where to go after university. I went to fast food drive-throughs and wolf down foods until my stomach started to hurt," Huang says.
After struggling with bulimia for four years, Huang decided to step out of the vicious cycle by doing Yoga. She later learnt a new perspective towards body image.
"In America people embrace all types of body shapes. I learnt to be more confident in my own skin. Also, Yoga helps me become more grounded and confident about how I feel. I no longer feel ashamed of wearing a size M or L," she says.
Winning battle against eating disorder, Huang managed to be back on the saddle again and started holding podcasts to talk about life in 2020.
"I believe that everyone is living different lives with different problems and difficulties. I hope my sharing in vlogs and podcasts can resonate with my audience and inspire them that no matter what they are going through, do not stop trying to find bits of joy in life," she says.
"Happiness is simple. I feel happy when I find out my favorite yogurt is on sale," she adds.
Huang shares she does not think much about her future and will just go with the flow.
"From giving up my 15-year dream to become a dancer, to studying business, to coming to Hong Kong, I do not regret any decision I have made. I follow my instincts. It's never a right or wrong decision, but the best decision that has been made at that critical time," Huang says.
Sub-edited by Jack Deng