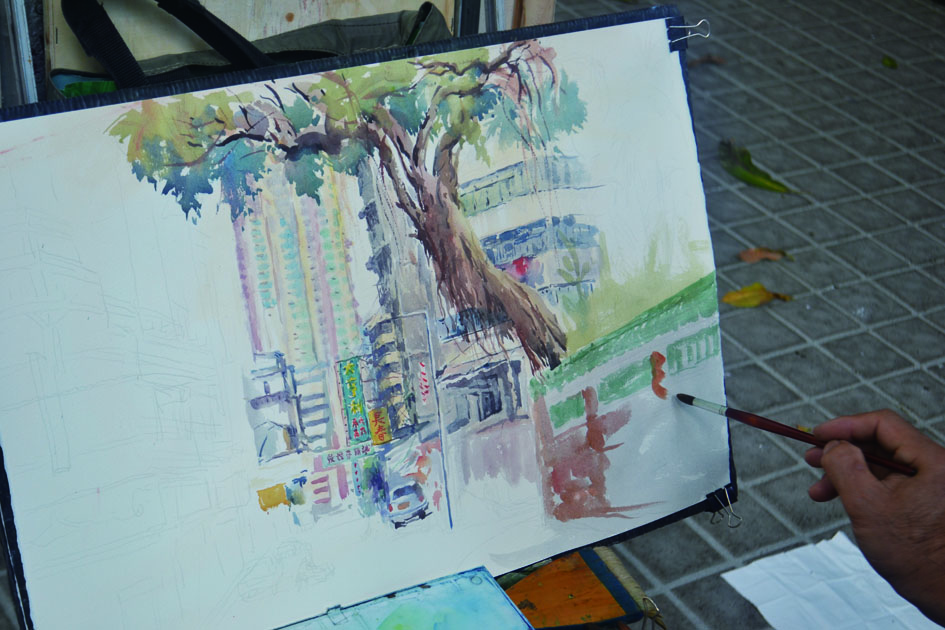 Neighbourhood fusion of arts, culture and community
By Thee Lui
Yau Ma Tei is a familiar place to Hong Kong's art and culture addicts. They can catch an arthouse movie at the Broadway Cinematheque and browse through the books and magazines at the Kubrick bookstore next door while taking in the aroma of freshly brewed coffee. Afterwards, they might want to attend a talk given by post-80s activists at one of the spaces run by local cultural groups.
Meanwhile, some construction workers, who have just finished work sit on the edge of the flower boxes outside the cinema and drink a can of beer or two. The historical Wholesale Fruit Market is a stone's throw away and next to it and you may find food stalls selling cheap yet delicious beef brisket noodles.
Hemmed between the tourist spots of Jordan and the neon retail paradise of Mong Kok, Yau Ma Tei retains its traditional shops, trades and artisans. In recent years, the area has also seen the arrival of local artists, designers and cultural workers. They are drawn by the sense of community, authentic Hong Kong culture and relatively cheap rents.
The incomers include people like Simon Go Man-ching, founder of HULU Culture, a non-profit organisation dedicated to promoting local arts and culture. Go says today's Yau Ma Tei is a fascinating fusion of traditional arts, grassroots culture, and a strong sense of neighbourhood.
"Yau Ma Tei still retains many distinctive community cultures and neighbourhood features that were prevalent during the 1960s and 1970s," he says.
Although he was not a Yau Ma Tei resident, Go spent a lot of time hanging around in the district during his student days. He is impressed by the street culture and especially by the close, neighbourly bonds people there enjoy.
"I always chat with the neighbours. It feels like we have known each other for so long. The old people here are eager to share their experience with me. I appreciate their belongingness and gratefulness about where they live," Go says.
Go was able to showcase Yau Ma Tei's unique character when HULU Culture won funding from the West Kowloon Cultural District Authority and the Arts Development Council (ADC) to organise the six-month "Yau Ma Tei Cultural Celebration Project". The project aimed to encourage active community participation through a series of community arts projects, exhibitions and performance activities. Although the Celebration Project ended in January, HULU Culture still organises heritage tours that take visitors to local sights such as Tin Hau Temple, the Wholesale Fruit Market and the Red Brick Building.
HULU Culture is not the only cultural group to make a base in Yau Ma Tei. In recent years, a number of young cultural enthusiasts have quietly moved into the neighbourhood. Woofer Ten was one of the first. It moved into a space in Shanghai Street provided by the ADC in 2009.