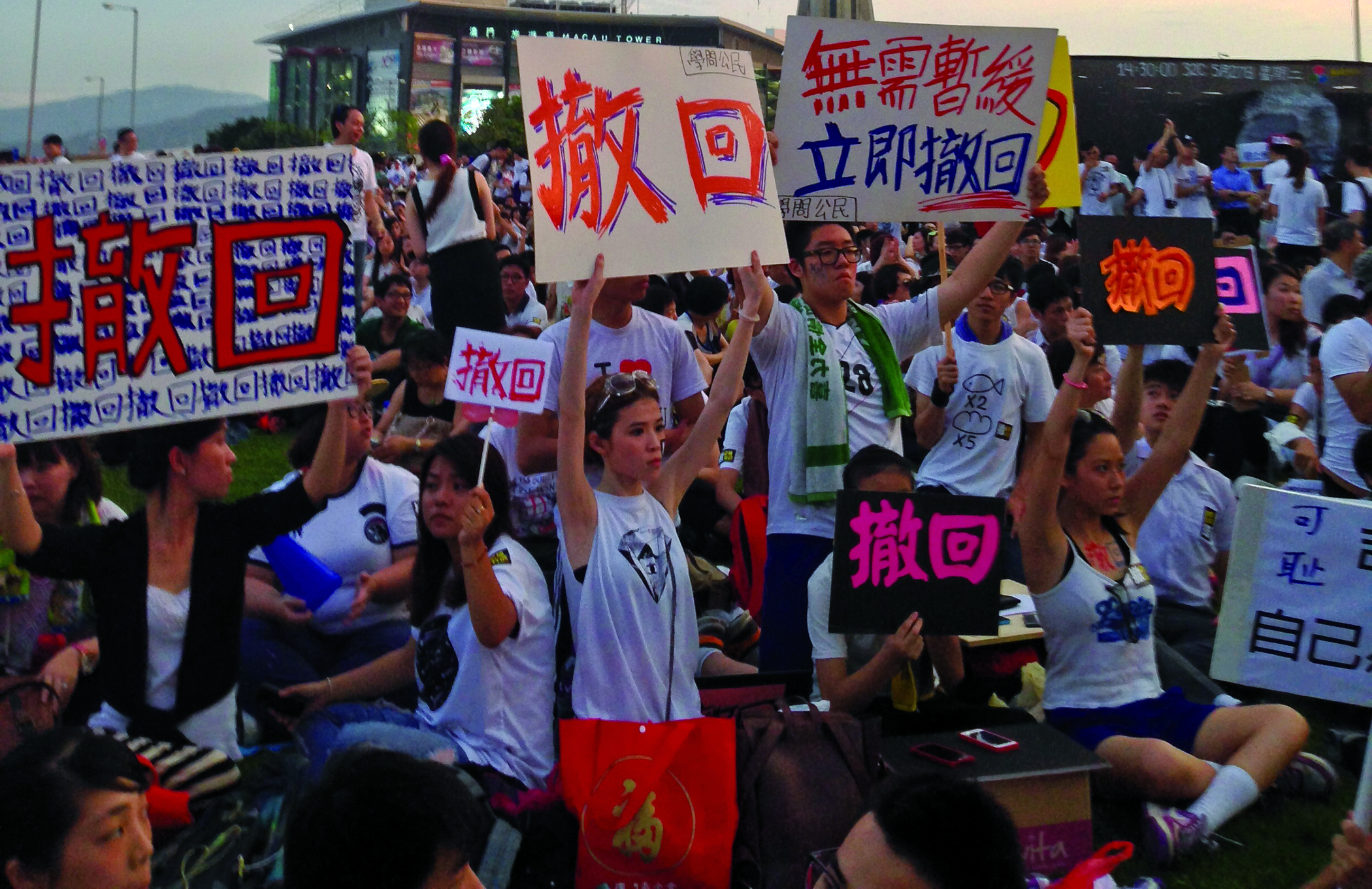 Civil society starts to assert itself in gambling enclave
By Grace Cheung and Agnes Ng
"Support Hong Kong!" "Shame on the police for using violence!"
These were the slogans chanted by around 1,000 people who had gathered in Macau's Friendship Square on China's National Day to show their solidarity with the protesters of the Occupy movement in Hong Kong, then four days into their sit-in to demand true universal suffrage for Hong Kong.
The residents of the former Portuguese colony, which is about an hour's ferry ride from Hong Kong, are increasingly vocal about their desire to have a greater say in choosing their top leader. They may not be ready for an Occupy movement like Hong Kong, but they are seeking changes to the enclave's political structure.
On May 25 this year, more than 20,000 outraged Macau citizens from all walks of life protested against a controversial government bill that would have rewarded the outgoing Chief Executive and senior officials with lavish retirement packages. What caught the attention of the local community and beyond was not just that the Macau Chief Executive Fernando Chui Sai-on would attempt to quickly push through such a contentious bill without consultation, but also the unprecedented public outcry.
Since sovereignty over Macau was transferred to China in 1999, the special administrative region's Chief Executive has been chosen by a committee that heavily favours business interests and is deferential to the Chinese government.
There has been limited political reform. In 2012, the Macau Legislative Assembly passed a reform bill, which added two directly elected seats to the 29-member body. But critics considered these additional seats to be "cancelled out" by two additional indirectly elected functional constituency seats. Together with seven appointed members, this brought the total number of lawmakers to 33. The bill also added 100 members to the 300-strong election committee to vote for the Chief Executive. It was widely seen as a setback for democratic progress.
It is within this context that the May 25 protest was seen as a glimmer of hope for the development of civil society in Macau. In recent years, there has been growing dissatisfaction with the declining quality of life for ordinary people despite constant growth in the economy. The retirement package bill, which would have further enriched top leaders, was the straw that broke the camel's back and drove people onto the streets. More and more people are beginning to question the political system and the leadership.
The unprecedented show of opposition forced Chui to back down and shelve the bill. It was a triumph for people power but some have questioned how sustainable the sudden flowering of civil society will be. One of the hurdles to overcome is the conservative political culture in Macau.