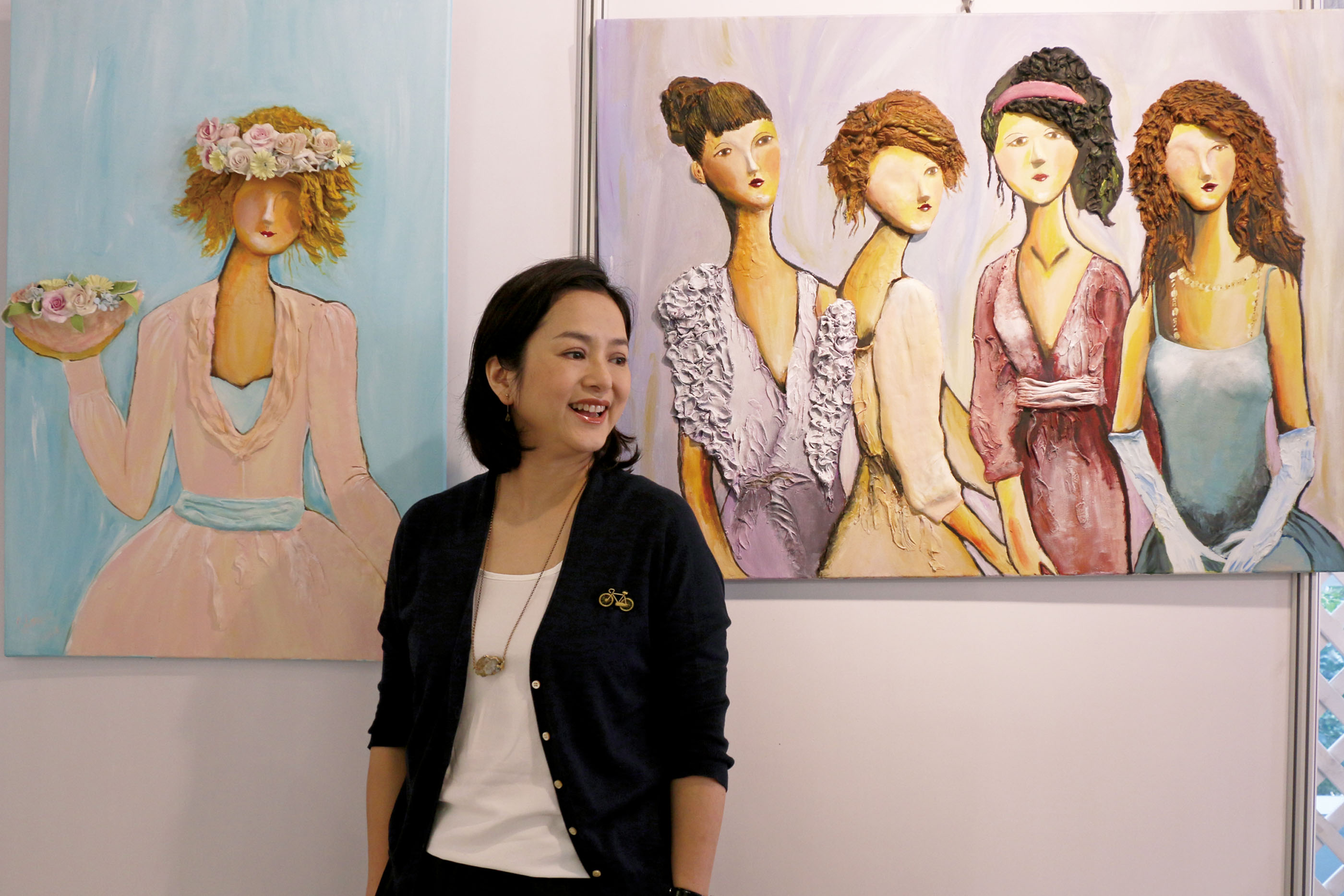 Former screen and singing star Gloria Yip makes her mark as an artist and mother
By Angel Liu
In a quiet corner of a trendy shopping mall in crowded, bustling Tsim Sha Tsui, Gloria Yip Wan-yee walks gracefully into her arts and crafts workshop, Art Around. Still fresh-faced and youthful, the 41-year-old actress, artist and mother talks calmly and wisely about her past, her ups and downs in life and her future plans.
Twenty years after she quit show business, Yip made a comeback with a brand new image by playing the role of a ditzy but kind-hearted woman known as Chubby Akina in the TVB drama Never Dance Alone. The series is about the travails of a group of girlhood friends who reunite after many years, husbands, children, divorces and career struggles. The programme and the show have put Yip back in the limelight.
What has also captured attention is Yip's unfussy and unswerving public support for the Umbrella Movement. She posts strong messages of support for the students and other occupiers on her Facebook page and pays frequent visits to Admiralty. She spent one night walking from Admiralty to Causeway Bay, tying yellow ribbons on street railings and signposts.
She has come a long way from the cutesy teenager who captured hearts in Hong Kong, Taiwan, Japan and Korea in the 1980s and 1990s.
Yip never set out to be a star. When she was 13, she was discovered by a talent scout while out shopping with her mum in Causeway Bay. This chance encounter set her on an unexpected and extraordinary path.
She started her journey in the entertainment industry by shooting commercials, and became the face of Vitasoy. At that time, posters featuring Yip drinking soy milk were plastered everywhere.
Still, she tried to live the normal life of a schoolgirl away from work. "I tried my best not to let it affect learning." Yip says. "I told myself that at least I have to finish my studies till form five." She continued to attend school, and only worked during weekends and long semester breaks. If she had to be on shoots, she brought her homework with her so she could revise when she was not needed.
But her acting career took off quicker than she could have imagined. In 1988, Yip received a phone call from a producer asking her to take a role in the Hong Kong-Japan collaboration movie, Peacock King, an action fantasy based on a Japanese manga. She was just 14 when she made her big screen debut as Ashura the Hell Virgin.
The movie turned out to be a great success both in Hong Kong and Japan after its release in 1989. Yip was named the most popular foreign female actress in Japan that year. One year later, she received the same title in Korea. Her sweet and innocent image gained her a lot of fans overseas. This opened the door to a singing career.
In 1990, Yip released her first album in Japan, becoming the third Chinese female artist to break into show business in Japan after Teresa Teng Li-chun and Agnes Chan Mei-ling. Soon, Yip's career spanned Hong Kong, Japan, Korea and Taiwan.
So it came as shock when she suddenly announced her retirement from show business to marry toy manufacturer and businessman Chen Pak Ho in 1995. She was just 22 and her star was ascending.
Although people were stunned, Yip says she herself had long planned to quit. "When I started my work in the entertainment business, I made myself a promise that after five years, I would stop everything and go back to school," Yip says. "I hope I can be trying out different things in different stages of life," she adds.