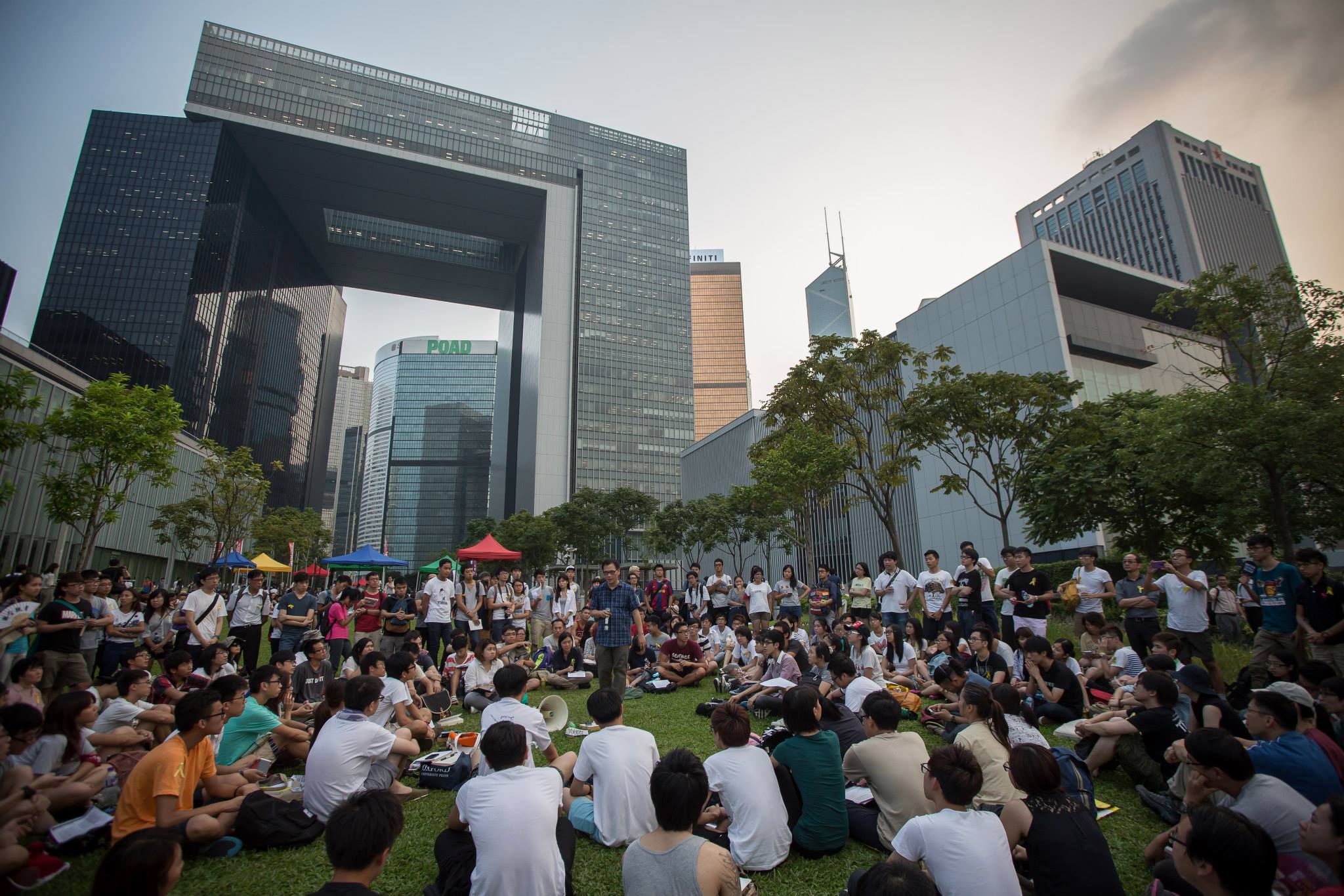 Reimagining the use of public space after Occupy Hong Kong
By Julian Ng & Brian Yu
Today, traffic moves unimpeded on Harcourt Road in Admiralty and pedestrians must use footbridges to cross this important transport artery on Hong Kong Island. But four months ago, this same section of road was crowded with tents and countless banners were hung from the footbridges.
During the 79 days of the Occupy Movement, people's eyes were opened to the possibility of a city where pedestrians, rather than cars, inhabited the roads.
In what became known as Harcourt Village, volunteers distributed free meals and citizens expressed their views on Hong Kong democracy by making speeches or music and artistic works
Surrounded by skyscrapers, Hongkongers would never have thought of walking on Harcourt Road, let alone interacting with strangers in a "self-organised" village. "Tim Mei Workshop", a group of carpenters who wanted to remain anonymous, built wooden stairs with handrails so people could get over the concrete highway dividers. With the help of other participants, they even managed to set up an outdoor study room with furniture and electricity. A sense of community was gradually formed in the occupied area.
Emily Wong Lai-ming, a 40-year-old animator who initiated farming outside the Legislative Council Complex during the occupation, regards Harcourt Village as an example of a new concept of public space that calls for "mutual understanding, respect and ongoing communication." Wong says: "This is how we can make a public space more well-used and meaningful."
As a way to deepen her engagement with the movement, Wong started planting crops on the corner of Tim Mei Avenue and Harcourt Road. "I think the significance of farming in such public space is the connection," says Wong, who adds connections are not just made through words but by actions that form examples that others can follow.
Wong's action contributed to a new perception towards public space in Hong Kong. Others found different ways to link themselves to the movement. Activities like movie screenings, music performances and lectures were organised, homemade food was distributed, various local artists made handicrafts such as leather yellow ribbons and origami umbrellas as souvenirs.
Witnessing the spontaneity of the movement, Cole Roskam, an assistant professor in the Department of Architecture at the University of Hong Kong, was fascinated by how people interacted with each other in this small community.
"The public realm in Hong Kong is much more than simply physical space.  The complex social activities that happen in these places are also part of it," he suggests, "and what we do within those places is part of public space too."
Roskam says public spaces in Hong Kong tend to be overly designed and very programmed as there are lots of regulations on how they are used. Public areas like parks are divided into different sections with particular restrictions such as forbidding ball games, bicycling and kite-flying.
But while people can only enjoy limited activities in common public space, the protesters in the occupied areas seemed to fully engage and utilise the spaces.
These observations motivated Roskam to hold a public forum in January, bringing in professional architects and some Occupy participants to broaden the discussion on how architects and design shape public space, and how the new kinds of activities challenge ideas of public space.
Roskam says the movement created opportunities for activities that take root in open spaces. He cites "Stand By You: Add Oil Machine", which projected messages of support for the Umbrella Movement from around the world onto the Central Government Office (CGO) building. "Projecting social media messages on the building was a kind of very aggressive but interesting way of engaging with the government headquarters," he says.  "I found the resonances with some artistic and architectural projects very interesting."