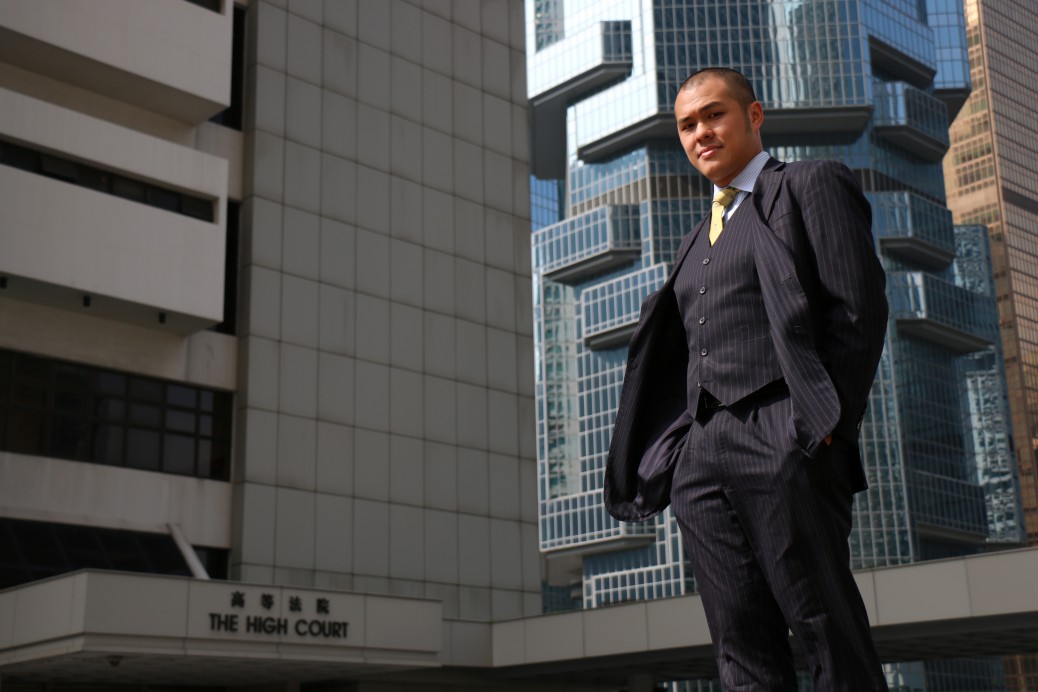 Jeffrey Tam Chun-kit defends political ideals by practising law
By Mavis Wong
On Sunday afternoons in Admiralty's Pacific Place, the usual crowds of determined looking professionals and business people in suits give way to more relaxed shoppers and diners. Casually dressed in a smart purple polo shirt, cargo shorts and wearing yellow flip-flops, Jeffrey Tam Chun-kit could be one of them, except the 31-year-old barrister is not here for an afternoon of leisure.
Instead, he skips the mall and strides confidently to his office in Denis Chang's Chambers where he immediately immerses himself in bundles of paperwork. The exclusive location and prestigious chambers signal how far Tam has come from his humble beginnings as the son of Mong Kok street vendors who grew up in a Tuen Mun public housing estate. But Tam is not interested in the superficial trappings of success.
For him, practising law is a way to keep watching over the government of the day, which is why he has chosen to specialise in public law. An important process in this branch of law is judicial review, which is a proceeding in which the way a decision is made by a public body can be challenged in court.
Tam thinks judicial review is a powerful mechanism through which citizens can monitor the government's work. It is especially important to him because he believes Hong Kong's political system is twisted in such a way that citizens cannot fully participate in the election of the government.
Tam says he has chosen the direction he has taken in order to pursue his "political" goal of ensuring the government acts in accordance with the law. He wants to make sure that prisoners and all minorities are given the fundamental rights guaranteed by the government.
This goal has kept him busy, particularly during last year's Occupy Movement. Like other lawyers who volunteered to do pro bono work for the originally envisioned Occupy Central, Tam says he had expected the action would last three to four days. He never imagined it would become the Occupy Movement and last for 79 days. During the movement, Tam performed multiple roles. In those 79 days, he arranged bail for more than 200 demonstrators who had been arrested. Almost every night, he went to various police stations with his team and gave free legal advice. He accompanied protesters as they gave witness statements and referred them to the Duty Lawyer Service in Hong Kong. Tam also represented some of the demonstrators in the Magistrates' Courts and High Court.
Tam recalls his exhaustion from that time but also his heartbreak at seeing police firing tear gas at the crowds. "People were only there to fight for democracy," he says. "I have never heard of, and it's not in my memory, that the police officers fired any tear gas in recent times."
Apart from the work he did during the Occupy Movement, Tam says there is another case etched into his memory.
Tam represented the family of Hong Kong tour guide Masa Tse Ting-chunn in the inquest into the killing of Tse and seven Hong Kong tourists in the Manila hostage crisis of 2010. The eight Hongkongers were shot by a disgruntled former Philippines police officer, Rolando Mendoza, and the Coroner's Court was tasked with finding out who was responsible for their deaths.
It was a harrowing experience – during the process, Tam had to listen to all the audio recordings of the incident over and over again. "You heard the gunshot, then you heard a lot of people screaming," he says, still visibly shaken by the memory. Tam says he wanted to but he could hardly bear to look at the survivors while they were in court giving their accounts of the incident.
Tse's mother Lee Mei-chun played a key part in encouraging Tam to stay on the case. Lee's persistence in going to court every day for 28 consecutive days with one single-minded purpose – to understand the cause of her son's death – impressed Tam. "She only wants to know the truth, nothing but the truth," he says sadly.
Eventually, the court ruled that Filipino officials had contributed to or caused the deaths in their botched handling of the crisis. Tam was touched when he saw how relieved Tse's family members were after learning the result. "I was convinced that I had chosen the right career path," Tam says.
Taking on such cases and specialising in public law means Tam earns less than he would have by taking on commercial cases but he has no regrets. He never worries that listed companies in Hong Kong may not hire him because of his political stance. "I prefer to have my freedom of speech than working for the rich," he says.
Neither does he have concerns about his own safety in Hong Kong despite being involved in numerous social movements. However, he is not sure if he could enter mainland China or Macau and he has not attempted to do so after the Occupy Movement.
His dedication to liberal causes and to serving the public is no surprise considering that he has aspired to be a politician since childhood. As a student, Tam believed politics could bring substantial changes to society. He joined the student division of Civil Human Rights Front when he was a Form Seven student in secondary school.
In 2003, at the height of public opposition to government proposals to draft a controversial national security law, Tam threw himself into helping to organise the annual July 1 demonstration and resolved to study politics at university.
However, Tam's mother changed his mind and the course his life would take. He recalls that she asked him to read the résumés of the Legislative Council members at that time. "How many of them are lawyers? How many of them study politics?" After counting the numbers, Tam realised that more than 10 lawmakers had studied law and none of them had studied politics.
This convinced Tam that studying law could help him prepare to get involved in local politics. Still, his academic path did not go as smoothly as he would have envisaged. Due to his heavy involvement in the July 1 demonstration while he was preparing for his Hong Kong Advanced Level Examinations, he failed to perform his best. Luckily, he was admitted to the undergraduate law programme at the City University of Hong Kong.
Although the law school at City University might not be regarded as the most prestigious in Hong Kong, Tam never looked down on himself. He worked hard and seized every opportunity to learn.
In his first year of undergraduate study, he won the Hong Kong Lawyers Essay Competition with a piece commenting on the goal of universal suffrage for the Chief Executive and Legislative Council. The essay was subsequently published in a renowned monthly magazine for lawyers, Hong Kong Lawyer. It led to other opportunities too. While he was in his second year, the University of London's School of Oriental and African Studies and University College invited him to give a speech on the functional constituencies in Hong Kong.
Tam's hard work paid off and he was offered a place and a scholarship to study in a post-graduate programme in Civil Law at the University of Oxford. "I think in the end, people look at your ability, not where you are from," he says.
After practising law for six years, Tam is confident that he has chosen the right path in studying law rather than politics "because lawyers can do more than politicians in Hong Kong". He believes legislators play a vital role in society, but pro-democracy members are in the minority and the legislature's structure and rules means it is hard for them to change outcomes.
Instead, he thinks lawyers can uphold social justice in a more direct way, citing a successful judicial review in 2008 that granted all prisoners the right to vote in elections. "Now I have to say that I am more interested to become a lawyer than a politician."
The sleepless nights he experienced throughout the Occupy Movement may be over but Tam still works six days a week and does not see it as a hardship. "I enjoy my career a lot. That's why I don't see it as a burden coming to the office six days a week."
Whatever the issue is, if Tam believes he can help the public interest, he will be there. He has travelled back and forth from different public housing estates to explain to residents about their legal rights in claiming reasonable compensation after lead was found in their water supply. He is also keen to pass on his knowledge and mentor young lawyers, so he teaches tort law and constitutional and administrative law at the University of Hong Kong.
Tam is a devoted supervisor to his pupils, often leaving the office with them when they all finish work. One of his pupils in the chambers, Duncan Ma Ming-chun characterises Tam as "friendly and helpful." As if to illustrate the point, Tam immediately takes out a packet of cookies from his bag and passes it to his pupils after their meeting.
Although he has come to believe that the law may be a more effective way to safeguard freedom, justice and democracy in Hong Kong, he does not think he has managed to achieve his political aims through his legal career. "I think it's on the right track," he says. "I do not really see it as mission accomplished."
Tam says he will continue to work on changing society, step by step, starting with his work on judicial review cases.
"I think it's far from seeing the other end of the tunnel," he says with a self-deprecating smile.
Edited by Total Lam