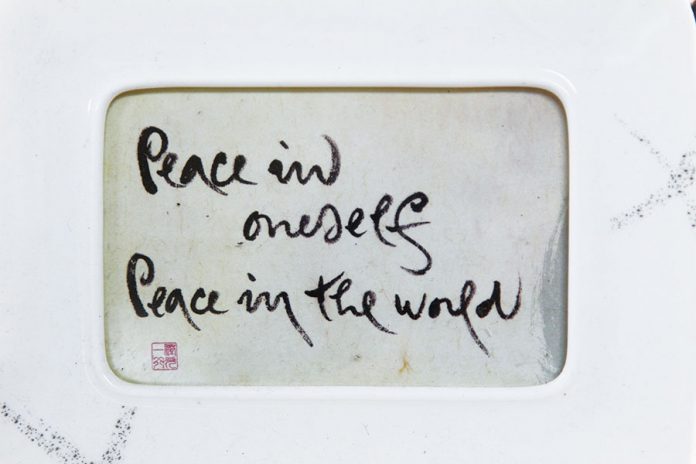 Meditation and mindfulness help people to heal themselves
By Chester Chan
Every Sunday, Mak Sze-chai, a first year anthropology student at the Chinese University of Hong Kong (CUHK), visits the Plum Village in Lantau Island for a whole day of meditation training, or Day of Mindfulness. Plum Village is a monastic community founded by the Zen master, Thich Nhat Hanh, but the Day of Mindfulness activities are open to people of all backgrounds and religions.
Far away from the city centre, the quiet environment calms whoever enters the site. As they walk through nature and practise mindfulness, participants try to slow down and observe the surroundings. When the bell rings, people start to concentrate on their breathing.
"I like to breathe in first, then scan over my body. Once you feel there is something uncomfortable inside, stop and check what it is," Mak says.
Mak's mother, a meditation instructor, began taking her to Plum Village when she was just four. Her parents were divorced when she was a year old, so Mak grew up with her mother in a single-parent family. This left Mak with feelings of abandonment which cast a shadow over her childhood.
She still remembers when she was studying in secondary school in 2012 and her father suddenly told her he had secretly married another woman who was going to give birth to a son in a week's time. Mak felt betrayed by her grandmother who had helped her father to keep the truth from her.
Mak's childhood experiences caused her to fall into a deep depression and have low self-esteem, they affected her interpersonal relationships. So her mother took her to a meditation camp at Plum Village in France in 2002. She remembers how her mother saw her at the camp laughing again without any inhibition.
"Without mediation, I think I would have fallen apart," Mak says. Since then, she has joined regular summer retreat camps in Plum Villages around the world. Back at home, visiting Plum Village every Sunday has become a part of her life no matter how busy she is.
Still, Mak faced pressure in adapting to the new environment at university earlier this year, dealing with orientation camps and assertive classmates. But she is coping and even wants to help other teenagers through practising mindfulness.
Mak's mother, Christine Cheung Sze-kuen, is a meditation instructor for the Spiritual Education Project at the Institute of Educational Research at CUHK. While providing meditation training to parents, teachers and students, she has observed there is increasing pressure in Hong Kong society.
Cheung says students face tremendous pressure from public examinations and a lack confidence in their future. Young people tend to measure their own value by comparing themselves to others. They end up living in fear and fail to appreciate themselves and cope with adversity. A 2015 poll found that 53 per cent of secondary school students surveyed displayed mild or moderate symptoms of depression.
Outside school, teenagers also face pressures in society – Hong Kong is awash with consumerism, negative news, property hegemony and political strife. A study conducted by the Hong Kong Institute of Education (now the Education University of Hong Kong) in 2015 found that nearly 60 per cent of young people aged between 18 and 24 suffered from anxiety or depression after the Umbrella Movement.
Without real connection with others, Cheung says youngsters can feel more helpless.
"Everyone is like an isolated island. Everyone feels lonely even within the crowd."
Cheung thinks that pressures from society, schools, family, peers and even the individual young person themselves are factors contributing to a series of suicides among young people since 2015.
Having noticed that students were suffering from an increasing workload, such as School-based Assessment after the education reform, Cheung worked with secondary schools to promote mental health. She has designed a 10-minute meditation session for the beginning of the school assembly. Students have to concentrate on their breathing before the bell rings at the end of the meditation and then listen to soft music.
Youngsters tend to have a short attention span which prevents them from practising hours of meditation. Yet a mindful pause is enough for them to have a break and "tidy up" their minds and emotions during their hectic lives.
Some universities in Hong Kong have also started to introduce and promote meditation, with plenty of students willing to try it out.