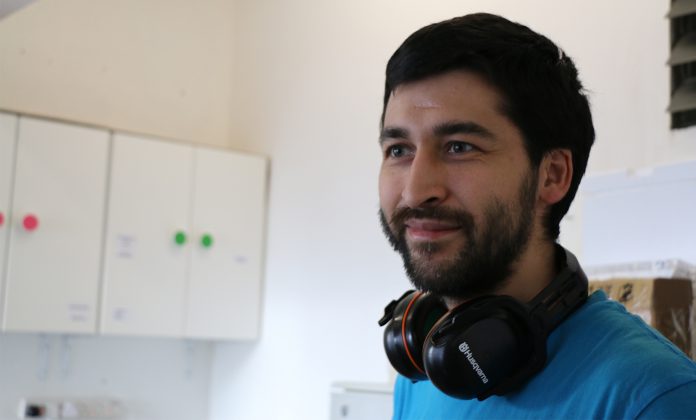 Cesar Harada, a man of many titles, started out with only one.
By Grace Li Yang Xin He
At the closing session of the TEDxSummit in Doha in 2012, a young man with a beard takes to the stage wearing a casual graphic tee-shirt and baggy trousers. "What is the common point between oil, plastic, and radioactivity?" he asks in accented English.
The accent, like the young man himself, is hard to place. In fact Cesar Harada, now 33, is the child of Japanese and French parents. He was educated in France and Britain, studied animation, graphic design and industrial design and has worked in Britain, the United States and now, Hong Kong. It is hard to categorise Harada because he has so many interests and works in so many fields – environmentalist, inventor and entrepreneur are the descriptions on his TED (technology, entertainment, design) biography.
Harada was born in France and received most of his schooling there. Unlike his brother, who he describes as a "super intelligent guy" who is currently a lawyer, Harada says he was always seen as the "idiot in the family." As a child, he says his teachers would even humiliate him and tell him that he had no "academic capacity".
"I was so angry at them," he recalls. "I pretty much just dropped out of high school and studied very, very hard. Independently." A year later, the 18-year-old Harada took the French Baccalauréat, the national examination, and achieved stellar results.
This experience had a powerful impact on the teenager, who came to the realisation that as students, we can give up on mainstream education, but we have no excuse to give up on ourselves. "The world needs all kinds of intelligence," he says. "And the normal education system doesn't work for everybody."
Although he struggled in the mainstream education system, Harada is actually obsessed with learning, and even compares it to "a drug." After completing his public examinations, Harada embarked on a journey of life-long education and has not stopped learning since. He spent his next 10 years travelling, studying, researching, and teaching around the world.
In 2014, Harada arrived by ship in Hong Kong, as a participant in a global entrepreneurship programme called Unreasonable at Sea. The programme is designed for entrepreneurs to take their ventures into new international markets, sailing through 13 countries in the span of 100 days. Harada's venture was a low-cost, oil-collecting robot called Protei which he is developing to clean up oil spills.
He ended up deciding to build the robot in Hong Kong because it was too expensive for him to do so in the United States where he was based at the time. Harada had originally planned to move to Shenzhen, but was drawn by the city's potential and international culture. "I think a lot of Hong Kong people underestimate the power that is in their hands," he says, adding that Hong Kong "has all the ingredients" to be a centre of innovation, including talent, technology, convenience, proximity to China and affordability of materials.
But while we may have all the ingredients for innovation at our fingertips, Harada says there needs to be systemic and cultural change in Hong Kong's education system. Given the strength of Harada's belief in the need for change, you might expect him to be leading rallies and marches to demand it. However, Harada says the days of protest are over for him. "I used to really be on the front line," he recalls with a shy smile. "I was really radical."
Now, he says he focuses less on "pointing fingers" and more on "finding the solution". He believes that technology, culture and education are key components to positive change and to save the environment. This is why he is trying to combine these three things through his teaching. Instead of cramming their minds full of facts for tests, he wants to guide students towards deeper understanding and knowledge of the underlying issues. What he wants to do is to motivate young people to develop technologies that will benefit both people and the planet.
Harada put his skill and enthusiasm for teaching to use at The Harbour School, a private international primary and secondary school in Hong Kong that adopts a customised approach to learning. This approach generally revolves around innovation, creativity, and teamwork. The school started off as an institution for students with special needs.
During his time there, Harada organised short-term science workshops to teach students about how to reduce the use and production of plastics and ocean pollution. The workshops were popular with students and parents, but Harada says some teachers "hated him" because of the dust and noise they produced. A year after he started teaching there, The Harbour School relocated to another site and there was no space for Harada's workshops.
As a result, Harada taught his students for a year in the premises of MakerBay, Hong Kong's first "makerspace" for designers, inventors, engineers, artists, and entrepreneurs, which he founded.