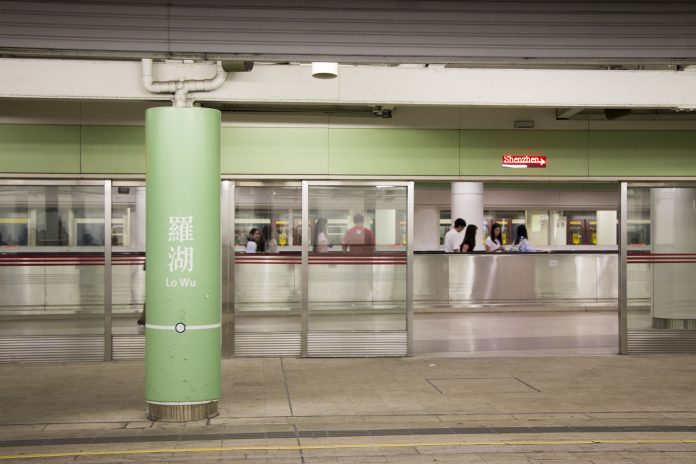 Hong Kong people in mainland jails feel helpless in unfamiliar system
By Crystal Wu & Elaine Ng
In late November 2007, Haak Jai (not his real name) who was then 18, spent the first night of three months in detention in the Luohu Detention Center. He still shivers at the memory of spending the cold nights with just a thin blanket he had to share with another detainee. Everyone around him, the other detainees and the guards, all spoke in Putonghua, adding to his unease.
He found himself in jail because he was running with the triads at that time and smuggling drugs across the border. He was caught by police in Shenzhen and arrested for possession. As he had a Hong Kong Identity Card, the mainland authorities notified Hong Kong authorities and his family learned of his arrest two or three days later.
As more and more Hong Kong people travel to and live in the Mainland for work and other purposes, it is inevitable that some will run foul of the law there. They may be involved in criminal activity like Haak Jai was, or end up in trouble as a result of traffic accidents, or business and financial disputes.
According to the Hong Kong government there were more than 4,000 Hong Kong people detained in the Mainland between 2012 and 2016. What they and their family members have probably discovered is that there is only so much the Hong Kong government can do to help them and that the legal, judicial and penitentiary system in the Mainland is very different from Hong Kong.
As Haak Jai recalls it, a detainee was placed in four categories of cells before trial and after imprisonment. The first was a newcomers' cell, the second was a cell for those who had been formally arrested and charged, then a cell for those undergoing trial and judgment and finally a cell for those who had been convicted.
He says he began to understand the hidden rules soon after arriving at the newcomers' cell. "Cell heads (倉頭) bribed the prison officials and become the leader of the cell," he says. According to Haak Jai, the cell heads did not have to work but had the power to arrange jobs, such as doing the laundry and washing dishes, for all the other inmates.
The Criminal Procedure Law of the People's Republic of China states that a suspect can be detained for 10 days at most in common criminal cases before being charged, and 14 days under special circumstances. As for "serious cases", the limit on the detention period is 37 days.
After staying at the newcomers' cell, Haak Jai was tried in court. As he had been caught red-handed, he did not hire a lawyer and pleaded guilty to drug possession. He was then sentenced to one year of imprisonment and moved to Dabu County prison in Meizhou after spending three months in Luohu.
Prisoners had to pay for all their daily necessities, says Haak Jai. His mother sent him cash so that he could buy his own toothbrush, towel and extra food from the officials. "What happens if you cannot afford a toothbrush? Don't brush your teeth then," he says, adding that guards demanded a 10 percent commission from every purchase an inmate made.
But what upset him most at the time was the disrespect for human rights that he saw around him. "Human rights are what the guards grant you; you cannot fight for it," says Haak Jai. Apart from the privileged "cell heads", other inmates could be punished and beaten up by guards, sometimes with batons that he remembers as being two metres long.
Unlike prisoners in Hong Kong, Haak Jai says mainland prisoners did not get paid for the round-the-clock work they did making toys, nor did they get free time for sports and exercise.
However, another Hong Kong detainee Chan, who refused to disclose his full name, describes a very different experience. He was driving on the Guangshen Expressway when his tyre blew out and the resulting accident caused two deaths. Chan was injured in the accident and was treated in a hospital.
He was also charged with careless driving, but his family members were allowed to keep him company at his bedside. Guards also allowed him to go out to get a massage or go jogging. In all, he spent 13 months on medical parole between 2002 and 2003 before he learned the charges were dismissed in court.
Explaining why he was given this special treatment, he says: "It was because I am a member of a local Committee of the Chinese People's Political Consultative Conference; therefore, I have political privileges."
Apart from his preferential treatment, Chan describes the trial process as a tussle of guanxi (關係), which means the network of influence, between the plaintiff and defendant. "It was my friends, not the lawyers, who helped me with my release with their influence on the authorities," he says.
Chan says he was not aware of the Reciprocal Notification Mechanism, not to mention seek any legal assistance provided by the Hong Kong government. The mechanism between the Hong Kong police and mainland Public Security authorities was established in January 2001. Apart from notifying family members when Hong Kong residents are detained, the Immigration Department can provide some help, such as passing on requests from the families to the relevant authorities and providing information on hiring lawyers.
Between 2012 and 2016, mainland authorities notified the Hong Kong Police, through the Reciprocal Notification Mechanism, of 4,148 Hong Kong residents who had been subjected to criminal compulsory measures in the Mainland. In a written reply, the Security Bureau says most cases were related to deception, smuggling, dangerous drugs and theft.
Dennis Tang Chi-wing, an attorney practising in the Mainland, says the smuggling of air guns has become a common offence in recent years. He says some young people have taken air guns across the border after getting part-time job referrals through Facebook. Reports suggest Shenzhen has a growing black market for smuggled guns as the war-game market expands there.
Under China's Criminal Procedure Law, a detainee has the right to hire an attorney, either by himself or through his family. This legal right, however, is not always guaranteed, especially when a case is political in nature.
Lam Wing-kee, the 61-year-old former owner of Causeway Bay Books, was accused of selling prohibited books and detained in the Mainland for eight months from 2015 to 2016. Lam says he was forced to sign an agreement declaring that he would give up his right to hire a lawyer and contact his family members. "You cannot use the way of life and rule of law in Hong Kong as yardsticks," Lam says. "Hong Kong and the Mainland have totally different systems, or this country has no concept of the rule of law at all."
Lam says that an officer from the Central Case Examination Group (中央專案組) told him that even without a charge, the authorities could still sentence him to life imprisonment. "There are no such things as suspects in the mainland, only criminals," he says.
What he found most difficult to bear was the psychological intimidation. "For every 45 minutes, they scolded me for being anti-revolutionary and anti-[Communist] party," he says. He thinks the repeated interrogations were calculated to make him plead guilty. At one point he began to contemplate suicide.
Ching Cheong, a 67-year-old veteran journalist, endured treatment of this kind and worse when mainland authorities detained and imprisoned him from 2005 to 2008, on suspicion of espionage. At first, he was put under residential surveillance (監視居住), a form of solitary confinement, in a room sealed with black curtains for 100 days.
This violates the Standard Minimum Rules for the Treatment of Prisoners adopted by the First United Nations Congress on the Prevention of Crime and the Treatment of Offenders, which states that in all places where prisoners are required to live, the windows should be large enough to enable the prisoners to read or work by natural light.
Worse still, Ching was cut off from all social interaction; the interrogator became the only person he could talk to. "I even begged him to come interrogate me; I was desperate for a dialogue, even if we were not on the same level," Ching says.
"All the rules in jail were aimed to dehumanise people," he continues. As he recalls, the prisoners were made to squat before prison wardens when talking to them. They were also forced to form a circle and eat sitting in that position.
Police had allowed Ching to call his wife three days after his detention to tell her that he had been arrested. However, there was not a single official notification from the Chinese or Hong Kong government. "The Reciprocal Notification Mechanism is simply useless," Ching says.
Ching is not alone in distrusting the mechanism. Richard Tsoi Yiu-cheong, a community organiser at the Society for Community Organisation (SOCO), points out some of the shortcomings of the current system.
Under the Mainland's Criminal Procedure Law, authorities have the responsibility to contact a detainee's family within the first 24 hours of arrest. However, in a reply to the Legislative Council from December 2015, the Security Bureau said the mainland notification unit would be able to notify the Hong Kong unit within 10 days and mostly within 15 days. Tsoi attributes the time lag to the distance between Hong Kong and the Mainland, with information passing through the county, provincial and central level authorities, to Hong Kong.
Tsoi says there is much that can be improved. For instance, the family of a detainee is usually notified of the detainee's whereabouts and the offences involved. But they are not given any further information, such as the detainee's health or living conditions. "The Hong Kong government plays a very passive role," says Tsoi.
As for the only current channel of assistance provided by the Hong Kong government, a hotline managed by the Assistance to Hong Kong Residents Unit under the Immigration Department, Tsoi has his doubts about its effectiveness. He notes that a family member who called the hotline was referred to the Shenzhen branch of the Hong Kong Federation of Trade Unions (HKFTU) when she asked about the whereabouts of a detainee. "How strange. It is not even a formal avenue," Tsoi says. The Federation hotline in Shenzhen says the office does provide legal consultation services to Hong Kong residents imprisoned in the Mainland.
Tsoi suggests that Hong Kong officials should have access to Hong Kong detainees, taking reference from the rights of embassy and consular officials. "In order to check if the imprisoned citizens are not tortured and protected by the law, it is a usual practice that the embassy has the right to visit them," he says.  He also thinks the government could extend its legal aid services to help Hong Kong residents in the Mainland.
"I hope the Hong Kong government can take the initiative to protect the rights of Hong Kong citizens in the Mainland," says Tsoi.
Edited by Doris Yu