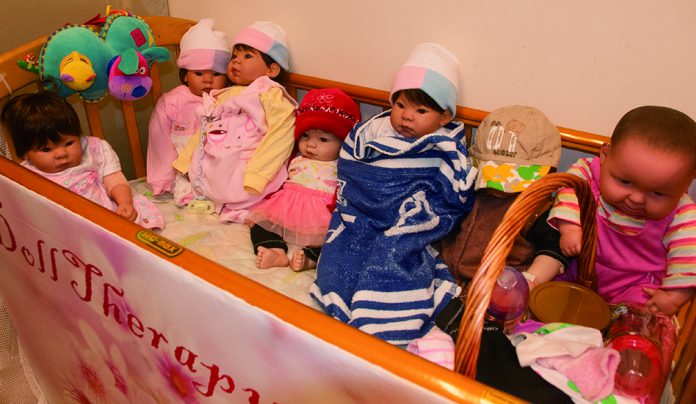 Comfort dolls are becoming an alternative therapy for dementia patients
By Fangdong Bai
Dolls are usually seen as children's toys or carefully displayed collectors' items but occasionally they can be seen in the arms of old people, who may be rocking, talking or singing to them. Comfort dolls are becoming increasingly popular for therapeutic use to alleviate the symptoms of dementia in elderly care institutions and hospitals in Hong Kong.
Doll therapy originated in the 1990s, as a non-pharmacological intervention for people with dementia. The idea draws upon attachment theory in psychology, which proposes that humans need to form strong emotional attachments to develop in "normal" and healthy ways. Research carried out at Queens University Belfast showed the therapy reduces the need for medications and reduces anxiety, aggression and wandering behaviour of dementia patients.
The Department of Old Age Psychiatry of Castle Peak Hospital started using doll therapy in 2015. Advanced Practice Nurse Lui Hung-kong says the seven dolls currently in use were purchased from the United States and cost around HK$700 each. The dolls resemble Asian babies, and their weight is similar to that of newborn babies. Lui says the cost of doll therapy is relatively low, but carers play an important role in the process. "How we the staff execute [the therapy] directly affects the effectiveness of doll therapy," he says.
Lui says the hospital provides guidelines to its staff, patients' families, and nursing home carers. He points out carers only take a passive role in the intervention and that patients can decide whether they want to take part in the therapy, adding that those who have had traumatic experiences with babies are excluded.
As patients may treat the dolls as real babies, carers need to pay attention to the dolls' safety and comfort. The doll therapy corner in the department's activity room is equipped with toys, diapers, and pacifiers, to show the patients that the "babies" are in a safe and protected environment. Lui recalls the time when he almost hit a doll's head by accident and one of the patients became really agitated and told him to be careful. He says although some family members were against the therapy at first, most of them gradually accepted it as they saw its effectiveness.
Lui cites the case of a 77-year-old male dementia patient who was grumpy and had behavioural problems such as wandering and violence issues. He also tried to hide other patients' slippers and stayed awake at night. Although he tried different medications, they were not very effective. Doll therapy had a positive impact on this patient who named the doll after his eldest son and became very involved in the role of a caregiver.
The patient whistles and sings to, feeds, and smiles at the doll. He shares his experiences with other patients, and even leaves a space between himself and the "baby" when sleeping to avoid hurting it. Lui says that on one occasion, he occupied and sat on another patient's bed and they nearly got into a fight. But once a member of staff handed him the doll, his attention was immediately diverted and the conflict was resolved. There has been a significant change in his behaviour and his family bought him a similar doll afterwards.
But doll therapy has its critics, who see it as demeaning and patronising because it treats the elderly as if they were young children. They say it involves dishonesty and deception and is manipulative.
Lui is aware of these criticisms and says staff at the hospital would never define what the dolls mean to the patients or tell them they are real babies. Also, they respect each patient's interpretation and the values they attach towards the doll.
Doll therapy is also being used in mainland China, which is grappling with a rapidly ageing population and the diseases of ageing. The Li Ai Elderly Home is a privately operated elderly care centre in Chengdu, Sichuan. More than two thirds of the elderly living there are dementia patients and the centre has been using doll therapy since it first opened in June last year. Yang Qinglin, the consultant at the centre, says doll therapy is only used as an auxiliary therapy, along with other non-pharmacological therapies such as music, horticultural and massage therapy.
The centre has purchased fewer than 10 comfort dolls so far, while some families bring their own dolls to the elderly patients. Yang says comfort dolls distract patients from depressive thoughts and relieve the symptoms of dementia.
Although dementia medications claim to reduce the severity of symptoms, Yang says most families find the drugs are not very effective.
"In normal cases, we don't encourage families to choose medications after a period of time," says Yang. Apart from the lack of effectiveness, he adds that the medications have side effects such as causing an inability to think clearly and cognitive impairment. As a result, patients have to take sedative drugs too. Without an effective and specific solution to treat dementia yet, Yang regards doll therapy as a more moderate form of therapy.
Back in Hong Kong, the Jockey Club Centre for Positive Ageing has been using doll therapy for more than 10 years. There are currently six dolls available, mainly purchased from local department stores, for dementia patients ranging from mid-stage dementia to the severe cognitive decline stage. Occupational therapist Nancy Tang Yeuk-man says the dolls provide companionship and remind patients of the days when they were the caregivers.
Elderly patients who are unable to join group activities because of their physical condition or disability may feel useless. They have little to occupy their time or find any real meaning in life. Doll therapy works particularly well for these patients as they can have meaningful interactions with the dolls, which makes them feel they are still capable of taking care of children and increases their confidence. Compared to other forms of non-pharmacological therapies, doll therapy is easy to carry out in different settings, including at home.
However, Tang says there has been little research carried out on doll therapy in Hong Kong and there is a lack of guidelines and protocols on its use. Although she has seen more nursing homes using comfort dolls in recent years and dolls are available at most centres, they are not used in a very structured or systematic way. "Not all centres are doing it in a therapeutic manner," she says. She adds that caregivers have to pay attention to who will be receiving the therapy. It is inappropriate for caregivers to give a doll to patient indiscriminately, as some may have negative reactions to a baby.
Apart from human-like dolls, the Jockey Club centre also uses robotic pet therapy and currently has an electronic cat. Tang says it performs random movements and fosters better interactions with the patients than comfort dolls do. It also holds patients' attention and creates feedback. However, Tang points out that as most robotic pets are manufactured in Japan, and "speak" Japanese, it is hard for patients to have a deeper level of interaction with them.
As for developing Hong Kong's own robotic pets, she knows some organisations are interested. "I think it's still in process," she says. But she believes both doll therapy and robotic pet therapy are growing trends in Hong Kong.
One of the robotic pets used by elderly care centres in Hong Kong is PARO, a therapeutic robotic seal that was also developed in Japan. It is designed to look like a baby seal, an animal most people have no direct contact with, which means patients can accept it easily without preconceptions. IDS Medical Systems (Hong Kong) Company Limited is the sole agent of PARO in Hong Kong. Manager Peter Wong Yu-fu says PARO is basically a substitute for pet therapy, which is also known as animal assisted therapy. Patients may have difficulties taking care of real animals, and with robotic pets, there are fewer hygiene and allergy problems.
The PARO model that elderly care centres in Hong Kong are using is the Chinese version and the ninth generation of the robot. PARO learns to behave in the way users prefer and its posture sensor allows it to remember every gesture the user makes. It recognises voice patterns but does not speak. In other words, it can only carry out interactions instead of conversations. "A real animal doesn't speak," Wong says, "so it should be as identical to a real living creature." He says PARO provides companionship and relaxation to dementia patients, and he receives generally positive reactions from care centres.
But compared to Northern European countries like Denmark and Norway where the government finances the use of PARO as a piece of medical equipment, the development of the therapeutic robotic pets in Hong Kong is mainly supported by NGOs.
PARO robots cost HK$50,000 each and Wong says, in Hong Kong, only the leading elderly care institution groups, such as Tung Wah Group and Po Leung Kuk, have the resources to purchase one. Fewer than 50 have been sold in Hong Kong since 2013, when the company first introduced PARO to the city.
But Wong is glad to see the government making efforts to support the use of high-tech medical equipment in recent years. Looking ahead, he hopes more elderly care centres can see the benefits of PARO for dementia patients, leading to more widespread use of the therapy.
By Selena Chan