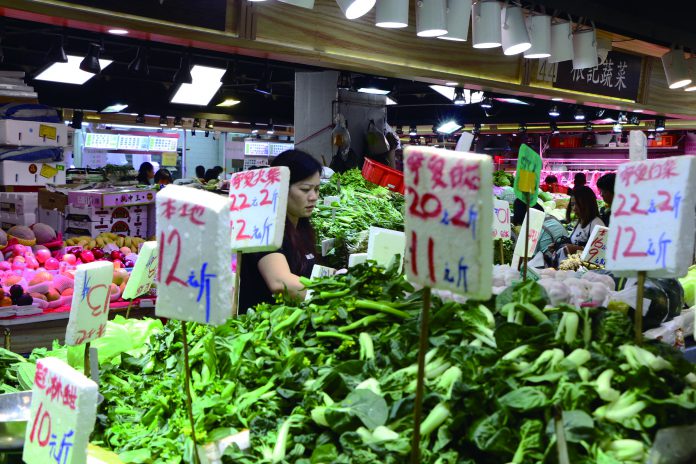 The new public markets announced in the Policy Address may finally break the Link monopoly but questions remain about planning and management
By Ada Chung & Tommy Yuen
The search for affordable fresh food can be a time-consuming and frustrating chore for many Tin Shui Wai residents.
And it can also involve travelling a few kilometres as one shopper can testify. "I go to Yuen Long to stock up fresh food enough for two to three days whenever I have days off,' says a Tin Shui Wai resident.
There is a Link wet market close to her home but Ms Chan, who did not want to give her full name, still prefers shopping in a Yuen Long public market even it takes her two hours of travelling to and fro.
"I can save at least HK$30 per meal if I go to Yuen Long," she explains.
The price difference between the private markets owned by Link Asset Management Limited (Link), and the public wet markets can be substantial due to the monopoly of Link in the fresh food retail market which badly affects the livelihood of Tin Shui Wai residents. So says Tin Shui Wai New Force, a concern group which has been advocating building a public market in the new town for years and now has the satisfaction of seeing a plan for one included in 2018 Policy Address.
In Tin Shui Wai, there are five wet markets in total. Four of them are under Link and the remaining one is under the Housing Authority but it is comparatively small and the management is outsourced unlike the Food and Environmental Hygiene Department (FEHD) markets.
"Ms Chan's shopping habit is common among Tin Shui Wai residents," says the community officer of the concern group Mo Kai-hong. "They have no choice but to shop at Link wet markets in their neighbourhood during working days due to time constraints. When they have days off, they go shopping for cheaper fresh food in Yuen Long, where there are also more choices. Some residents even go as far as Shenzhen Bay for fresh food shopping."
Link's monopoly of wet markets not only occurs in Tin Shui Wai but across the city. Its dominance began in 2005 when most Housing Authority-owned shopping centres  and wet markets were divested to Link REIT. Currently, there are a total of 73 wet markets owned by Link in Hong Kong. The effect of the monopoly is most evident in the third-generation new towns, like Tin Shui Wai and Tung Chung, where there is no FEHD public market.
In response to public demand for more public wet markets, the government announced in the 2018 Policy Address that new public markets would be built in Tung Chung, Tin Shui Wai and Hung Shui Kiu. Studies on site selection have been done and the administration plans to build wet markets at spare space near Tin Shui Wai MTR Station. The public market in Tung Chung will be built on the lower floors of a commercial building which is adjacent to Tung Chung MTR Station. The government is also identifying sites for public markets in Tseung Kwan O and Kwun Tong North Development Area.
The latest government's move on building new public markets signifies a major policy change. While 73 wet markets are owned by Link, 21 wet markets are under the Housing Authority (HA) and 99 are managed by the Food Environmental Hygiene Department (FEHD), according to figures prepared by the Legislative Council Research Office.
Constructing new public markets to bring in more competition seems to be a solution to counter Link's dominance in some districts but public markets are not without problems. A direct investigation of public markets in August this year by the Ombudsman found five major management problems at public markets, including great disparity among stall rentals, automatic tenancy renewal, stalls licenses held on a succession basis, no limit on the number of stalls to be rented by a single person and idle stalls.
Chan Shuk-ki, spokesperson for Alliance on the Development of Public Markets, thinks the newly-announced location for the Tin Shui Wai public market will not benefit residents living in the northern area. She suggests the government should set up transitional facilities in the area, for example a temporary market to meet the residents' demands.
Chan points out the proposed location is in a crucial public transport hub where the Tin Shui Wai MTR station connects with the Light Rail. Therefore, she hopes the government will address the issue of how traffic will be handled. She is asking for a response from the government on the technical feasibility of the proposed construction plan and a specific working timetable.
Chan also says the lack of effective monitoring system by the FEHD is to blame for the poor management of public markets. "The FEHD lacks a comprehensive system in evaluating the performance of stall tenants.  The department should take reference from the Housing Department's Marking Scheme for Estate Management Enforcement, a tool which ensures effective management of public housing estates,' Chan says.
"If a stall tenant violates some rules, discredit will be noted. The FEHD can take their performance in a marking scheme as a major factor for contract renewal. A blacklist can also be drafted to record tenants with poor performance," Chan adds.
Apart from the management issue, public markets also have infrastructure problems. According to a Legislative Council paper entitled Market Modernisation Programme submitted by the FEHD in March this year, only 41 out of 138 markets managed by the department are air-conditioned. Many stalls are small in size. Of some 8,900 stalls selling vegetables, fruits and dry goods, over 90 per cent are smaller than 6.75 square metres. The floor drains are not properly built and the floor is always wet and slippery, especially for fish and vegetable stalls.
Chan admits that private markets, such as those under Link, are equipped with better facilities. "There are sinks for washing hands. Corridors are broader and dry. There are also designated corridors for disable people in wheelchairs," she says.
Lawmaker Eddie Chu Hoi-dick, who is a member of the Subcommittee on Issues Relating to Public Markets, says there are historical reasons for the poor management and facilities in public markets. "The failing public markets we are criticising now have a long history. They were built to accommodate street hawkers," Chu explains.
Public markets were provided by the two former Municipal Councils in the past with a policy objective of serving as sites to relocate street hawkers and minimising environmental nuisance and obstruction to pedestrians induced by the hawkers trading on streets.
In a bid to fix problems in public markets, the government announced it was earmarking HK$2 billion to launch a 10-year market modernisation programme, which includes upgrading infrastructure and reforming the management of FEHD markets in the 2018-19 Budget.
While the government has taken the initiative to improve the quality of public markets and promises to build more public markets, it is still uncertain whether such moves will help lower fresh food prices by bringing in more competition.
A survey by the FEHD in 2016 compared prices of food items among different retail channels in 22 FEHD markets, 18 Link markets, 51 supermarkets and 154 neighbourhood fresh food retail outlets. The study found some items sold in FEHD markets were not cheaper than those sold at other retail outlets. The highest prices of poultry and fresh fruit were reported in FEHD wet markets.
But Chu criticises the survey for not being comprehensive and representative. "Their sampling confuses people and ignores districts with no market competition," Chu explains. "For example, Tung Chung and Tin Shui Wai are not included in the survey, as there is no public market competition in these two new towns." Chu stresses that pricing is not the only decisive factor for determining whether a public market should be built.
Chu points out the government has no clear guideline or standard to rely on when deciding whether a market should be built. "There are 100,000 people in Tung Chung; it could be having 250,000 people later on, and the government builds one new public market there. There are 300,000 people in Tin Shui Wai and the government builds one there. There are 180,000 in Hung Shui Kiu, and the government also builds one there. Then what is the population ratio required here?  There is no clear guideline or standard for reference," he says.
According to the Hong Kong Planning Standards and Guidelines (HKPSG) outlined by the Planning Department, one public market stall should be provided for every 55 to 65 households or approximately 40 to 45 stalls per 10,000 persons. However, in 2009, the Planning Department removed the guideline and stated that the provision of new public markets should be considered on a case-by-case basis.
Chu says a clear guideline concerning the construction of new public markets should be set and it is vital for the government to have a better tenancy policy for public markets.
"Tenancy policy in public markets should have a cap over rental fees and offer better protection for tenants. The FEHD cannot force tenants to leave any time they want, for example," Chu explains. "If these two elements are considered in the management of new public markets, then the public market can really bring good to our community," he says.
Dr Leung Chi-yuen, teaching fellow in the Department of Applied Social Sciences at the Hong Kong Polytechnic University says the newly announced location is close to a public transport hub, but it is not an area that lacks markets.
Leung thinks the consultation on the operation model of the market should start soon, or else, the same old problem will come back again. He suggests forming a consortium consisting of stakeholders from different sectors to manage public markets.
"The composition of an operating team can be flexible. Members can be government officials, people from the business sector and stakeholders in the community so that they can pull their knowledge together to run a market," explains Leung.
Edited by Angela Siu