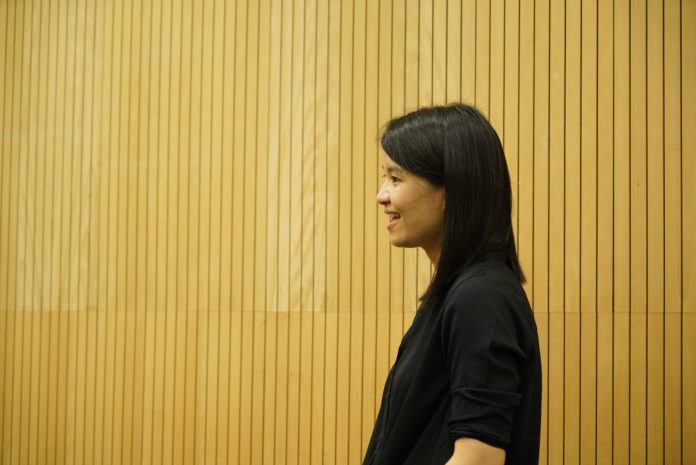 Journalist-turned stand-up comedian Ng Ting-ting continues to tell stories in her new role
By Laurissa Liu
No fancy outfit. No heavy make up. She looks plain. Yet, she fills a whole lecture hall with laughter and applause when she tells her wonderful stories on stage.

Ng Ting-ting, 36, also known as Mary, is a local full-time stand-up comedian. Since last year, she has been performing regularly at different places outside Hong Kong such as Australia and Malaysia. She also organises her own talk shows and runs a stand-up comedy class for kids known as "Not Only for Adults".

But before Ng devotes her career to stand-up comedy, she had worked as a journalist for 10 years in local media, including i-Cable and RTHK, after graduating from the Chinese University of Hong Kong with a bachelor degree in journalism.

As a child, Ng's dream has nothing to do with stand-up comedy. Rather, being a journalist had been her life goal for years. It all started from an episode of a documentary produced by RTHK about Lee Kuan Yew, the first Prime Minister of Singapore. It inspires Ng to become a journalist, who produces meaningful documentaries to make a positive influence in society.

"I don't mean to do something great [with the documentaries], but when I was young, I am the type of person who insists on fighting against injustice that I come across in society," Ng says.

Her dream of being a journalist came true after her university graduation. But her journalism career did not go smoothly as she thought. She calls herself too "idealistic" – believing that journalists should speak out against injustice, but the reality is different from her thoughts.

Disappointed by the bureaucracy and tedious procedures, she gave up her job. "If you like steak very much, you'll be delighted when you can have it sometimes. But when you have it every day, it will gradually become not tasty anymore," she says. Instead of being a journalist, now she finds more satisfaction in performing stand-up comedies.

Ng first got in touch with stand-up comedy when her friends invited her to join a workshop held by Vivek Mahbubani, a local stand-up comedian. The encounter had a significant impact on her.

"When you are doing news, it's impossible to add your own emotions or put it in a funny way. But for stand-up comedies, I can present them in a hilarious way, and I think it's cool," she says. Since then, performing stand-up comedies has become Ng's major hobby.

In Ng's eyes, stand-up comedy and journalism have something in common – journalism requires careful observation, so does stand-up comedy as jokes originate from life experiences. One of her performances is about the secrets in a local girls' school, where she spent her whole secondary school life. The performance went viral online with more than 300,000 views. It illustrates how she has turned her life experiences into intriguing stand-up comedies.

Doing stand-up comedies also brightens Ng up by changing her attitude towards life. When she first met other fellow stand-up comedians, she was amazed by the way how they respond to different issues. "When I first talked to them about the absurdity of politics, they would reply me with an interesting angle. In fact, they did not follow the news closely and were simply speaking nonsense, but their responses were quite funny to me," she recalls.

Whenever something terrible happens, Ng's first reaction is to write it down as a source for her jokes and to understand it in a funny way, instead of indulging herself in depressing feelings. She was furious about the incident of the disappearance of Causeway Bay Bookstore's booksellers back in 2016, but now she has decided to adopt another attitude towards the issue.
"I still believe the issue is unreasonable, but in a hilarious instead of an angry tone. I still hope to change these unreasonable things, but I'm more relaxed towards them now," Ng says.

But it is not easy to work as a full-time stand-up comedian. Ng thinks most Hongkongers have little or no knowledge about the culture of stand-up comedies which directly affects her income. "People have the habit of searching for what to do or which films to watch on weekends, but seldom will they look for stand-up comedy shows," she says.

Still, Ng believes her career will have a promising future. Most comedians in Hong Kong are part-timers, doing it as a full-time job means Ng has more time and resources to work on her performances. "Same as comedy films, even though the jokes are funny, it doesn't mean they are carelessly created. The crew behind pays great effort to every idea," she explains.

Looking back at her life, Ng says she always follows her heart whenever she makes any decision. She never thought of pursuing a career in stand-up comedy. "Life is about groping all along the way, instead of doing the thing you have always dreamed of," she says.

For future plans, she intends to continue to do stand-up comedy, teach kids as well as expand the Mainland market. Having worked as a full-time stand-up comedian for about a year, she is still unsure whether she can earn a living with this job. But she does not feel worried at all. "If I can't work this out in two or three years, I can try other things. I can go sell bread. It's always important to believe in your ability," she says.

"You only live once, so everything is valuable. No matter how much you earn, if you aren't doing what you are passionate about, then everything is in vain," she adds.
"You only live once, so everything is valuable."
Edited by Tommy Yuen