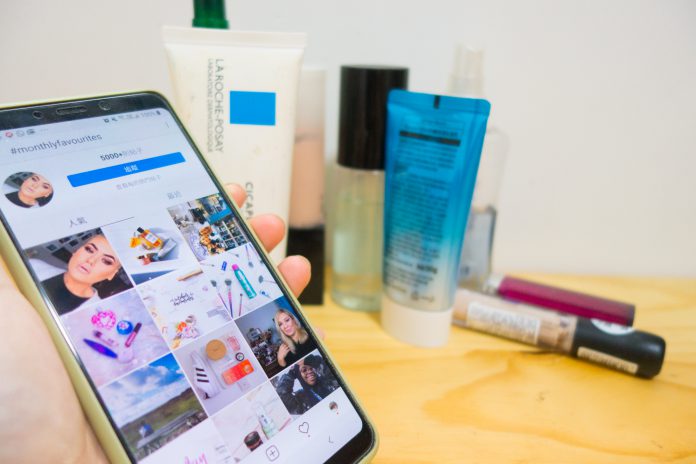 By Mandy Yim
Working as young Instagram influencers has become a trend among
university students for self-recognition and some pocket money.
CatCat Cheung Ka-man, a Year 4 university student of Hong Kong Baptist University, has started working as an Instagram influencer since 2018. The communication major student has worked with more than 280 brands in two years.
Cheung has taken part in a wide variety of advertisements for various products such as electronic gadgets, jewellery, cosmetics, hotpot restaurants, paper-packed beverages and even shower gels.
She found jobs from online media platforms such as Mingo, SpreadIt, Vfluencer, Touchbase and CastingAsia. Some companies approached her directly by sending her invitation messages via Instagram.
"Apart from money and free products, I also receive free facial treatments, free meals as well as chances to participate in cocktail events," Cheung says.
Cheung says that even though the job nature of being an Instagram influencer is simple and no professional knowledge is required, influencers may still face unexpected difficulties.
Cheung recalls an unforgettable experience. "Directions given by brand companies on advertising posts are sometimes unclear. A company once required me to express the mood of excitement and surprise at the same time while biting a Cheesy BBQ Meatball Sandwich. I felt embarrassed though I successfully finished the task," she says.
Cheung also reveals that she usually waits for one to two months for payment after posting an advertisement. "Some companies even forgot to pay. Influencers had to remind companies to settle payments," she says.
While some university students are keen to join the online marketing industry, some have quit the trade.
Ruby Kao Hoi-tung, a Year 2 student of City University of Hong Kong, started her career as an Instagram influencer in 2018 when she was 18. The business major student's Instagram account now has more than 4000 followers. Her one-year contract with Maybelline has just ended.
"Before working with Maybelline, I have been doing online advertising for three brands. They are Shu Uemura, M.A.C and Happy Socks. I contacted the brands through online media platforms such as Zolar," she adds, "They are one-time jobs. I did not have a long-term employment relationship with the brands."
Zolar, formally established in early 2019, is an associated business of New Media Group, a media company in Hong Kong. It does matching for brands and job seekers who want to join the influencer marketing industry.
Kao was not satisfied with jobs she had when she was a freelancer. "The money I got from one-time jobs was little. I only got sample products and travel allowances after posting advertisements. The pay was low which was around $100 per post," she says.
She joined a digital marketing program initiated by Maybelline, namely Babelline Society, in March 2019 and signed a one-year contract. According to the contract terms, Kao was not allowed to create any advertising posts for other cosmetics companies. The program recruited university and secondary school students as promoters for both online and offline promotions.
"Besides money, the main factor pushing influencers to continue their career is the vanity to be famous," Kao says.
"Being accepted by Maybelline is my greatest reward in this career. I feel like my ability in marketing is recognised," Kao says, "I had an interview before I was successfully selected as Maybelline's online influencer. The interviewers required me to design a campaign to promote their brand and pitch an idea to them. I was so glad that my idea brought me to the company."
"I used to prepare shooting equipment and make-ups myself when I was not a contract staff of Maybelline. I had to take selfies and edit them by myself when I did one-time online marketing campaigns for other brands. The whole process took several hours," she says. Maybelline, in contrast, provided studios and photographers for Kao. The arrangements made Kao's job much easier.
Despite receiving full assistance from the brand, there were times when she thought about quitting the industry. "I worried about how others thought of me. I questioned myself, 'Do my followers like my photos? Do they think I am hard-selling? Will they unfollow me?' I felt stressed," she says. These worries faded away when her friends once actively assisted her in selecting photos for an advertisement campaign of Maybelline. "Their encouraging words motivate me a lot," she says.
But Kao has no plan to renew her contract with Maybelline. "Some people around me dislike Maybelline due to political reasons," Kao says. She will also stop promoting other brands and start her own YouTube channel. "I want to start my own channel this summer for myself instead of for other brands."
"I spend time understanding products before I promote them in public," Kao says, "I want to live up to the expectations of my followers."
Marsha Yu Man-shan, a Year 3 student of Hong Kong Baptist University, also stopped working as an online influencer after joining the industry for a year.
"I started my freelance work as an Instagram influencer when I was in Year 1. I was 18 at that time," she adds, "I joined this industry only for money."
She describes the industry as disordered and messy, as anyone can join the trade. "Everyone can be an influencer. Many of them spread product information just for money rather than recommending high-quality brands to others. Advertising posts are neither representative nor convincing. Customers may be misled," she says.
She also faced the problem of low and unstable income like Kao. "It is impossible to have a full-time and long term career in online marketing as an influencer as the income fluctuates," she adds.
But the main reason why Yu gave up her online marketing job is the anti-Extradition Law Amendment Bill (anti-ELAB) movement in Hong Kong. In her view, it is inappropriate to post advertisements during the social movement because they distract others from knowing the most updated information of movement. Therefore, she shifted the focus of her Instagram posts to news about the movement.
"I may still consider re-joining the industry when the anti-ELAB issue is not a topic of intense debate in Hong Kong," Yu says.
Under the influence of the social unrest, media companies have also been observing a drop in the number of Instagram influencers.
Director of Zolar, Doris Kuok, who has been working in online marketing for 15 years, says the number of teenagers joining the online marketing industry has dropped due to the social movement.
Kuok thinks that influencer marketing ties closely with the social situation. "Instagram users follow an influencer only when the influencer has in-depth and constant sharing on a specific theme, such as food and cosmetics. If an influencer shares diversified topics, for instance, political affairs, information about masks and sterilizers, as well as commercial advertisements, followers may lose interests as they find some content not suiting their tastes. They may unfollow the influencer," she says.
"Creating posts that relate to a wide range of topics causes the loss of style and character in influencers' Instagram account," Kuok says.
Dr. Wu Shih-chia, a professional consultant of the School of Journalism and Communication at the Chinese University of Hong Kong, says both promoters and target audience of online advertisements are mainly teenagers.
"Brands that adopt influencer marketing are selling trendy products related to fashion, travel, fitness and beauty. Since the young generation is the potential customers of these products, companies would like to hire teenagers to be their influencers," she says.
She thinks that free products, the sense of satisfaction in influencing other people and honorarium are the reasons that attract university students to join online advertising market. "Some students may even become a full-time influencer after graduation," she says.
"The purpose of using influencers for promotion is not to turn a non-famous product to a famous one," she adds, "Instead, it aims at reaching the target audience through the influencers' close social networks." She adds that the strategy of influencer advertising is not a matter of coverage but the closeness.
Additional information about Instagram marketing
Instagram, with one billion monthly active users according to eMarketer's statistics in 2018, is the second most engaged social networking site. More than 70% of the billion monthly active users are under the age of 35, according to the data from Statista in 2019. Thus, more and more companies targeting teenage market develop their advertising channels on Instagram.
How to be an IG influencer:
1) Download apps such as SpreadIt and Mingle, which are agencies connecting influencers and brands. Details of various products and corresponding remunerations are listed. Users can browse and filter items by interest.
2) Click "APPLY NOW", they can collaborate directly with brands and create posts according to brands' requirements.
3) After submitting sample posts to brands and getting approval, they can share their posts on Instagram and Facebook.
Edited by Ariel Lai
Sub-edited by Tiffany Chong