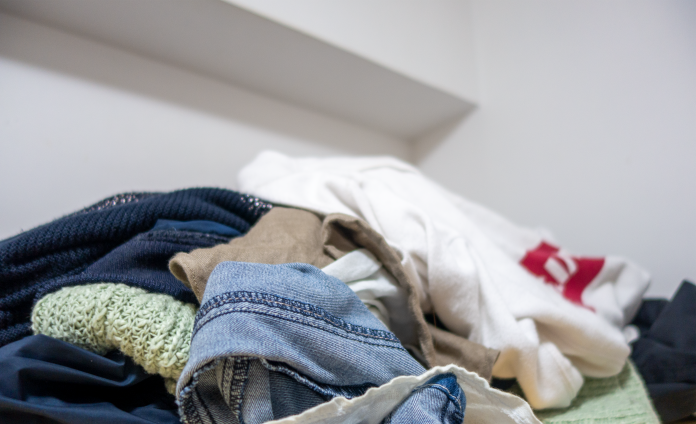 Fashion industry makes efforts to create sustainable consumption and production behaviour
By Lynne Rao in Luzhou
Fashionable and Sustainable
"I love fast fashion, but I have to throw away many clothes every six months," says Shum Man Yin, a Year 2 student studying history at the Chinese University of Hong Kong.
Shum, like any other girl of her age, loves shopping from Zara, a Spanish fast-fashion brand, to keep up with the latest trend.
Fast fashion is one of the fashion business models that provides inexpensive garments of the latest trends, encouraging frequent and excessive consumption among consumers.
Being trendy, however, leaves Shum in a dilemma. As much as she cares about trends, she is also concerned about textile waste in Hong Kong. "It (fast-fashion clothing) is cheap but poor in quality. I always buy a lot but don't wear them much," shares Shum. She tries to buy less now and makes it a habit of putting away unwanted clothes into recycling bins placed in the community.
A New Choice
"I'm regretful every time I throw away my clothes," says Shum, "but I have to (do so) because it's hard to manage my wardrobe."
Keeping up with fashion trends often leaves consumers with an overloaded wardrobe. Four in ten Hong Kong shoppers said they threw away clothing after wearing it just once, according to YouGov, a private research centre, in 2017. The survey shows that the number of garments purchased by individuals grew by 60 per cent each year between 2000 and 2014 alone.
"People buy and throw away their garments so quickly, and that causes so many environmental problems," says Toby Crispy, an upcycling fashion designer who used to work for a commercial fashion brand.
Crispy points out that overconsumption is accelerated by fast-fashion retailers who break down industry's "four-seasons-a-year routine" into 52 mini collections a year. The brands use synthetic materials for their cheap garments which are mainly oil by-products and cause pollution during laundry.
The garment material is not the sole problem of fast fashion. Having worked in the fashion field for over two decades, Crispy says she has witnessed the dark sides of the industry, such as "severe pollution, animal abuse and exploitation of labor." "I (no longer) could accept to work hard for this selfish and ignorant industry," she says.
Tired and disappointed, Crispy quit her job as a design manager at Agnes b. HK— a label she worked for before creating her upcycling fashion label. She created her upcycling fashion brand, Lastbutnotleast in 2013. She is committed to fighting against waste and pollution problems in the fashion industry by repairing, reshaping, and redesigning secondhand garments from customers.
Crispy believes upcycling can make the best use of old clothing while it also helps reinforce the sense of attachment customers share with their belongings. "It's so touching every time I listen to stories people have with their garments and see happy faces when they receive redesigned clothes," says Crispy.
Crispy holds regular workshops in an effort to promote sustainable fashion. She explains how garments are made and shares tips on how to turn old clothes into new ones. "I feel proud when I see the participants feeling happy and learning different types of upcycling skills in my workshops," she says. "The mission as a designer is to propose a sustainable lifestyle, rather than producing the unnecessary."
Let's Redress
The fast-fashion model adopted by Zara and H&M has been successful in sales since the 2000s. They are especially popular in Hong Kong with net sales of 1,502 million kronor (around HK$1.23 billion), according to H&M 2018 annual report. The figure is significant considering the net sales of other neighbouring regions like Taiwan and Singapore are just 600 million (around HK$467 million) and 800 million kronor (HK$ 620 million) respectively.
According to figures from the Environmental Protection Department of Hong Kong, about 0.125 million tons of textile garbage were dumped into landfills in 2018. On average, about 343 tons of textile waste were produced per day.
To combat textile waste, Redress, an environmental NGO in Hong Kong, makes efforts to change the public perception of fashion and reduce textile waste.
Redress, founded in 2007, has held various campaigns to promote sustainable fashion through recycling and upcycling. Redress encourages the public to adopt a circular model by collecting, sorting, and reusing or upcycling secondhand garments.
The NGO also holds the Redress Design Award every year to spread the message of sustainable fashion with designers of various backgrounds. "We work to change mindsets (of fashion consumption) and (related design) practices to reduce textile waste, as well as to create systems and partnerships that will bring out the values (of) existing waste," says Kay Liu, circular fashion programme director at Redress.
Fast-fashion retailers are also looking for sustainable models to address environmental concerns. H&M introduced an environmentally conscious label, "Conscious" in 2019, which means their products "must contain at least 50 per cent sustainable materials, such as organic cotton and recycled polyester" according to H&M's official website. Zara also has its eco-friendly collection, "Join Life", which uses organic cotton, recycled wool, and forest-friendly fibre, Lyocell as the primary materials.
"These changes do not only offer consumers more sustainable choices but also push other practitioners in the industry to change," Liu adds.
Liu thinks changing consumption behavior is the key to promote sustainable fashion. She points out that consumers lack awareness of the impact of over-consumption. "Many consumers don't realise that they are buying one of the world's biggest polluted goods when they purchase fast fashion," she says.
Liu asks consumers to keep three "Re's" in mind to practise sustainable fashion trends, which are, to Re-think before buying, Re-organise wardrobes, and Re-create old into new.
Edited by Soohyun Kim
Sub-edited by Kayi Tsang