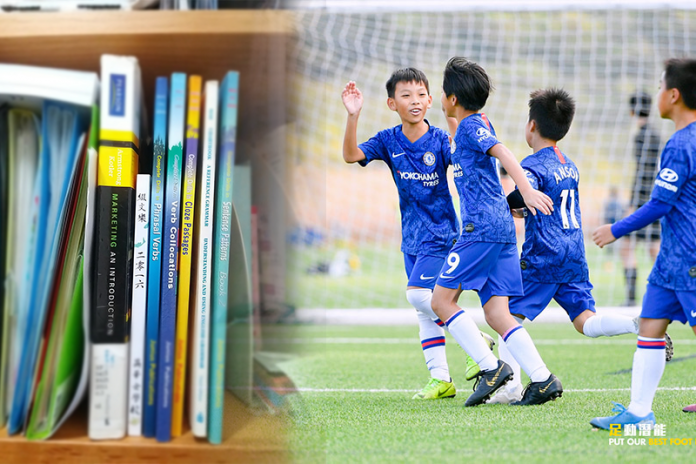 By Mandy Yim
The shocking death of Kobe Bryant in a helicopter crash in January leaves sorrow across nations as well as admiration towards his sportsmanship.
Kobe Bryant, who won five National Basketball Association (NBA) championships with the Los Angeles Lakers, joined the NBA straight out of high school at the age of 17. Since then, he played for the Lakers throughout his life and is considered a basketball legend.
How about young athletes in Hong Kong?
Exams First!
"My parents always remind me to put schoolwork before anything. If I cannot strike a balance between study and sports, I should give up the latter one," says Ethan Yim Wai-ho, current member of the Hong Kong National Water Polo Team.
While Kobe could choose to skip university and head to the pro at the age of innocence, Hong Kong students are loaded with private tutorial lessons in preparation for the Hong Kong Diploma of Secondary Education Examination (HKDSE). They are told to follow their parents' path: study hard, get a university degree and find a decent job, even if they have sports goals.
Yim is now a Year 3 student at the Chinese University of Hong Kong. He started regular swimming trainings when he was a Primary Two pupil. After seven years of training, Yim wanted to explore a new sport – water polo. He was a Form Two secondary school student at that time. In 2014, he became a member of the Hong Kong Water Polo Team.
"(Regular water polo trainings) Certainly reduce the amount of time I spend on revision. I usually return home from practice at around 12 a.m. After spending some time doing my own stuff, I go to sleep till 6 am. In fact, I don't have much time left for study," he says. Leading a hectic study schedule, many sports lovers have given up in the middle of the trainings. "More than 10 people joined the team in the same term with me in 2014. Today, only two of them remain."
His passion for water polo pushes him to skillfully manage both doing sport and his study. Yet, in order to save more time for his study, he had to cut his water polo training time when he was a Year 2 student.
Shooting the Ball to the Future
Yim points out that there are no full-time water polo athletes in Hong Kong. "As water polo is not on the list of Elite Sports supported by the Hong Kong Sports Institute (HKSI), athletes do not have stable income. They can only be amateur water polo players," he laments. Very few athletes want to be a coach in Hong Kong. "For the time being, no water polo athletes will solely devote themselves in sports without having a back-up plan," Yim says.
Sun Ming-him, a Hong Kong National Football Team player who currently plays for the Hong Kong Premier League Clue Tai Po, had a different plan. The 18-year-old student who is pursuing a business degree started his football journey when he was five. Later, he joined some activities organised by The Hong Kong Football Association Limited Junior Fans Club (JFC). At 12, he joined the Youth Team.
"After graduating from university, I want to be a full-time footballer. When I retire, I will become a coach," Sun says. To him, a university degree is nothing more than a back-up plan and fulfilment of his parents' expectation. Though Sun's parents fully support his dream, they still prefer Sun to get a degree.
Comparing to other countries such as the US, Sun observes that Hong Kong teenagers do fewer sports. "My coach once told us that football teams in foreign countries were required to train twice a day. We only have a few training sessions per week," says Sun. Sun attributes this phenomenon to limited training venues and heavy schoolwork.
"In some families, parents are concerned that playing football in Hong Kong cannot bring a promising future to their children. They, therefore, force them to give up."
Refuse to Invest in A Bottomless Pit
"We are trapped in a dilemma. Economic benefit is the major consideration of the government when it decides to develop certain sports or not," says Chris Yiu Kei-sze, the Grassroot Football Manager of the Hong Kong Football Association.
Yiu shares some challenges of the Hong Kong football ecosystem. He explains the government finds projects not worth doing if they don't have immediate returns. "When it comes to football, the return is usually not measurable. It is impossible to assure that the Hong Kong national football team must be able to reach certain ranking as long as a certain amount of funding is provided," he sighs.
In Yiu's view, the government puts resources only on sports teams having remarkable performances in the past, such as winning medals and getting high rankings in competitions. Yet, no outstanding results can be achieved if resources for development are limited. This is a chicken-and-egg problem.
"We are given a priority in using it (the Jockey Club HKFA Football Training Centre), but we are not the only user," Yiu stresses. He points out that the government is not responsible for any operating expenses of the training centre in Tseung Kwan O. The Jockey Club has to rent the venue to the public to cover operating costs. Regular strategic trainings and promotions of the sport may be hindered if the association has no exclusive right to use the venue. In foreign countries, football clubs and associations have their own pitches. Local football teams need not share their training pitches with the general public.
"If there is a piece of land, the government will certainly use it for housing. Sports is never the first choice."
"Kobe can play freely without any academic pressure because universities would give him a position whenever he chooses to go back," Yiu reckons.
Yiu thinks it is a pity that many talented primary school students quit football training to prepare for academic exams such as the internal examinations for the Secondary School Places Allocation (SSPA).
"Kobe mastered his skills with a carefree mind because he did not have any worries about his study. In contrast, no policy in Hong Kong supports young athletes such as adjusting secondary school entry requirements or providing conditional offers."
After the implementation of the Five-Year Development Programme for Team Sports in 2018, additional funding is provided to the Hong Kong water polo team, supporting its trainings for better performance in the Asian Games. Each team member can receive $4,000 per month. Baseball, basketball, handball, hockey, ice hockey, softball and volleyball teams in Hong Kong are also covered by the programme.
Edited by Ariel Lai
Sub-edited by Howard Li