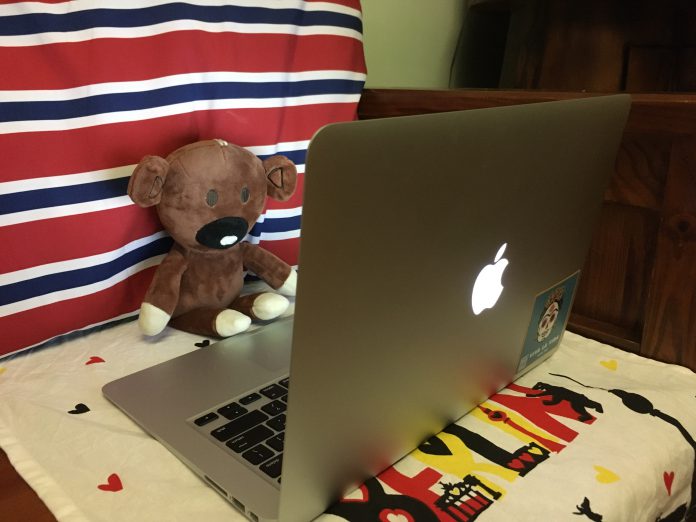 Parents struggle to control children's use of electronic devices during lockdowns.
By Charleen Chen in Hsinchu
It is not easy for Kyra Kuo, a mother of two, to take care of a 2-year-old son, Enzo, and a 10-month-old baby. Anti-COVID19 measures such as class suspension make it even more challenging for Kuo.
"I gave up strict control over Enzo's television time, because I was just too busy," Kuo, a Taiwanese blogger and housewife, who is now living in the Netherlands after spending five years in Singapore, recalls. "I literally handled the baby and Enzo 24/7 with no breaks during the lockdown," she says.
Schools were shut down from March till June in Singapore in 2020 when the country was under lockdown. Enzo, Kuo's 2-year-old son had to stay at home, as his kindergarten closed.
Longer Screen Time Under Lockdown
"Enzo watched television for roughly one hour [every day] during the lockdown," Kuo recalls.
The kindergarten pupil used to only watch 15 minutes television every day and do outdoor activities such as picnicking and playing at parks. The family also took him to the zoos and aquariums on weekends before the pandemic.
The toddler's television time jumped four times after the world has been affected by the pandemic. His mind sometimes went blank after watching television for an hour. "He sometimes threw temper tantrums when I turned off the television," Kuo says. "When staying indoor for so long, it was very hard to keep my elder son away from the electronic devices during the pandemic," Kuo adds.
"When staying indoor for so long, it was hard to keep my son away from the electronic devices."
Wang Chun-ping, a Taiwanese blogger who has been living in France for over 10 years, encountered similar problems. Her two sons, Alexandre, aged 9, and Andre, aged 6, stayed at home when the country was under lockdown from March to May this year.
"They used electronic devices indeed more often when staying home all day," Wang says. Apart from having online lessons, the brothers used the devices for games and surfing on the Internet during the lockdown.
Her children used to enjoy going to school and doing outdoor activities such as hiking and swimming. But now they switched to indoor activities such as playing with building blocks and cleaning the garden.
"Our family used to travel a lot. When we couldn't go out all of a sudden, the boys actually needed some mental preparation," says Wang. "I explained to them that we must stay indoor because we have to protect ourselves and others."
Asking for More Cartoons to Watch
Lin Tien-yu, a Chinese teacher in Taiwan, has a daughter, aged 5, and a son, aged 2. Her children used to join many activities such as drawing, sightseeing, and simple DIY projects. But all these activities and their art classes have been cancelled due to the pandemic.
"They ask if they can watch Disney cartoons more often," Lin says. Her children used to watch television for 10 to 20 minutes a day. But they now spend more time on television as they have to stay home most of the time and avoid going out to reduce the risk of infection.
"When the kids watch cartoons, I can take the chance to relax a bit," Lin says. As working parents, Lin and her husband, an engineer, have become much busier juggling between family and their work, as their children stay home all the time. They cannot let the childrens visit their grandparents as usual to prevent infection. And that deprives the couple of their time to rest. "Their grandparents used to look after the kids at their place on Saturday afternoon, so my husband and I could rest or go shopping," Lin says.
Lin lets her children watch more cartoon. "But I find the children really are addicted to watching TV," Lin says. "They ask for more cartoons and become emotionally unstable. They will throw a tantrum and it is difficult to communicate with them when they cry and act naughty," Lin adds.
In Search for Solutions
To reduce screen time for children, parents try hard to think of alternative activities for their kids. Kuo let Enzo make chalk paints on the balcony. The toddler also used boxes to build a 3D parking garage with his father. "Enzo sometimes joined me in cooking dinner and bathing his baby brother. This allowed me to keep him company when doing the chores," Kuo says. Wang tried reading books and playing board games more with her children to reduce their use of electronic devices during the lockdown. "I also encourged my children to play basketball and clean the yard at home," she says.
Similarly, Lin tries to shift her children's attention away from the cartoons. She purchased teaching packages for her children to make homemade soap, build blocks, and assemble magnetic building toys.
Cut Down Screen Time
Cecilia Lam Wing-chi, the professional consultant of the Department of Educational Psychology at the Chinese University of Hong Kong, says it is "unavoidable" for children to use electronic devices during the pandemic. "Parents should try to minimize their screen time," she says. Lam suggests 30 minutes per time for primary school children, and 15 minutes for preschoolers.
Lam thinks that parents should arrange engaging games and activities as alternatives. Toys sets such as Lego, arts and crafts, readings, and family board games are recommended. "For preschoolers, hands-on toys are more suitable for them," she says. "Parents are encouraged to create toys corners for preschoolers to get them fully engaged," she adds.
Lam points out that e-learning has positive and negative effects on children. "On the positive side, children are more comfortable with learning in the virtual classrooms," she says.
"Since teachers now are making efforts to make online lessons more interactive and engaging, children have fun in learning too," Lam says. "For kids who are shy, they feel more comfortable to speak up," she adds.
"On the other hand, online lessons deprive children of social interactions, like learning the social cues and social positions," Lam says. Socializing is an important part of children development, when children learn how to form friendships and interact with others.
"Long period of exposure to screens is bad for their eye sight," Lam says. "It provides too much stimulation to children's physical and mental health. Children tend to get emotionally unstable when stimulated by digital content," she adds.
"Children tend to get emotionally unstable
when stimulated by digital content."
Edited by Emilie Lui
Sub-edited by Howard Li